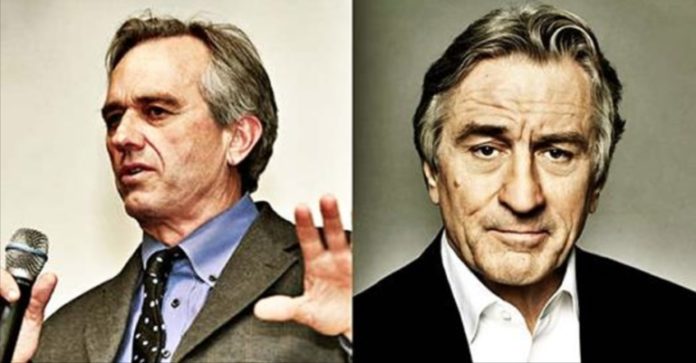 By: Jay Syrmopoulos/The Free Thought Project
Washington, D.C. – Robert De Niro and Robert F. Kennedy, Jr. held a press conference today at The National Press Club in Washington, D.C., where they publicly discussed their efforts to thoroughly examine the links between mercury and vaccines.
The Hollywood legend and Kennedy announced their partnership with the World Mercury Project, which was founded in November 2016, with the goal being to "find a missing piece of research associated with mercury."
The group announced a $100,000 reward for research into exposing the connection between mercury and developmental abnormalities in children — noting that the majority of the current body of research has been tainted by conflicts of interest relating to those conducting the studies.
Kennedy currently serves as Chairman of the nonprofit advocacy group, while De Niro has publicly supported the group's mission in the past. According to its website, the WMP works to "create a world free of the devastating effects of mercury."
The group has publicly spoken out about against vaccines with mercury, and argue those vaccines have caused an increase in neurological disorders among children.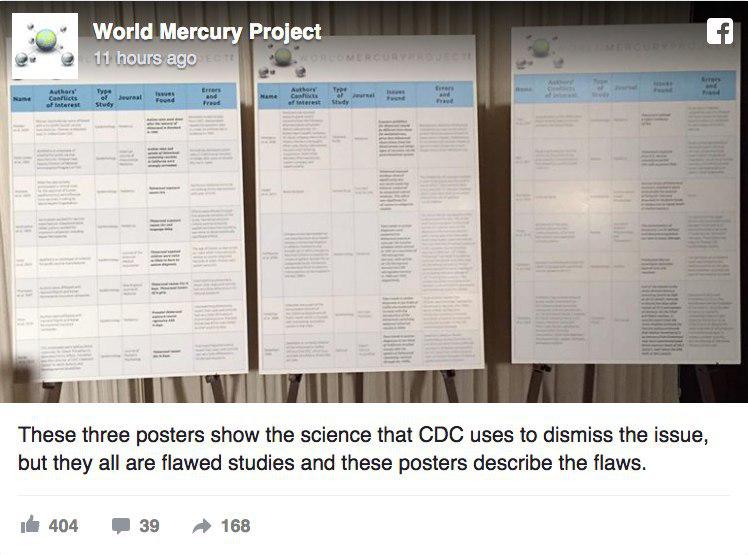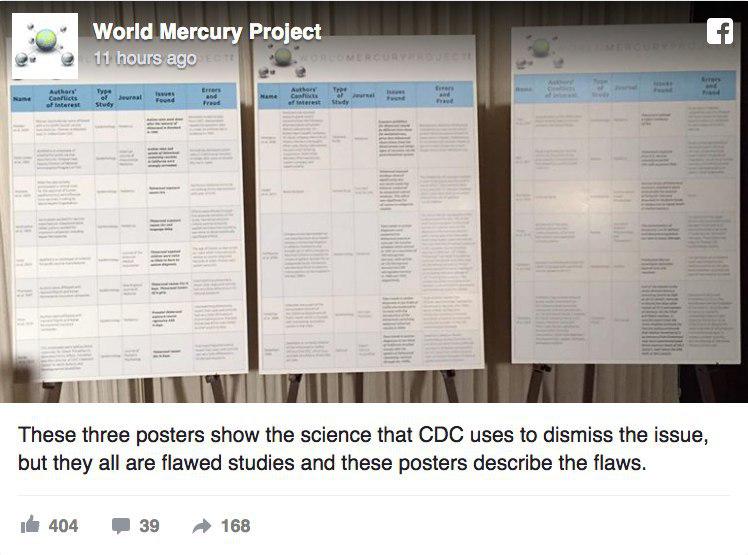 During the press conference, Kennedy noted that there is a vast censorship regime taking place in America, due to the massive amounts of money involved in Big Pharma, that disallows any public discussion about the issue of vaccines – with those attempting to do so being labeled "anti-vaccine" as a means of marginalizing them.
Kennedy said that he is "pro-vaccine," but wants "safe vaccines."
He went on to note that he has worked tirelessly as an environmental crusader to get rid of mercury contamination in fish, due to the extreme danger inherent to humans, but has never been called "anti-fish." So why, because he wants to get rid of mercury in vaccines, is he considered "anti-vaccine?"
Is there really a danger in engaging in specific research intended on determining if mercury in vaccines are causing developmental abnormalities? If the pharmaceutical industry is so confident in their mercury-containing vaccines not causing these abnormalities, then theoretically they should be the first ones to jump at the opportunity to prove how harmless these vaccines are.
One would think the industry would readily embrace an opportunity to show the veracity of their product if they are as safe as claimed.
Sarah Bridges, who attended the press conference today at the National Press Club, is a PhD neuropsychologist and mother of six who lives in Minneapolis. Sarah has a vaccine-injured child with autism and seizures who actually won her case in the Vaccine Court and had this to say:


De Niro came to the public forefront of the vaccine debate after he faced push back in 2016 when he planned to show the documentary "Vaxxed" at his Tribeca film festival, which was eventually pulled from the lineup after public and behind the scenes pressure mounted.
"To me, there was no reason not to see the movie," De Niro told Vulture after the festival. "The movie is not hurting anybody. It says something. It said something to me that was valid."
At the time, De Niro hinted that he and the mega-producer Harvey Weinstein were planning to create a documentary film potentially focused on the massive financial incentives underpinning the vaccine manufacturing industry, as well as dubious ties between pharmaceutical companies and governmental agencies.


After "Vaxxed" was pulled from Tribeca, the Hollywood legend went on the Today show to defend his original stance of wanting to screen the documentary, noting that there was "no reason" to pull the film. The documentary was allegedly pulled due to threats from other filmmakers, which De Niro believed could negatively impact the film festival.
When Today host Willie Geist attempted to point out that there is an overwhelming amount of scientific research that has found no link between vaccines and autism, De Niro quickly responded.


De Niro went on to explain that he believes there is a potential link between autism and the ingredients in vaccines, highlighting a documentary called "Trace Amounts." The film star pointed out that he isn't anti-vaccine, but simply wants safe vaccines, noting that he is the father of an autistic child.



Kennedy and De Niro obviously realize the power residing within the pharmaceutical industry, as De Niro pointed out that even talking about this conceptual project could make "something happen."
The vaccine industry has a vested financial interest in not allowing a broad public discussion to be had about vaccines. The "something happens" De Niro nebulously refers to would most likely consist of the large financial powers at the root of big pharma leaning on any movie studio or media outlet bold enough to allow actual discussion about vaccine safety.
In January, Kennedy met with President Donald Trump, who has previously criticized vaccines. Kennedy intimated that Trump had asked him to lead a new commission on vaccines, though a source later said the commission was still in discussion.
The idea that people can question 'big pharma' corruption when it comes to dangerous pills, responsible for killing thousands and the subject of countless class action lawsuits, and then resort to name calling and ridicule when other people question those same companies over the safety of vaccines, is preposterous. Either you are for safe medicine or you are not. It is as simple as that.
In an open letter to the media, Kennedy and De Niro summed this ridicule up perfectly.
Certainly, Big Pharma should have no problems with a more intense investigation detailing the specifics of mercury, vaccines and developmental abnormalities – unless they have something to hide.
Please share this important information about vaccines and mercury to help jumpstart a public discussion about this important topic!
Video of the press conference below:
What are your thoughts? Please comment below and share this news!
---
This article (Robert De Niro and RFK, Jr. Expose Massive Corruption In Vaccine Industry In A Press Conference) by Jay Syrmopoulos is free and open source. You have permission to republish this article under a Creative Commons license with attribution to the author and TheFreeThoughtProject.com