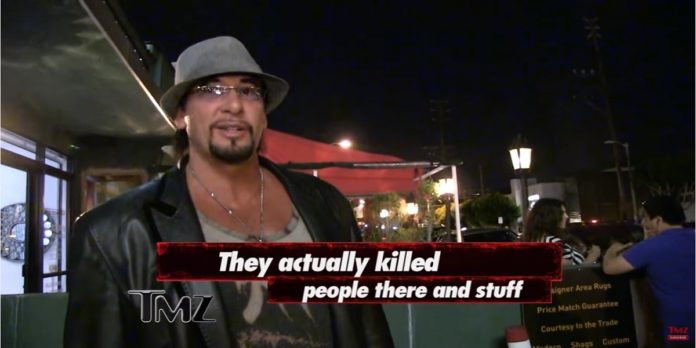 This article originally appeared in ultimateclassicrock.
In a shocking (and hopefully not serious) video admission to online entertainment news outlet TMZ, former Scorpions bassist Ralph Rieckermann says he has attended snuff parties in the past. For those not in the know, snuff parties are attended by folks who, according to Rieckermann, pay upwards of $100,000 to witness someone get murdered.
In the video posted on the TMZ website, Rieckermann is approached by one of the TMZ cameramen and was jokingly asked if he was going to be attending any German fetish parties later that evening. While Rieckermann initially laughs off the comment, the interview takes a surprisingly dark turn.
With no prompting whatsoever by the cameraman, Rieckermann says that he had attended a party one time where he saw "really bad s–t." When the TMZ cameraman asks "Was it a donkey show?", Rieckermann responds saying "No, they actually killed people there and stuff. They pay up to $100,000 to see people get…"
At this point the TMZ camerman interjects, completing Rieckermann's thought, offering the word "executed?" to which Rieckermann responds that he is not kidding. And by the serious look on his face, the viewer is inclined to believe Rieckermann could be telling the truth.
Rieckermann then goes on to tell the TMZ cameraman that he had attended another party where he saw something so revolting that he "wanted to throw up." (The mind boggles…)
Ralph Rieckermann was a part of the Scorpions line-up for approximately 10 years from 1993 through 2003. He currently makes his living as a composer for film and television, as you can see over at his official website.

This article was originally published in 2012 and is frequently updated
UPDATE

vigilantcitizen Reports:
In June 2015, three years after the segment aired on TV, Riekermann took to YouTube and released an official statement where he dissociates himself from these parties.

Whether or not Riekermann was actively involved in all of this is however irrelevant and does not change the fact that these "parties" actually exist. He did not deny that he saw some truly disgusting things going on there – and that's what the world needs to know.