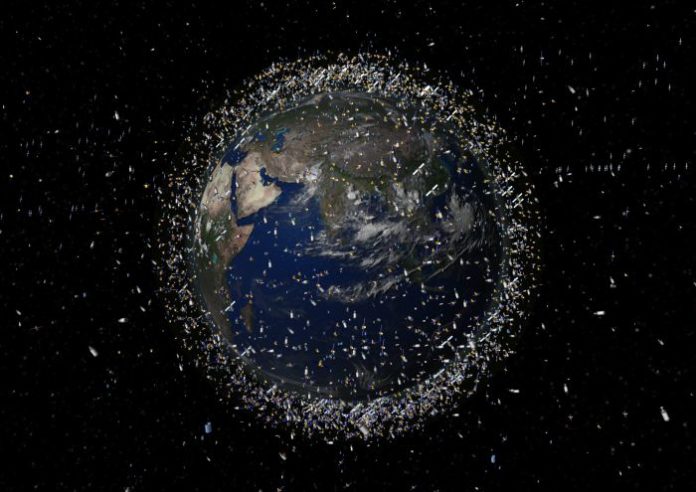 There are more than 20,000 pieces of space junk ranging from the size of an apple to the size of a bus (such as old engine parts, old rockets, and abandoned satellites) currently trapped in Earth's orbit.
NASA says they travel at speeds up to 17,500 mph, fast enough for a relatively small piece of orbital debris to damage a satellite or a spacecraft. While there are 500,000 pieces of debris the size of a marble or larger, there are many millions of pieces of debris that are so small they can't be tracked.
In 2015, American astrophysicist Donald Kessler predicted that the current density of space junk could eventually make missions to space too dangerous, and that a single collision could set off a domino effect of increasingly more collisions.
Currently however, the Russian space agency Roscosmos has announced it is developing a spacecraft that would clean circumterrestrial space of disabled communication satellites and upper-stage rockets currently cluttering up the geostationary orbit (which goes along the equator, 36,000 meters above the sea level).
Even though the amount of space junk accumulated in the near-Earth orbit in 2015 increased by several hundred objects, Russia remained the sole country to reduce its share of orbital space junk.
To further reduce space junk floating around the Earth's orbit, Roscosmos is investing nearly 11 billion rubles (about $300 million) to implement the space garbage cleaning project, codenamed "Liquidator," which is part of the draft Federal Space Program for 2016-2025.
Oleg Gorshkov, general director of TsNIIMASH (Roscosmos' rocket and spacecraft scientific center), noted:
"The spacecraft is equipped with ion engines on opposite sides. The satellite approaches a defunct spacecraft and activates the engines on opposite sides. The cleaning spacecraft remains in place while "shooting" a stream from one of the engines to displace the defunct object from orbit. The latter will thus lose its speed and go off orbit. With the engine power of about 5 kW, the time to displace a target satellite will take up to 15 days, depending on the weight and dimensions. "
With a weight of about four tons and the capability to get rid of at least 10 disabled satellites and rocket stages during a single mission that could last up to 6 months, the space cleaning spacecraft would run at least 20 cleaning missions during its 10-year lifespan, which means the Liquidator will eliminate up to 200 defunct satellites that obstruct new space vehicles and communication satellites. Alexander Danilyuk, first deputy general director of TsNIIMash, explained:
"The space cleaner would have two options: either to lift the collected spacecraft and their fragments to a higher level where they would not be an impediment, or to de-orbit them and dump into the so-called spaceship cemetery off the Christmas Island in the Pacific. It is easier to lift the spacecraft to a higher orbit. It is possible to approach and seize the spacecraft, push them into a different orbit and proceed to the next task."
Recently, scientists at NPO Mashinostroyeniya (a Moscow-based satellite manufacturer) obtained a patent for the removal of spent and distressed satellites from the Earth's orbit using inflatable brakes. NPO Mashinostroyeniya general director Herbert Yefremov told Interfax-AVN:
"We have applied for a patent so that every satellite with an orbit of less than 500 kilometers is equipped with an elementary inflatable device for rapid evacuation from orbit whenever that is necessary. Once this 'bubble' device is deployed, it should become solid so that even depressurization does not alter its form. We can do that. The 'bubble' will sizably enlarge the satellite's cross section to boost the braking effect of the residual atmosphere.
"According to estimates, the material for creating a bubble of two meters in diameter will initially occupy about 1.5 cubic decimeters.  The device will be activated either by radio from the Earth or upon a failure of satellite systems. The device will cut the period of satellite removal from orbit, say from a 500-kilometer circular orbit, eight times to 1.5-2 years."
---
This article (Russia Designs Spacecraft that will "Blow Away" Space Junk from the Earth's Orbit) is a free and open source. You have permission to republish this article under a Creative Commons license with attribution to the author and AnonHQ.com.
---
Supporting Anonymous' Independent & Investigative News is important to us. Please, follow us on Twitter: Follow @AnonymousNewsHQ