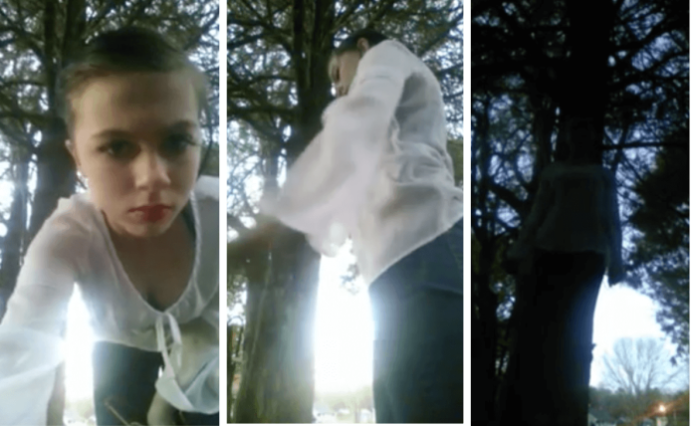 Katelyn Nichole Davis, a 12-year-old student of Cedartown Middle School in Polk County, Georgia, live-streamed her suicide by hanging from a tree on December 30, 2016. According to the local media reports, paramedics found Davis' body outside her home with self-inflicted wounds just after 6 p.m., but she was pronounced dead at the Polk Medical Center's Emergency Room after the emergency officials failed to revive her. Apparently, Davis used the Live.me app, a social media platform for broadcasting and watching live streaming videos, to live-stream her suicide.
An obituary for the young girl says she is survived by her parents, sister and brother. Even though the result of her autopsy, conducted at Georgia Bureau of Investigation's Crime Lab aren't out as yet, and the circumstances surrounding her suicide and what may have provoked it remain unknown, a disturbing video of Davis committing suicide has emerged on the Internet.
https://www.youtube.com/watch?v=1BpEqxNqDUg
Since the 42-minute video is as surreal as it is tragic, it has been deleted from most video-sharing sites. Although, some visuals are still available on YouTube, for those of you who don't want to watch it, The Dreamin Demon gives a glimpse:
"The first half of the video is Katelyn positioning the camera, measuring the rope she attaches to a tree and makes adjustments. During this section, the sun is shining and the ambient neighborhood noises of passing cars, birds and barking dogs can be heard in the background.
"She then climbs on top of a bucket and fastens the noose around her neck. At 21:24, after taking several deep breaths and crying, Katelyn says an anguished "Goodbye" before stepping off the bucket. Now hanging by her neck, Katelyn's arms and legs begin to jerk and kick for a short time.
"For the remaining 20 minutes of the video, Katelyn's body sways at the end of the rope as the sun goes down, as dogs bark in the background. After 10 minutes or so, you can hear Katelyn's family calling for her and coming close to finding her on camera. The video ends as the sun disappears and Katelyn's cell phone repeatedly rings."
Davis was writing an online diary titled "Diary of a Broken Doll" for the last few weeks of her life. While the original diary has been removed from the Internet, screenshots of her entries give some basic details about the young girl who was already on medication for depression, had attempted suicide before, and was beaten by her stepfather who she also accused of trying to rape her.
An Instagram account identified as belonging to Davis also had messages about heartbreak and a note posted five days before her death that read: "Reblog in memory of those who have committed suicide."
In April 2016, a federal data analysis found suicide in the United States had surged to the highest levels in nearly 30 years. According to National Center for Health Statistics, the age-adjusted suicide from 1999 through 2014 increased 24%, from 10.5 to 13 per 100,000 people, with the pace of increase greater after 2006.
Suicide rates increased from 1999 through 2014 for both males and females and for all ages 10–74; the percent increase in suicide rates for females was greatest for those aged 10–14, and for males, those aged 45–64. In all, 42,773 people died from suicide in 2014, compared with 29,199 in 1999. The New York Times notes:
"The data analysis provided fresh evidence of suffering among white Americans. Recent research has highlighted the plight of less educated whites, showing surges in deaths from drug overdoses, suicides, liver disease and alcohol poisoning, particularly among those with a high school education or less.
"The new report did not break down suicide rates by education, but researchers who reviewed the analysis said the patterns in age and race were consistent with that recent research and painted a picture of desperation for many in American society."
While it is sadly too late to help Davis, her story can be used to help educate people on noticing the warning signs to be able to intervene and prevent such tragedies from occurring in future.
If you or your loved ones are struggling with thoughts of suicide, you can contact the National Suicide Prevention Lifeline, which provides a 24/7 free and confidential support for people in distress, and talk with someone either online or by phone. Information on suicide lifelines outside the United States can be found at Suicide.org, a 501c3 non-profit organization.
---
This article (SHOCKING: 12-Year-Old Girl Live-Streams Her Suicide by Hanging) is a free and open source. You have permission to republish this article under a Creative Commons license with attribution to the author and AnonHQ.com.
---
Supporting Anonymous' Independent & Investigative News is important to us. Please, follow us on Twitter: Follow @AnonymousNewsHQ