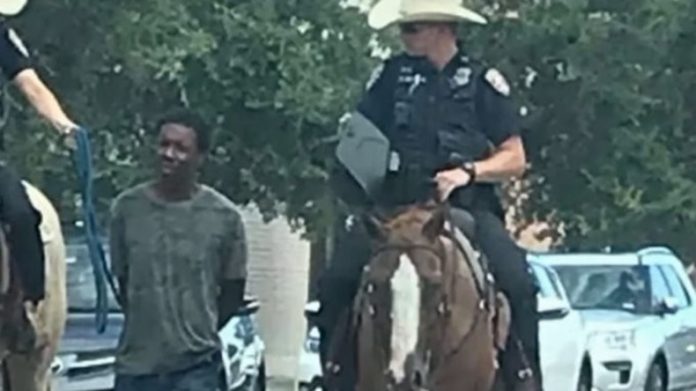 In Galveston, Texas, mounted police led a trapped African American on a leash through the streets. The photo is spreading like a wildfire in social networks – and brings back memories of times that just will not pass.
Police in Galveston, Texas, have come in for criticism after photos have appeared on social networks showing two mounted police leading a bound black man on a leash through the streets. The police said the officials arrested the 43-year-old for trespassing.
The man was handcuffed to which a leash was attached. At this, the two officers led him on horseback along the road to a police station. In social networks, the photo of this action caused outrage. Many commentators were reminded of the era of slavery and the activities of the Ku Klux Klan from a time not so long ago.
Social Media Explodes After Police Officer On Horseback Escorts Cuffed Black Man With Rope – https://t.co/EHaZxiwjMj pic.twitter.com/GZffVVJicD

— Breaking911 (@Breaking911) August 6, 2019
Show me the difference. #Galveston pic.twitter.com/bASAncGyqw

— edgar salinas (@edgarsalinas77) August 6, 2019
Also, comparisons were made with the arrest of the mass murderer of El Paso, which was way less degrading.
#Galveston #ElPaso
How they arrest a terrorist who just killed 21 people in cold blood vs how they arrest a mentally ill black man for trespassing. What are you saying dear? Racism is dead in America? pic.twitter.com/bW1ciBGTGk

— Haley Stanwood (@HaleyStanwood) August 6, 2019
The Galveston police have since apologized for their actions. Police chief Vernon L. Hale said on Monday: