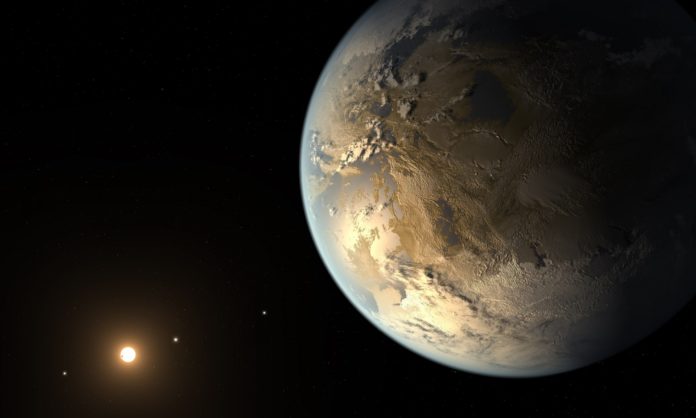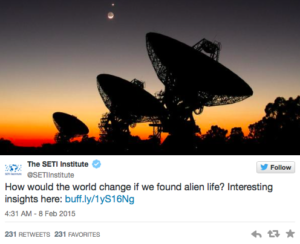 Researchers at the Search for Extraterrestrial Intelligence (Seti) Institute in California are planning to start beaming messages about Earth to hundreds of star systems with potentially inhabitable planets.
"There could be many civilizations out there but if they are all listening and no one is broadcasting then nothing will happen," astrophysicist and SETI's chief executive, David Black, told the Sunday Times.
Their aim is to transmit regular messages through radio telescopes. They are trying to send messages that would provide sufficient information about the human race. One idea is to send the entire Wikipedia database.[1]
But who's to say what information is important and should be broadcasted?  David Black said "One question is…if we go ahead, what message should we send? Should it be the work of a few scientists or should we involve the whole world, perhaps through the internet?"
If this program is approved, the messages broadcasted will be able to travel up to 20 light-years away from earth.
But the project has received its fair share of criticisms, including famous cosmologist, Stephen Hawking. Hawking has warned that Earth's own history provides ample evidence that an encounter with more advanced ETs could go badly for humans.[2]  There are many who agree that drawing attention to our planet may end up like the devastation that transpired on Native Americans when Columbus landed in America. Urging governments to prepare for the worst, Simon Conway Morris, an evolutionary paleobiologist at Cambridge, believes that aliens might be as violent or greedy as humans- or even worse.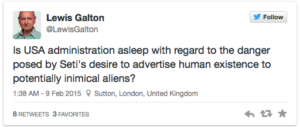 In 2011, NASA's Planetary Science Division released a report titled: 'Would Contact with Extraterrestrials Benefit or Harm Humanity? A Scenario Analysis,' . The report summarized 3 possible outcomes if Earth was discovered by aliens: Beneficial, Harmful, and Neutral.
Like straight out of a sci-fi movie with alien invasions, the 'Harmful' scenario could be that if aliens do come to our planet, humans are at risk of contracting new diseases, or face they may be enslaved and tortured.
---
Sources:
[1] http://rt.com/usa/230455-space-message-aliens-earth/
[2] http://www.theguardian.com/science/2015/feb/12/alien-search-wont-doom-planet-earth-say-scientists-who-want-to-contact-et