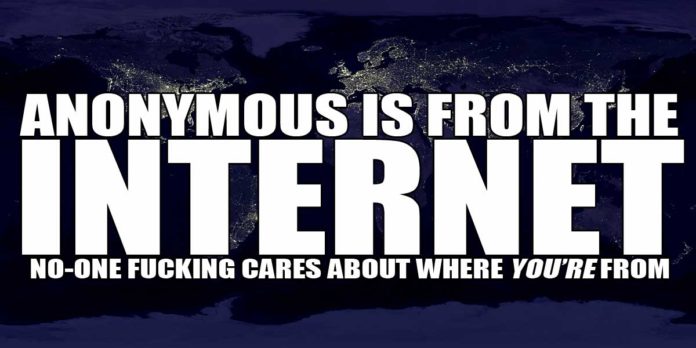 In an article by Sam Biddle of Gizmodo, quite a fair bit of effort has been made to run Anonymous' name through the mud. Unfortunately, he does have a point.
Centered around a 40-year-old woman by the name of Jennifer Emick, the article seems to attempt over and over again to demean and depict anons as childish individuals, or worse. To those unfamiliar with the woman, she was one of Anonymous' earliest 'observers' when it had originated, lambasting the strange cult that is Scientology. She had written often about Scientology and had "personal experience with Scientology in the family," which drew her attention. Eventually, she gained the confidence of many in the community and served as a 'PR manager' of sorts.
Emick claims to have been unhappy with Anonymous' direction, with the movement away from the trite and frankly pedantic focus on one small cult. She was unhappy that Anonymous began to take a stand against capitalism and anti-privacy advocates, and support organizations like WikiLeaks (though she also claims to dislike the childish focus of some anons, it should be noted that she chose to generalize all of Anonymous with a few bad apples). Unlike most decent people who would have just left the organization due to her own difference of opinion, she chose to profit from her links to the group by selling them out – one would suspect that this was the intent from the beginning and that she had never truly intended to be more than a mercenary. She formed her own business, formerly known as 'Backtrace Security', and had worked closely with the FBI and other "undisclosed enemies of Anons." Her actions contributed to the imprisonment of Sabu, who himself disclosed the names of other Anons, such as Jeremy Hammond who faces ten years in jail, and even helped the FBI launch attacks on targets that they had determined to be threats.
The response from some anons (though as ever, this is generalized to include all of Anonymous) was swift and terrifying indeed. Every personal detail about her, from her residential address to her phone numbers, were spread everywhere. She received texts daily, death threats and worse. A parody account of her son was created to post profanity on her Twitter feed. Threats were made against her children and even their school. Though terrifying, it was toothless and achieved no good outcome.
Her role was distasteful, dishonorable and based on greed, but the actions of a few anons to act in this way against her has given the mainstream media plenty of ammunition to turn the public against Anonymous, pretending that the few anons somehow represent the collective who in reality come from every walk of life, represent every race, religion and creed. Yes, by definition, that means some anons are childish, literally because they are young children who do not know how horrible it is to threaten another person's life. Anyone can be an anon, and though the general collective works for the good of the general populace, not every individual anon can be held accountable for what he/she deems good.
In this case, the response went too far and the attempt to draw her kids into the mix was wrong; what did her children have to do with anything? The irony is that this publicity was exactly what she would want, or else she and her company would have quickly faded from public memory. Indeed, the actions of a few anons truly were used to further her own agenda, allowing writers to paint her as some heroic soccer mom who was fighting a seedy group of hardline radicals, when the reality was entirely the opposite. This is why she has not changed her phone number. To those who are still angered by her betrayal, it would be best to not give the mainstream excuses to attack Anonymous; focus on informing the world about the crimes being done, digging up the information kept away from the people. The people in general, whether they regard themselves as anons or not, the neighbors, friends and even family of offenders, will then decide on the treatment individuals by virtue of what they have done.
Inform, try not to condemn.