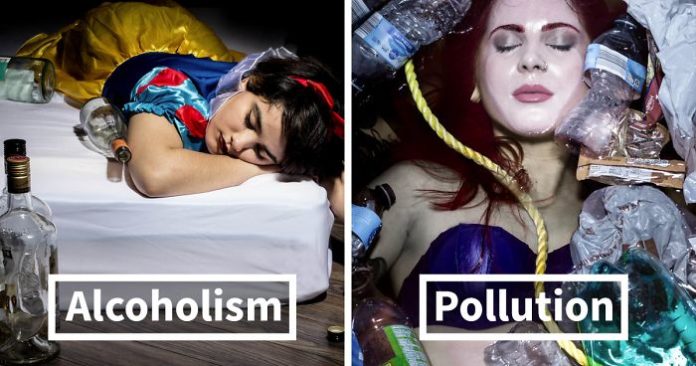 By Amanda Froelich for www.trueactivist.com
When describing Disney princesses, most people would likely use the words "innocent," "soft," "beautiful," and "poised." This is because society has grown accustomed to viewing the fictional women as symbols of purity and feel-good emotions.
What if the Disney Princesses, such as Belle from Beauty and the Beast and Jasmine from Aladdin, were injected into situations that affect millions of people every day? That's exactly what Philadelphia-based photographer Shannon Dermody asked before and throughout her latest photo series that features the fictional starlets dealing with drugs, alcohol, domestic violence, rape, sex trafficking, and other dark aspects of reality.
The series was created to raise awareness about troubling world problems that persist all around the world. NSFW, they will definitely make you feel uncomfortable. And that, some may argue, is the point.
#1 Alcoholism
#2 Domestic Violence
#3 Rape
#4 Pollution
#5 Suicide
#6 Heroin Addiction
#7 Tobacco Addiction
#8 Police Brutality
#9 Sex Trafficking