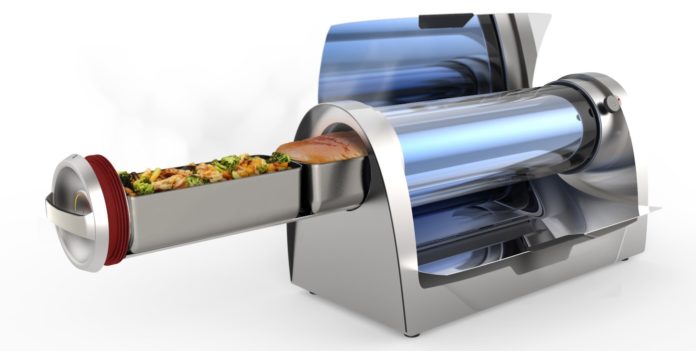 With an aim to eliminate fuels from cooking, Cincinnati-based Patrick Sherwin first launched GoSun Stove. After a successful Kickstarter crowdfunding campaign in 2013, the  'gadget' launched, can cook a meal in just 10 minutes using sunlight, reaching temperatures of over 550°F.  In June 2016, Sherwin is ready to ship GoSun Grill, the only solar-powered fuel-free cooker that can bake, boil, steam, fry and grill a meal day or night – in just 20 minutes.
If the first version of the stove – the GoSun Sport – was a small, portable, 7-pound solar cookstove that could cook enough food for up to four people; the 20-pound GoSun Grill has five times the GoSun Sport's capacity and can serve up to eight people at a time. While the GoSun Grill is available for pre-order at $549, the GoSun Sport and the GoSun Sport Pro Pack cost $279 and $359 respectively.
The core to the technology of the GoSun Stove is the solar evacuated glass tube that acts as the stove's cooking chamber. The design of the fold-out anodized aluminum captures the sun's energy and then transfers it to the evacuated glass tube to amplify it. Because the evacuated glass tube heats to such a high temperature, food can be kept warm for hours. As the GoSun Stove retains more than 80% of the sunlight that's reflected onto the tube, energy is captured in the tube without any thermal loss. The GoSun Grill contains a sun-charged lithium battery that kicks on when there is rain or shine, allowing users to cook anywhere, anytime.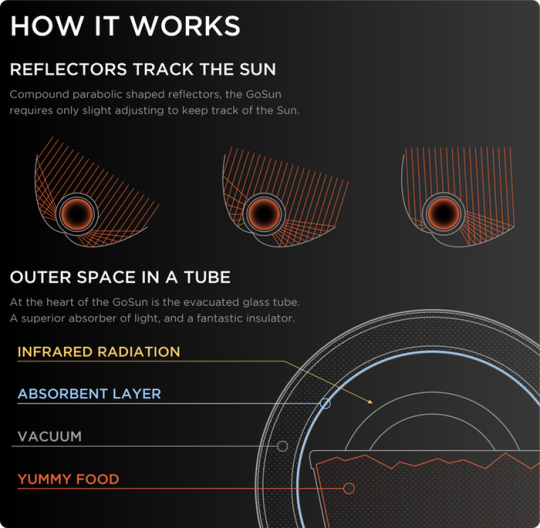 Matt Gillespie, an industrial and social designer working at GoSun Stove, told MailOnline:
"It's profoundly efficient and a game-changer for fuel-free cooking. When clouds interrupt, the food keeps on cooking with the heat stored inside the vacuum tube. For this same reason the GoSun is extremely versatile, cooking hot meals in the harshest of environments. Even against freezing temperatures and blowing winds, the GoSun's cooking time is hardly effected. We love to see people's reactions when we're roasting garlic, or steaming veggies on a mostly overcast day."
Solar Cooking Lunch On My GoSun Stove https://t.co/hnA1WEgSrT

— Juda Starr (@JudaStarr) February 20, 2016
Sherwin says the GoSun Grill is really only a grill in name. He told Yahoo!:
"It does better at baking. You can stew or steam. You can do some stir-frying. The only thing you can't do is sear — you can't get it hot enough so that it blackens. You can, however, bake a frittata, steam corn on the cob, or even roast two whole chickens. The grill performs well even on a cloudy day, and with an optional thermal battery add-on, at night, too."
The GoSun is a healthier alternative to cooking with charcoal, and much more environmentally friendly than gas. Further, cooking with solar power replaces the cost of cooking fuels, some of which are fossil-fuel based, pollute the environment, drive climate change and are health hazards. The GoSun Website reads:
"Today around 3 billion people cook with dirty fuel sources; such as wood, dung or charcoal. As a result, smoke inhalation related illness ranks with malaria and AIDs as one of the great greatest problems facing the world. In addition, fuel wood scarcity drives families around the world to spend many hours collecting and transporting heavy loads of fuel wood, often to the detriment of already endangered ecosystems. If fire wood is purchased it often makes a sizeable portion of the family's income.
"Through our experiences, we've learned that cooking with the sun can save lives, protect the environment, and empower communities on a global level. After an opportunity from the Global Alliance for Clean Cookstoves to extensively test its technology in the highlands of Guatemala, GoSun is on the verge of starting a social enterprise for developing markets with the potential to change lives, communities and ecosystems."
If We Love Up & Make The Effort, We Can Do Anything We Want! Check GoSun Solar Stove! – https://t.co/U7PnvltiT6pic.twitter.com/rdaabca5kK

— How To Be Hippy (@howtobehippy) February 20, 2016
---
This article (This Solar-Powered Fuel-Free Stove Cooks Meals in Minutes – Anytime, Anywhere) is a free and open source. You have permission to republish this article under a Creative Commons license with attribution to the author and AnonHQ.com.
Get Your Anonymous T-Shirt / Sweatshirt / Hoodie / Tanktop, Smartphone or Tablet Cover or Mug In Our 
Spreadshirt Shop
! 
Click Here