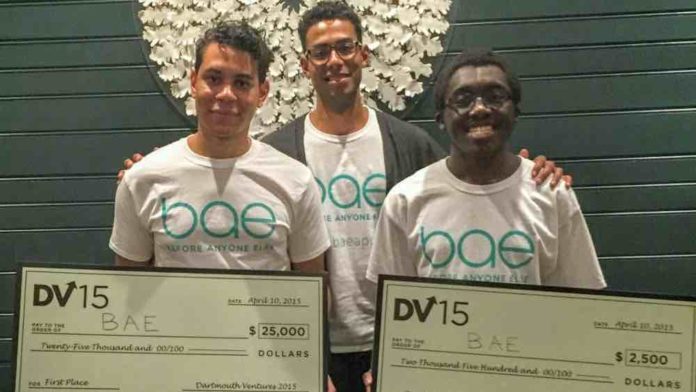 Bae is a new mobile application that is engineered and crafted for single black people. Jordan Kunzika, who is one of the original founders and the CEO of Bae, has already refused full-time job opportunities before he turned 21.
In a recent survey, there are reported more than 30 million active Americans that are utilizing some sort of online dating service, or mobile application such as Tinder. However, this new data also suggests that several online black users are facing a type of bias, instead of rating their matches to help out. In order to provide a proper change for this notion, Jordan Kunzika, Brian Gerrard and Justin Gerrard have designed and developed a new mobile dating application: Bae: Before Anyone Else.
Jordan Kunzika, who is one of the founders and the CEO of the company, also happens to be a senior at Dartmouth College. He is also a first-generation Angolan-American. Jordan was the only black person within his class, often suffering from many challenges due to the same.
"I quickly realized that it was up to me to either let this negatively affect me, or let it motivate me to be successful, so that people who come after me will have role models who look like them," stated Jordan.
Jordan is a Google Generation Scholar and has accomplished successful internships with large companies like Intel and Microsoft. Jordan has, shockingly, turned down job opportunities to work full-time with Google and Microsoft, before he reached the age of 21. The reason he is choosing Bae over the other large, and very promising futures, Jordan states, "I knew that I could serve a higher calling to represent a paradigm shift in what a tech entrepreneur could look like."
During Jordan's junior year, he had met with the other co-founders, Brian and Justin Gerrard. They were moved by his proposal of the new mobile application and decided to join forces with him. At this current moment in time, Bae is quickly spreading across the globe and is currently listed as the 'Top 50 Lifestyle Apps' in the Caribbean and African countries. Jordan also says that there was never a secured place in which black men and black women would easily find online dates, which dramatically inspired him to push his app.
Like every other dating application, the users of Bae can swipe right if they are truly interested in someone, and then left if they are not interested in them. However, in the proprietary algorithm that was built by Jordan, the app itself is set apart from other dating apps. "What users like the most about Bae," Jordan explains his application, "is the quality of the matches and that it helps you find those you're most interested in."
Over time using this application, Bae studies you, learning from your swiping habit before providing suggestions to you, based upon this algorithm. The founders of Bae are aiming high, intending to make this one of the best dating applications in not only Africa, but in the United States as well. The application has also been accepted by the social giant, Facebook, inside the FbStart Accelerate program, and has also been chosen as one of the startups of present, during a Facebook Developers Conference (F8).
You can download the app on your favorite device:
Android | iPhone
Sources: FossBytes | Play.Google.Com | iTunes |
---
This article (Student Turns Down Excellent Job Offers from Microsoft AND Google to Create a New App) is a free and open source. You have permission to republish this article under a Creative Commons license with attribution to the author and AnonHQ.com.