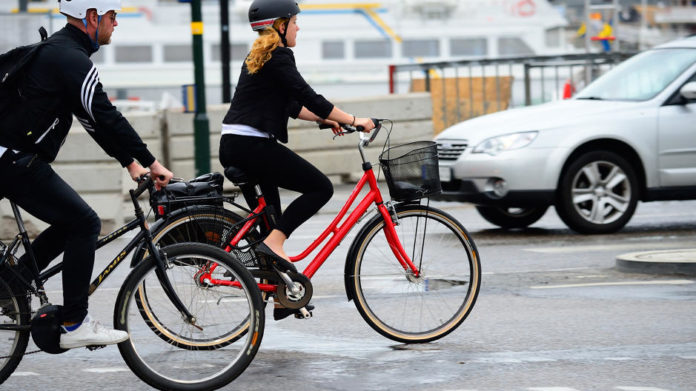 By Amanda Froelich at trueactivist.com
The government is giving free bikes to citizens in this city for six months if they promise to ditch their cars at least three times a week.
Though certain officials would have the populace believe that climate change is a "hoax" invented by the Chinese, authorities and citizens in locations like Sweden and France know better. It's for this reason that some governments have implemented initiatives to try and cut down on carbon emissions.
Recently, the city of Gothenburg – a city with bike commuter rates similar to Portland, Oregon – began a new program with the aim of reducing the number of cars on the road. Fast CoExist reports that the Swedish government is giving away free bikes to three dozen test cyclists for six months if they adhere to one rule: stop driving their cars at least three times a week. Those who are part of the test cyclists include students, commuters, parents, and children.
The initiative is being celebrated by many, as it's inspiring people within the city limits and in other countries to be more mindful of their everyday habits. Additionally, it's combatting any remaining barriers that discourage the notion of cycling throughout the year.
Commented Rickard Waern, a project manager for the Energy Agency of West Sweden:
"We think biking has the potential to fulfill most transport needs for most groups. This is especially true in light of all of the new types of bikes that have appeared on the market in recent years."
Once the program is complete, riders will have a chance to buy the bike at a discounted rate. If successful, it's likely that follow-up initiatives will be presented to folks in Gothenburg, as well.
"Showing good examples is a powerful way to reach out," Waern added. "Through the project, we're trying to create those good examples—people from many different groups in the population, with a large variety of transportation needs, who all can solve their daily transports with bikes."
Sweden is well-known for its dedication to the environment. For example, in 2013, the Scandinavian nation of more than 9.5 million citizens ran out of garbage which is turned into energy via a waste-to-energy incineration program. In result, it had to start importing garbage from neighboring countries, mainly Norway. Additionally, the country has considered passing a "meat tax" because the consumption of animal products is detrimental to the environment.
If you're inspired by Sweden's newest program, please share this news and comment your thoughts below!
---
This article (Swedish City Offers Free Bikes To Residents To Decrease Carbon Emissions) is free and open source. You have permission to republish this article under a Creative Commons license with attribution to the author and TrueActivist.com