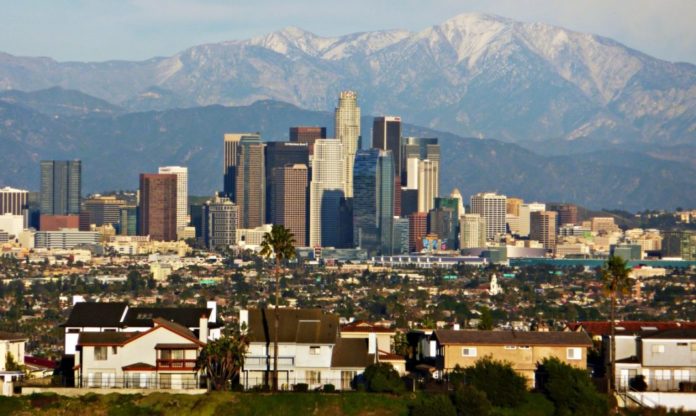 In response to President Donald Trump's executive order to cut off funding to sanctuary cities, the state of California has threatened to stop paying federal taxes and suspend all financial transfers to Washington. California is among a handful of donor states, which pay more in taxes to the federal Treasury than they receive in federal funding to keep hundreds of entitlement programs afloat.
Willie Brown, Jr, a former speaker of the state Assembly, told KPIX 5: "California could very well become an organized non-payer. They could recommend non-compliance with the federal tax code."
https://www.youtube.com/watch?v=ZKD8E9X0vY4
There are over 140 Sanctuary jurisdictions across the United States (including San Francisco, New York, Chicago, Seattle, Miami and Los Angeles) that offer safe harbor to undocumented immigrants who might otherwise be deported by federal immigration law enforcement officials. Cities, counties and states with sanctuary policies get federal money for a variety of state and local programs from law enforcement to homeless shelters.
Trump says Sanctuary jurisdictions willfully violate Federal law in an attempt to shield aliens from removal from the United States and cause immeasurable harm to the country. He argues sanctuary cities allow criminals to go free, leading to crimes that could have been avoided if the undocumented immigrants had been deported.
This Mexican migrant worker in California, breaking his ass every day, pays more in US federal taxes in ONE hour than Trump has in 20 years. pic.twitter.com/YD8NjNv2nm

— Bruno Amato (@BrunoAmato_1) January 27, 2017
Therefore, in an attempt to punish cities and states that provide sanctuary to undocumented immigrants by refusing to report "the aliens" to federal agents, Trump's executive order mandates the Departments of Justice and Homeland Security to "withhold federal funds, except as mandated by law" from sanctuary cities.
The order calls for the removal of undocumented immigrants who "have committed acts that constitute a chargeable criminal offense", who "have not complied with their legal obligation to depart the United States"; or who, in the judgment of an immigration officer, "pose a risk to public safety or national security."
The order does not specify how much or what kind of funding would be or could be blocked, although White House press secretary Sean Spicer says the homeland security secretary would "look at funding streams that are going to those cities and look at how we can defund those streams."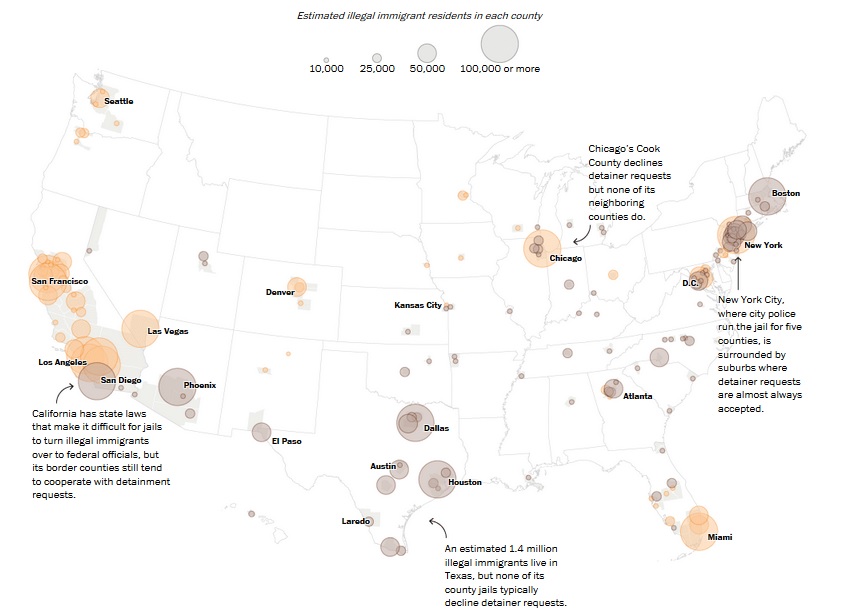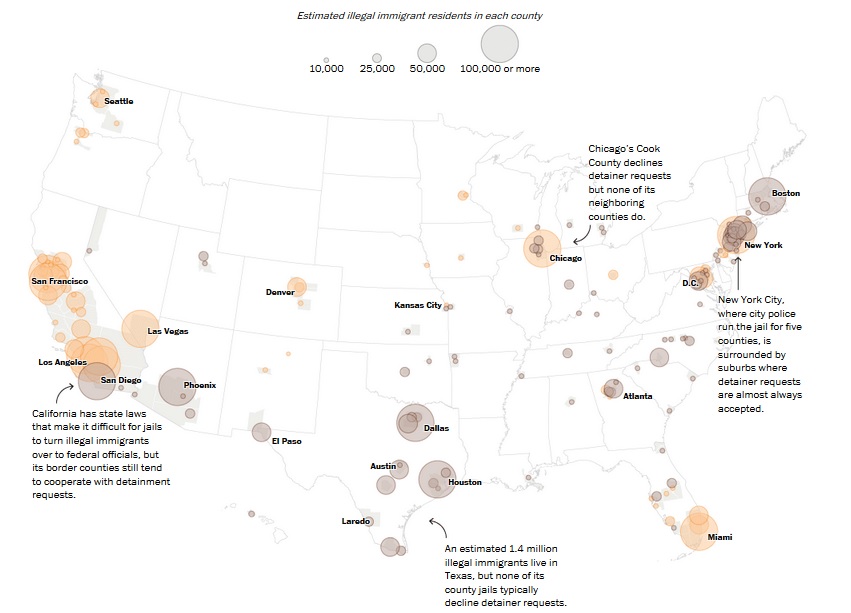 Accusing Trump of violating the 10th Amendment by forcing local governments to enforce federal statutes, Kevin de Leon, the Democratic leader of the State Senate, commented: "These are spiteful and mean-spirited directives that will only instill fear in the hearts of millions of people who pay taxes, contribute to the economy and our way of life."
Los Angeles Mayor Eric Garcetti added: "The Police Department would continue its four-decades-old policy that prohibits officers from questioning people for the purpose of determining their immigration status and arresting them for illegal entry to the United States. We all want a nation of laws, but we are also a nation of immigrants."
While New York City Mayor Bill de Blasio is prepared to go to court to fight the sanctuary city executive order, Democratic lawmakers in California are trying to move fast to protect its sanctuary cities. A measure moving in the State Legislature would essentially make California a sanctuary state by prohibiting police anywhere within its borders from engaging in immigration law enforcement.
Lawmakers are also looking at banning federal agents from raiding workplaces and homes in search of undocumented immigrants unless they have a warrant for a particular person. KPIX5 reports:
Officials are looking for money that flows through Sacramento to the federal government that could be used to offset the potential loss of billions of dollars' worth of federal funds if President Trump makes good on his threat to punish cities and states that don't cooperate with federal agents' requests to turn over undocumented immigrants.


According to a Reuters analysis, Trump's move to strip sanctuary cities of federal grants for shielding undocumented immigrants threatens $2.27 billion in annual funds for the country's 10 largest cities. California's two largest sanctuary cities San Francisco and Los Angeles together receive over $500 million dollars in federal funding annually.
"Though details remain vague, the order could jeopardize billions of dollars in housing, health, education and other types of federal aid. Among the funds at risk are $460 million that the federal government gave out to fund Head Start pre-school programs in the 10 largest sanctuary cities in the most recent fiscal year."
ICYMI: Soon There Could Be Only 49 States In America
---
This article (Tax Revolt: California Gets Offensive, Threatens to Stop Paying Federal Taxes) is free and open source. You have permission to republish this article under a Creative Commons license with attribution to the author and AnonHQ.com.
---
Supporting Anonymous' Independent & Investigative News is important to us. Please, follow us on Twitter: Follow @AnonymousNewsHQ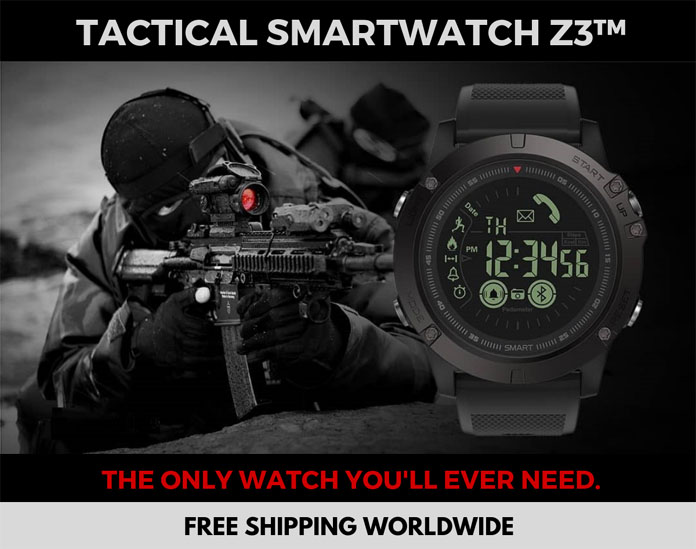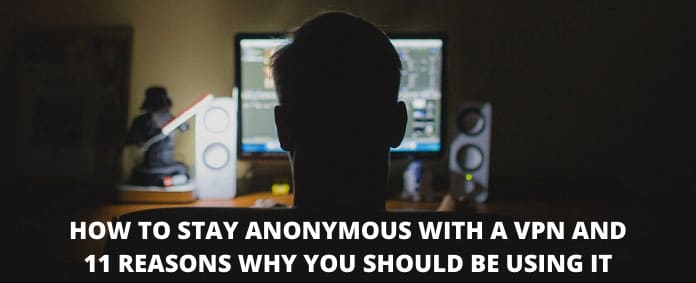 Get Your Anonymous T-Shirt / Sweatshirt / Hoodie / Tanktop, Smartphone or Tablet Cover or Mug In Our
Spreadshirt Shop
!
Click Here
Remove all ads by clicking here