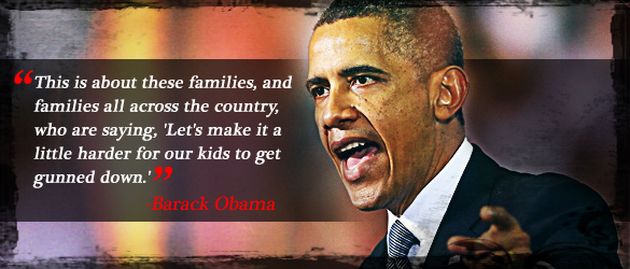 "The gun lobby may be holding Congress hostage right now, but they can't hold America hostage," US President Barack Obama said outlining new rules to regulate gun sales and curb illicit purchases.
Announcing a series of executive actions that aim to better define who should be licensed as a gun dealer and thus be required to conduct background checks on customers, an emotional Obama told an audience of mass shooting victims and relatives in the White House East Room:
"In Dr King's words, we need to feel the fierce urgency of now, because people are dying. Our inalienable right to life and liberty and the pursuit of happiness, those rights were stripped from college kids in Blacksburg and Santa Barbara and from high schoolers at Columbine, and from first-graders in Newtown. First-graders. And from every family who never imagined that their loved one would be taken from our lives by a bullet from a gun… Every time I think about those kids, it gets me mad and, by the way, it happens on the streets of Chicago every day."
Obama admitted his "executive actions were not going to solve every violent crime in this country. It's not going to prevent every mass shooting. It's not going to keep every gun out of the hands of a criminal. It will, potentially, save lives in this country and spare families heartache".
He insisted his plan to force all buyers of guns to undergo background check was not a "plot to take away everybody's guns".
"I believe in the Second Amendment, there written on paper, that guarantees the right to bear arms. No matter how many times people try to twist my words around, I taught constitutional law. I know a little bit about this. But I also believe that we can find ways to reduce gun violence consistent with the Second Amendment."
It doesn't matter where you conduct your business—from a store, at gun shows, or over the Internet: If you're in the business of selling firearms, you must get a license and conduct background checks.
Background checks for people trying to buy some of the most dangerous weapons and other items through a trust, corporation, or other legal entity.
The FBI will hire more than 230 additional examiners and other staff to help process these background checks.
The President's FY2017 budget will include funding for 200 new ATF agents and investigators to help enforce our gun laws.
Dealers who ship firearms to notify law enforcement if their guns are lost or stolen in transit.
A new $500 million investment to increase access to mental health care.
Two-thirds of Americans favor President Obama's proposed gun control actions https://t.co/c0y4vEDZXG pic.twitter.com/KJmfvezZRe

— Newsweek (@Newsweek) January 8, 2016
"Each time this comes up, we are fed the excuse that common-sense reforms like background checks might not have stopped the last massacre, or the one before that, or the one before that, so why bother trying. I reject that thinking. We know we can't stop every act of violence, every act of evil in the world. But maybe we could try to stop one act of evil, one act of violence.
"It won't happen during my presidency. But a lot of things don't happen overnight. A woman's right to vote didn't happen overnight. The liberation of African Americans didn't happen overnight. LGBT rights – that was decades' worth of work. So just because it's hard, that's no excuse not to try."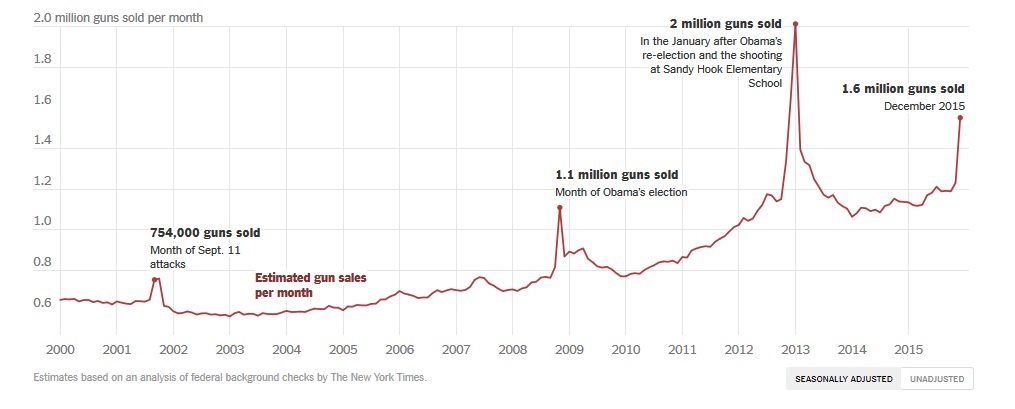 On Capitol Hill, the reaction from Republicans was just as Obama had predicted. Republican presidential candidates, who have universally pledged to overturn Obama's executive orders if elected, reacted with swift outrage to the announcement.
Obama's gun control policies bypass Congress & infringe on your #2A right. Protect it now: https://t.co/5s1iWRiys4 pic.twitter.com/SkBqW40YPB

— GOP (@GOP) January 8, 2016
"In America, we believe in the constitution, not confiscations, dictatorships or Kings, and Obama's newest assault on the second amendment is a blatant, belligerent abuse of power. I will never bow down and surrender to Obama's unconstitutional, radical, anti-gun agenda."– Former Arkansas governor Mike Huckabee
"Barack Obama is obsessed with undermining the second amendment. He is looking for any way possible to undermine it. He has been doing this forever. Now this executive order is just one more way to make it harder for law-abiding people to buy weapons or to be able to protect their families."– Florida senator Marco Rubio
"From day one, the President has never respected the right to safe and legal gun ownership that our nation has valued since its founding. He knows full well that the law already says that people who make their living selling firearms must be licensed, regardless of venue. Still, rather than focus on criminals and terrorists, he goes after the most law-abiding of citizens. His words and actions amount to a form of intimidation that undermines liberty."– House Speaker Paul Ryan, R-Wisconsin
The 7 things you should take away from @BarackObama's town hall on gun control: https://t.co/IQgL4417gp

— Vogue Magazine (@voguemagazine) January 8, 2016
---
This Article (Tearful Obama Vows To Curb Bloodshed, Outlines New Rules To Tighten Access To Guns) is free and open source. You have permission to republish this article under a Creative Commons license with attribution to the author and AnonHQ.com.