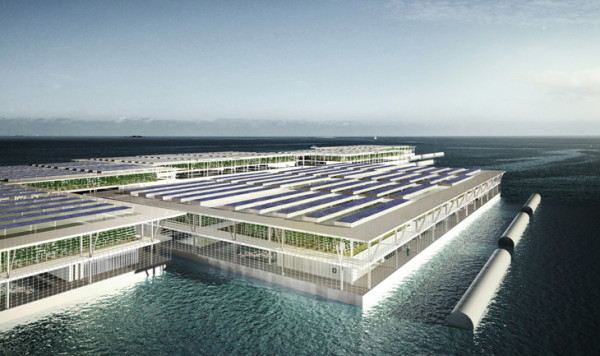 As the world's population keeps on rapidly increasing, its direct and immediate effects on the land becomes more evident. Because when you are born, you need to occupy a space. Land is therefore an important element in our lives, but more often than not, we do not realize it.
The United Nations has said that "the world population is predicted to grow from 6.9 billion in 2010 to 8.3 billion in 2030 and to 9.1 billion in 2050. By 2030, food demand is predicted to increase by 50% (70% by 2050). The main challenge facing the agricultural sector is not so much growing 70% more food in 40 years, but making 70% more food available on the plate".
With our numbers growing, it means land is becoming limited in supply. Therefore, some people have come up with a brilliant technological innovation, in which solar plants used to generate electricity can, at the same time, also be used to produce food for our consumption.
The Spanish company called Forward Thinking Architecture, from Barcelona, is behind this innovation, known as Smart Floating Farms (SFF). The company has built solar farms that actually float on water. The farms generate electricity whilst, at the same time, also produces foodstuffs.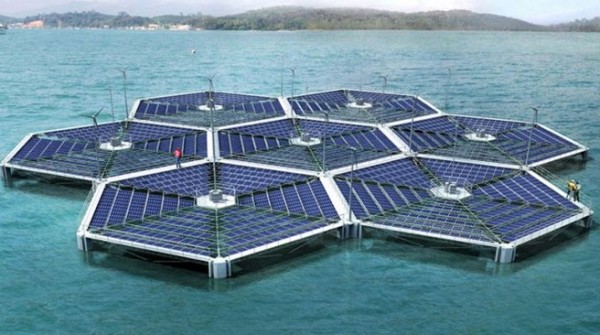 The company has estimated that their new technological innovation will yield at least 8,152 tons of vegetables a year, and also produce 1,703 tons of fish a year, for humanity.
Project director of SSF- Javier Ponce, was quoted by the trueactivist.com, as saying that they were motivated to bring this innovative idea to reality due to the numerous problems confronting the world, such as climate change and the scarcity of land.
"Facing the current challenges of cities growing, land consumption and climate change; I believe projects like the Smart Floating Farms can help change some of the existing paradigms which have led us to the present situation and open new possibilities which can improve the quality of human life and the environment. Based on a Floating Multi-layered strategy which combines Aquaculture (fish), Hydroponics (crops) and Photovoltaics (solar power), we aim that these floating farms can be located close to areas where food is more needed and potentially become automated Farm Clusters run by the use of IT technologies/software," he said.
He further added, "the aim of the SFF is not to replace traditional farming — not at all — but to serve as a flexible farming alternative thinking about the present and the future of food imports and countries with different agricultural challenges".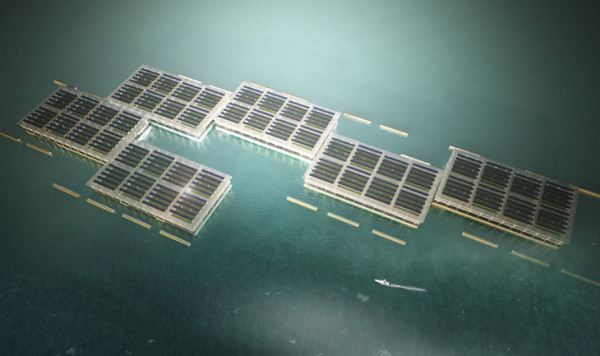 According to the project description, the SFF is a Smart Offshore Floating Farming system, situated off the coast and on an open sea. It is configured as a modular-expandable Multi-Layer Floating Farming system, which combines solar energy, Hydroponics-green growing and Aquaculture (Fish). It allows for all year round growing of food and eliminates the effects of natural disaster. This means no crop failures due to droughts, floods, pests, or other periodic natural phenomena, as well as elimination of agricultural runoff. It also minimizes the depletion of scarce resources, promotes the use of renewable alternatives and focuses on maximal reuse of resources, such as water and waste.
However, this is not the first solar panel to float on water. Already, other companies have done similar things. Kyocera and Century Tokyo Leasing Company, recently announced the construction of the world's largest floating solar factory. The factory will generate electricity just off the coast of Japan, where many people are seeking renewable sources of energy in the aftermath of the Fukushima disaster in 2011. The site will be located on Yamakura Dam, which is in Ichihara City, Chiba Prefecture, in Japan.
This is a great innovation not just because Japan is short on space, but because the water acts as a natural cooling system, it allows the solar panels to operate more efficiently. Experts say Solar energy is booming in Japan, as the nation has doubled its solar power capacity within this short period after the nuclear disaster.
Some of the floating solar plants are also said to have started to appear in the UK. The United States, is also making provisions for similar projects.
But what makes the Spanish invention outstanding, is its ability to produce energy and food at the same time. Many have suggested that they should extend their invention to countries where food and energy is much needed, such as Third World countries.
---
You want to support Anonymous Independent & Investigative News? Please, follow us on Twitter: Follow @AnonymousNewsHQ
---
http://www.trueactivist.com/solar-powered-floating-farm-could-provide-9855-tons-of-food-per-year/?utm_source=fb&utm_medium=fb&utm_campaign=antimedia
http://www.forwardthinkingarchitecture.com/SFF-FLOATING-FARMS-INITIATIVE