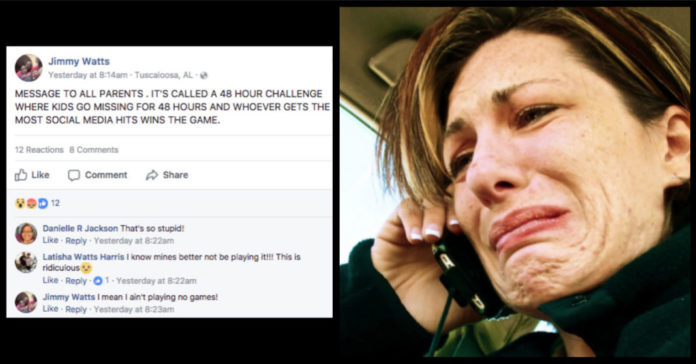 A sick Facebook game, called the 48-hour challenge, which provokes teenagers to go missing for two days, has left the parents petrified. The game originated in the United Kingdom, but it is now spreading panic across the world. This game is similar to Game of 72, which came into being 2 years ago, challenging kids to disappear from their homes for three days.
According to the rules of the game, the teenagers are asked to sever all contacts for 48 hours before they re-emerge and tell everyone that they are safe. If their family members make desperate posts on Facebook in an attempt to find them and get 'likes' and 'shares', the 'missing' children will get a higher score. Whoever gets the most Facebook hits wins.
Essentially, the 48-hour Challenge urges teens to disappear on their families and wreak havoc as a joke. But the police isn't taking it lightly. Lee Tuttle, Charlotte-Mecklenburg Police Department's missing person's investigator, told WSOC-TV:
"It's just a terrible strain, emotionally, physically on these families. We were talking about it amongst our unit and we all cringed as soon as we heard something like that. It's disturbing because it's something we take so seriously, and for someone to take it as a prank or a joke is very alarming."
After a 12-year-old girl from Hull was reported missing, she turned up at her grandmother's house after two days. Now, her grandmother thinks her granddaughter took part in the 48-hour challenge:
"She is frightened now and I think she is starting to realise what she has done wrong. She didn't know about this challenge. We told her about it and I do believe her but there are other girls in her school who are on Facebook."
Similarly, a mother from Northern Ireland, who wishes to remain anonymous, says that she was sure that her daughter took part in the challenge:
"This is a competition and it's sick. The anxiety it left our family in is unspeakable. I was terrified they were dead or would be raped, trafficked or killed. But these kids just think it's funny. There was not even a moment of remorse when my child was taken into police custody and when the police brought my child home, I could see posts of selfies from the police car."
While Facebook says it is looking into the issue…
"The safety of young people on Facebook is a responsibility we take extremely seriously and we are awaiting the links to investigate these reports to ensure we are able to take swift action if it is needed.
"We work closely with safety experts including the NSPCC, the UK Safer Internet Centre, Missing People, Child net and much more to help young people have a positive experience on Facebook, and collaborate closely with law enforcement agencies on issues regarding child safety."
…we urge you to share this story to keep parents and guardians in the loop so they can keep their kids safe.