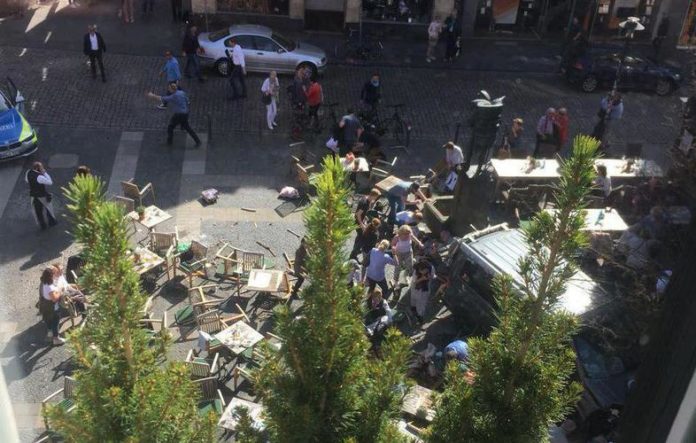 A vehicle has rammed into an outdoor dining area of a cafe in the western German city of Muenster. Three people, including the suspect, were killed in the incident, according to authorities.
The number of dead was confirmed by the regional interior minister, Herbert Reul, during a press conference. Around 30 people are estimated to have been injured, though the final figure is yet to be announced. At least six among the injured are in critical condition, German media report, citing police sources.
#münster pic.twitter.com/ODQUsodAnI

— Paul Fegmann (@Pauli_Feger) April 7, 2018
Police have cordoned off the area and asked people to avoid it. The nature of the incident remains "unclear," police said in a Twitter post urging everyone to "avoid speculation." According to some media reports, police are looking for explosives in the suspect's car that was driven into the crowd. However, there has been no official confirmation of this from police.
Police officers are also currently verifying the information about other potential suspects, who reportedly got out of the car and fled the scene, a local police spokesman, Andreas Bode, told German media. He also confirmed that police had found a "suspicious object" in the car, but refused to provide any details about it. He also said that it is still unclear if the object is an explosive device.
Photos from the scene appear to show a grey minivan, seen among scattered chairs and tables in a narrow street. The café in question, called the Kiepenkerl, is popular among locals and tourists. It is located in the historical part of the city. The street where the incident took place is also located in the vicinity of several major shopping centers.
The driver of the vehicle has taken his own life, German police confirmed to the country's DPA news agency. Authorities say that currently they are not looking for any further suspects, and that the danger is likely to be over.
#Münster Altstadt pic.twitter.com/g4OvVFWnWm

— Konservativer (@Konservativ83) April 7, 2018
The incident might have been a terrorist attack, the German Rheinische Post said, citing police sources. However, no official confirmation has been issued.
The German Suddeutsche Zeitung daily, citing its own sources, says that the man who allegedly plowed the car into an outdoor dining area in Muenster was a 48-year-old German who had mental-health issues, and that there is no evidence suggesting that the incident was a terrorist attack. At the same time, it also reported that the police are now searching the man's apartment for explosives.
A Kurdish demonstration was scheduled to take place in central Muenster later on Saturday. The protesters planned to rally against the Turkish operation targeting Kurdish militias in northern Syria. Around 1,500 people were expected to take part, according to German Focus magazine. Following the incident, the demonstration was called off by the authorities.