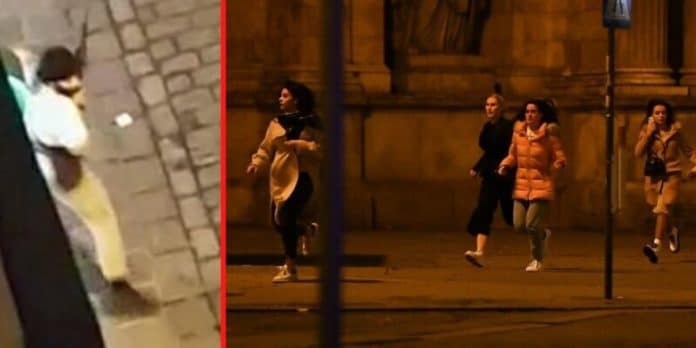 Shots fired at six locations in Austria's capital left three people dead and 15 others wounded; police killed one gunman.
Police in Austria have launched a manhunt after gunmen opened fire at multiple locations across central Vienna, killing at least four people and wounding several more in what Austrian Chancellor Sebastian Kurz described as a "repulsive terror attack".
One of the suspected gunmen, identified as an Islamic State of Iraq and the Levant (ISIL or ISIS) group sympathiser, was shot dead by police who said they were searching for at least one more assailant still at large.
Fifteen people were injured in the attack in the center of the capital, among them a police officer, Austrian Interior Minister Karl Nehammer said on Tuesday.
The attacks, in six locations including near a synagogue in the centre of the city, were carried out by "several suspects armed with rifles", police said on Monday night.
Authorities are still trying to determine whether further attackers may be on the run.
"It sounded like firecrackers, then we realised it was shots," said one eyewitness quoted by ORF.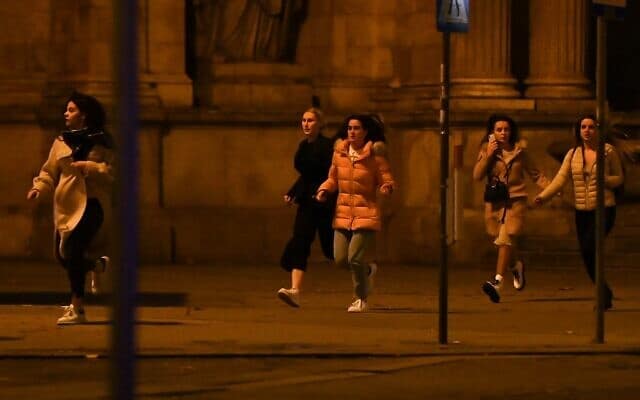 A shooter had "shot wildly with an automatic weapon" before police arrived and opened fire, the witness added.
The Interior Minister Nehammer repeated calls for the public to stay at home on Tuesday in an early morning televised news conference. He called the incident an attack on Austria's values and democratic society. "The attacker sympathised with the militant terrorist group IS," he said referring to ISIS. The interior minister however, declined to elaborate, citing the ongoing investigation.
Earlier, Mayor Michael Ludwig told public broadcaster ORF that one person was killed at the scene of the shootings, and a second person – the woman who was wounded during the attack – died of her injuries in the early hours of Tuesday.
The attack began at about 8pm (19:00 GMT) on Monday, when several men armed with rifles opened fire – starting outside the city's main synagogue – as many people took advantage of the last evening before a nationwide curfew took effect because of COVID-19.
Officials said schools would be closed on Tuesday.
Frequent sirens and helicopters could be heard as emergency services responded to the shootings, and a large area of central Vienna was cordoned off.
Thomas Mayer, the European Editor at Austria's Der Standard newspaper, told Al Jazeera that "there are police everywhere and the city centre is closed".
"The problem is there are so many people who went to restaurants and bars to have some joy in the last evening before lockdown (and now) these people cannot go home," he added.
"We are experiencing difficult hours in our republic," Austrian Chancellor Sebastian Kurz said on Twitter, adding that the army would protect sites in the capital so the police could focus on anti-terror operations.
"Our police will act decisively against the perpetrators of this repulsive terror attack," he said. "We will never be intimidated by terrorism and we will fight this attack with all means".
The assailants, Kurz later told ORF, were "very well prepared" and "very well equipped, with automatic weapons".
'At least 100 rounds or even more'
Nehammer had earlier described the incident "an apparent terror attack".
"We have brought several special forces units together that are now searching for the presumed terrorists. I am therefore not limiting it to an area of Vienna, because these are mobile perpetrators," he told ORF.
While the shootings began near Vienna's main synagogue, Jewish community leader Oskar Deutsch said on Twitter that it was not clear whether the synagogue and adjoining offices had been the target.
He added that they were closed at the time.
Rabbi Schlomo Hofmeister told London's LBC radio he was in the compound of the synagogue when the attack took place.
"Upon hearing shots, we looked down [from] the windows and saw the gunmen shooting at the guests of the various bars and pubs," he said.
"The gunmen were running around and shooting at least 100 rounds or even more in front of our building," he said.
Bars and restaurants were packed with customers at the time of the shooting.
Eveline, a witness, described the moment people started to run after hearing gun shots.
"Suddenly the shooting started, at first we did not know what it was … Then there was shooting again, but closer, so we started to run away," she told The Associated Press news agency.
"Because we did not know if we were running in the right direction, we ran into a hotel and hid there."
Many European leaders took to social media to express their shock at the shootings.
On Twitter, French President Emmanuel Macron said France "shared the shock and grief of the Austrian people … This is Europe. Our enemies must know who they are dealing with. We will never give up."
UK Prime Minister Boris Johnson said he was "deeply shocked" at the attacks, and said Britain stood united with Austria, a sentiment shared by Mark Rutte, Prime Minister of the Netherlands.
"Our thoughts are with the victims and their families, and with the Austrian government in dealing with this heinous act," Rutte wrote on Twitter.