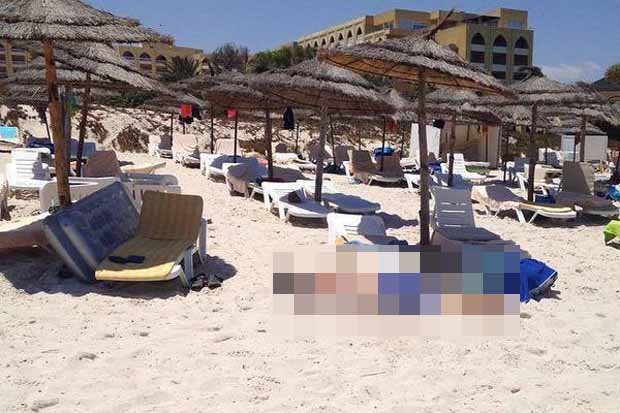 Islamic radicals carried out three terrorist attacks in Tunisia, Kuwait and France and killed more than 50 people on Friday. In Kuwait, a suicide bomber attacked a Shiite mosque during Friday prayers, killing at least 25; militants from the Islamic State claimed credit for the attack. In France, two men carrying the Islamic State flag attacked an American-owned gas canister factory in the south-east of the country.
In Tunisia, two gunmen killed at least 37 European tourists with AK47s after they stormed the popular Mediterranean resort of Port el Kantaoui. Though no terror outfit has so far taken the responsibility for the attack, the act of terrorism is being linked to Islamic State as their gunmen had attacked tourists at a Tunis museum in March too, killing 21.
Terror attacks in Kuwait, France and Tunisia echo Isis methods http://t.co/LDap4J0813

— The Guardian (@guardian) June 26, 2015
Secretary of State for Security Rafik Chelly told Mosaique FM the gunman was a Tunisian student unknown to the authorities. "He entered by the beach, dressed like someone who was going to swim, and he had a beach umbrella with his gun in it. Then when he came to the beach he used his weapon," Chelly said.
Witnesses described scenes of panic and horror after the shooting at the Riu Imperial Marhaba Hotel on the outskirts of Sousse, about 140 kilometres south of Tunis.
A frightened Brit Susan Ricketts said, "We were beside the beach when we heard machine-gun fire. The beach was cleared. There were shouts of 'get off the beach, get off the beach'. The machine-gun went off a few times. And after that what sounded like an explosion next."
Describing the moment an explosion went off, Brit tourist David Schofield said, "Everyone started running towards the hotel. As we got into the hotel, we heard quite a large explosion. People running around the hotel, nobody has really been told what to do. We heard people saying there were guns on the beach."
Elizabeth O'Brien, an Irish woman on holiday with her two sons, said, "We were on the beach, my sons were in the sea and I just got out of the sea. I thought 'Oh my God, it sounds like gunfire', so I just ran to the sea to my children and grabbed out things as I was running towards the hotel, the waiters and the security on the beach started saying 'run, run run!' and we just ran to our room, which is like a little bungalow."
Ghastly #ISIS attacks in #Kuwait, #Lyon, #Tunisia. So many lives lost at the hands of a toxic #ideology. So much for #Ramadan and worship. — Raza Rumi (@Razarumi) June 26, 2015
#ISIS Attack In Last 48 Hours – #Syria| #Tunisia | #Kuwait | #France | #Iraqpic.twitter.com/ycdkcYbKVj

— Terrormonitor.org (@Terror_Monitor) June 26, 2015
---
This Article (Terrorists Massacre Foreign Tourists In Tunisia Beach Resort) is free and open source. You have permission to republish this article under a Creative Commons license with attribution to the author and AnonHQ.com.