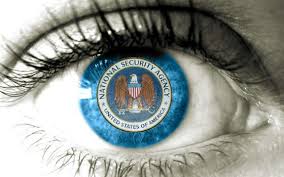 We're all familiar with the all seeing eye of our governments watching over our shoulder. Now the news gets better – not. If you haven't heard about CISA already, you're about to discover a frightening new world constructing our private online lives into a new systematic order that consists of heavier monitoring.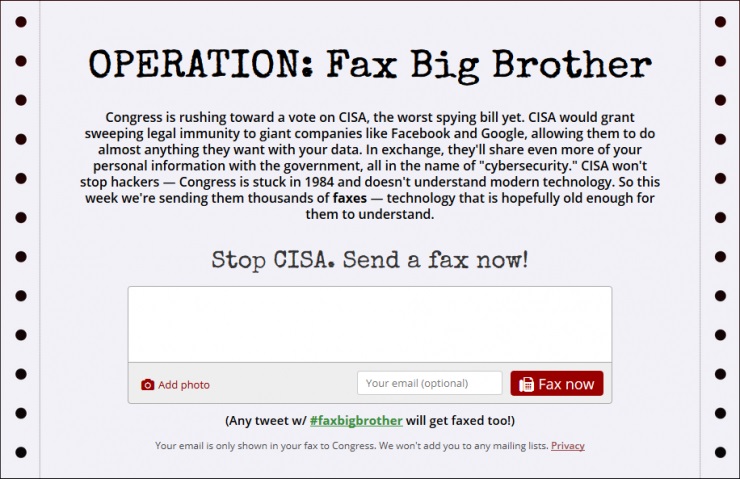 The dirty deals between Google and the NSA are only just the tip, as the U.S. government ramps up their surveillance action in an effort to introduce unlimited, all-encompassing monitoring of its citizens through the cooperation of corporations and large organziations. CISA, or the Cybersecurity Information Sharing Act of 2015, is heading for a vote in the U.S. Senate very soon. It's an irrational hysteria that we've skimmed over in literary works such as 1984, but even Orwell never quite fathomed the extent of which surveillance would become.
CISA, the surveillance bill masquerading under the "cybersecurity" banner, has been pushed back three times by public outcry, but now they're attempting to rush it through, arguing that it is necessary in order to protect our freedom, and to stop hackers.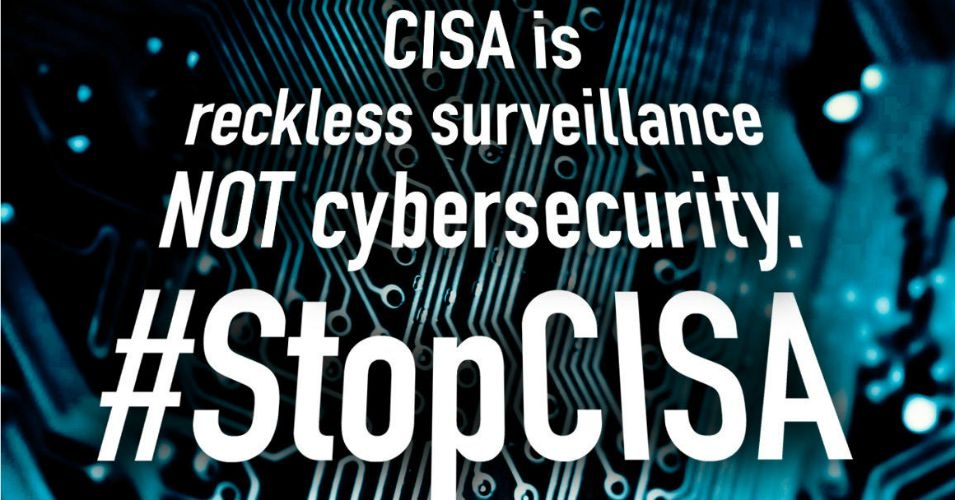 If the CISA 2015 is passed, Google, Facebook and other similar corporations will be protected and granted immunity if they monitor and share their users, passing on information to government agencies if they consider it to contain "cyber threat indicators." The information that can be shared is only limited to your imagination; from email content, IP addresses, personal information, passwords, and anything else they deem to be a threat. If this isn't bad enough, from the sharing of this information, a further exploitation in the surveillance laws that are current, will permit the government to "upstream" domestic content direct from the cables that make up the internet.
From this step, anything is possible. CISA could pass this information to law enforcement agencies to further investigations; backdoor search capabilities will be expanded; and any attempt to fight or challenge the system will prove difficult – the bill specifically exempts this collection of information from disclosure under the Freedom of Information Act on all local, state, and federal law.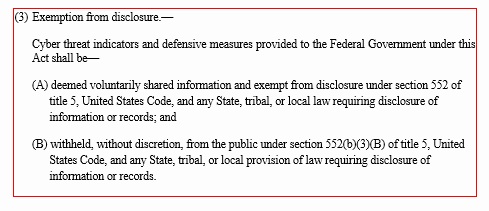 All in all, CISA 2015 is a threat to our rights on the Internet. Freedom and self-expression will be wing clipped to the point of self-monitoring our words in fear of retribution; when we speak, it will be under a shroud in darkness, under the banner of digital fascism.
---
This Article (The Age of Digital Fascism is here: the CISA Surveillance Bill) is free and open source. You have permission to republish this article under a Creative Commons license with attribution to the author and AnonHQ.com.