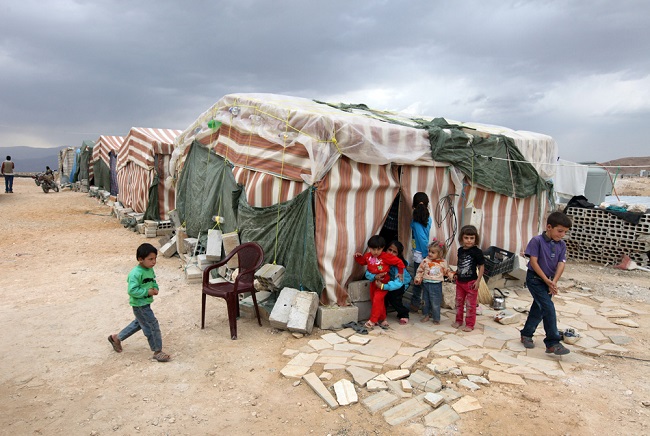 Refugees continue to pour out of Syria, with the greatest numbers flowing into Lebanon. There are currently over 1.1 million Syrian refugees registered with the United Nations living in Lebanon; the number of unregistered refugees is estimated to be much higher; one village in Lebanon is reported to be housing more refugees than are living in the entire United States. The Lebanese government says the actual number of refugees in the country is about 1.6 million. In short, one in every five people living in Lebanon is a refugee from Syria's civil war – giving Lebanon more refugees per capita than any other country in the world.
The impact of the Syrian crisis – including on the economy, demographics, political instability, and security – continues to deepen across Lebanon. So much so that it's reached a kind of tipping point with the refugees as well the Lebanese.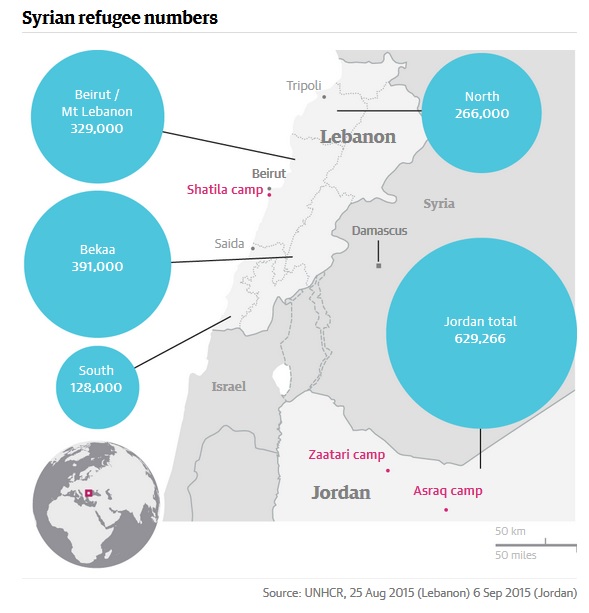 Syrian refugees are all over Lebanon – in over 1,400 sites – many of them have settled in the country's impoverished areas around Tripoli, Bakkar and the Bekaa valley that already lack adequate health care, water, and electricity. Lebanon's economy and overall infrastructure is marked by high levels of poverty and inequality and therefore cannot sustain the visitors indefinitely.
2013 World Bank report on the impact of the Syrian crisis on Lebanon found that:
During the 2012-2014 period, the conflict may cut real GDP growth by 2.9 percentage points each year, entailing large losses in terms of wages, profits, taxes, or private consumption and investment; push approximately170,000 Lebanese into poverty (over and above the 1 million currently living below the poverty line) and double the unemployment rate to above 20 percent, most of them unskilled youth; and depress government revenue collection by USD1.5 billion while simultaneously increasing government expenditure by USD1.1billion due to the surge in demand for public services, bringing the total fiscal impact to USD2.6 billion. Across all key public services, the surge in demand is currently being partly met through a decline in both the access to and the quality of public service delivery. It is estimated that an additional spending of USD2.5billion would be required for stabilization, i.e., to reinstate the access to and quality of public services to their pre-Syrian conflict level
Furthermore, the Syrian conflict at large has challenged the already delicate societal and inter-communal balance in Lebanon. As noted throughout the report, overcrowding, saturation of basic services and competition for jobs are among the root causes for social tensions between host and refugee communities.
A 2014 report by The United States Department of State observed that:
The overall crime situation is worsening, perhaps due to the impact violence in Syria has had on Lebanon's deteriorating economic situation. Crime has risen sharply over the past year. Low-level criminal activities, such as burglary, petty theft, and street crime, remain common, but previously infrequent violent crimes have increased. In previous years, many crimes were non-confrontational; in the last year, however, kidnapping for ransom, armed robberies, bank robberies, and other physical assaults spiked. Arms and explosives are readily obtainable by both criminal elements and terrorist organizations and continue to pose serious threats against foreign diplomatic missions in Beirut.
The economic and social spillovers of the Syrian conflict have not only put a strain on the country's limited resources, it has shaken the country's fragile polity too. The Syrian Civil War has stoked a resurgence of sectarian violence furthering the polarisation of Lebanese politics. Among Lebanon's political blocs the anti-Syrian Saudi-backed March 14 Alliance supports the Syrian rebels, and the Iranian-backed pro-Syrian March 8 Alliance supports the Syrian government. Since the beginning of Syria's civil war in March 2011, daily clashes have erupted in Syria between forces loyal to the Syrian Ba'ath party, supported by Iran and Hezbollah, and forces seeking to oust the Syrian president and his government, including the Free Syrian Army and the Syrian Islamic Liberation Front.
Sectarian clashes, closed roads, and increased tensions are becoming a daily reality in Lebanon. Rawaa Hammoud, a Lebanese lawyer, believed that the "the Syrian civil war has increased the divisions between supporters of this revolution and those who oppose it".
Could the fears many Lebanese have, that the presence of more than a million refugees in their small fragile country might eventually trigger a renewed civil war, be improbable?
The refugees on their part live in extreme poverty and face hostility and resentment in the fragile Mediterranean state, which has long dominated by its bigger neighbor and suffered civil war itself from 1975-90.
Residents of towns near the informal camps have been known to torch the tents of their new neighbors. There are reports of Syrian women being raped or sold into forced marriages with Lebanese men. In 2014, Human Rights Watch released a report detailing many cases of abuse and mistreatment of refugees, sometimes by Lebanese security forces.
The people who fled Syria for Lebanon – in pictures http://t.co/YsObt1dV2A

— Dana Sleiman (@DanaSleiman) October 5, 2015
In January 2015, Lebanon enacted strict new visa requirements to dissuade Syrians from staying in the country. Regulations regarding renewal or regularization of legal stay (obtaining residency visas) for refugees are complex, costly and arbitrarily applied.
Under the new law, Syrians wanting to enter Lebanon will now have to provide documents including a signed pledge 'not to work' and a rental agreement with their landlord—as well as pay $200 every month. Without a valid residency permit even recognized refugees are considered to be in breach of Lebanese law. This, in turn, exposes them to a range of human rights violations: without a valid permit refugees from Syria have limited or no access to public services such as education and healthcare; they can be detained by security forces and may be forcibly returned to Syria.
Would denying legal status to Syrians empower organized crime and add to existing xenophobia?
According to Nabil Halabi, executive director of the Lebanese Institute for Democracy and Human Rights (LIFE), an NGO that documents human rights abuses, there's no coherent Lebanese policy for Syrian refugees.
"One of the new laws prohibits Syrians from working in Lebanon, but they have to pay money for the papers in order to stay. Where are they going to get the money from? So, some of them turn to crime, because they have no other choice. Then the Lebanese say, 'Look, they're all criminals'. Many people are giving land and helping them as well. Not all the Lebanese treat the Syrians badly… but in general, Lebanon is like a big prison for the Syrians. It's not a safe haven for them."
According to a report released by the Norwegian Refugee Council, municipalities in Mount Lebanon have become more suspicious of Syrians living without legal status. Many municipalities have consequently imposed strict curfews on Syrian refugees to restrict their movement. Scared of repercussions, refugees have avoided interacting with Lebanese nationals through fear that they could be threatened, exploited or reported on at any time. In August and September 2014, Lebanese nationals carried out at least 11 separate attacks on Syrian refugees. In four cases, witnesses told Human Rights Watch that local police practically permitted the attack by refusing to intervene.
Syrian children walk the streets of Beirut, selling flowers, shining shoes or begging, sleeping rough at night and often abused by drunken bar patrons or bystanders. In the Bekaa Valley, many live in cantons of plastic tents that collapse in the harsh winter, and toil in the fields for little pay. Without any legal way to work in Lebanon, they struggle to find odd jobs and accept low wages that often don't cover their most basic needs. Many families go hungry, surviving on just $13 a month per person for food in handouts from the WFP. The government refuses to build official camps for refugees, leaving an inevitable humanitarian crisis to grow.
The human face of Syria's #refugeecrisis. @krishk reports from Lebanon: http://t.co/dTpKWOAeUL pic.twitter.com/X4WePNreDr

— Christian Today (@ChristianToday) October 8, 2015
Lebanon's experience with Palestinian refugees (around 500,000 have now lived in the country for more than 60 years after UN camps were first established for them in Lebanon) has left deep scars. The militarization of Palestinian camps is also widely seen as a catalyst of Lebanon's own 15-year civil war. Many believe that creating formal refugee camps for Syrians would encourage them to settle in Lebanon permanently.
"We thought that 30 years of Syrian occupation of my country had ended in 2005 but here it goes again; however in a different way. The plan is to force Syrian people to abandon their beloved homes and come to Lebanon so that we, Lebanese people, eventually leave, as our country will stop belonging to us in the near future. It is pretty much similar to what happened when Palestinian people fled to Lebanon in 1948 never to leave again. We are just concerned that history will repeat itself with Syrian people," a Lebanese national told Anonhq.
There are two sides to every coin. While the fact that Lebanon has taken in more refugees that it can handle can't be ignored, the way it has manhandled the refugee crisis can't be overlooked either.
---
This Article (The Flipside Of Hosting Syrian Refugees: Case In Point – Lebanon [Investigative]) is free and open source. You have permission to republish this article under a Creative Commons license with attribution to the author and AnonHQ.com.