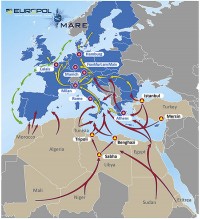 When describing situations in the Middle East you might often hear me refer to the term Persia. As you can see from the map below, nearly all the hottest spots for violence, War and mass emigration take place all within the geographic confines of the same area; the ancient Persian Empire.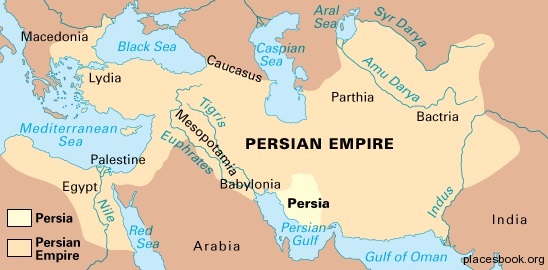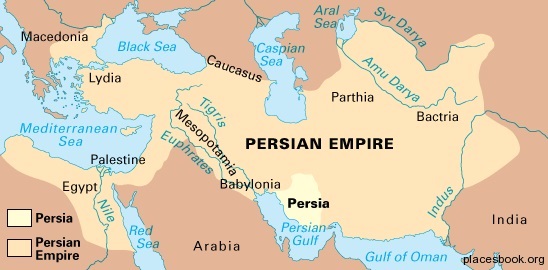 The term Persia was officially made non-existant in 1935 when Persia's government changed the name of the country to Iran. Oddly enough "Iran" the Arabic word for Aryan. As in the same Aryan race that Adlof Hitler and the Nazi's believed in. The ancient Persian empire consisted in part of the following modern countries: Syria, Iraq, Turkey, Iran, Afghanistan, Israel, Palestine, Libya, Egypt, Pakistan. Have you heard about any of these countries in the news the last few decades? Think that any of this is a coincidence?
I wrote a while back about how modern disputes arise out of ancient times. As someone who has studied ancient history for years of my lifetime this is a direct correlation for me to see. It is the 'elephant in the room' so to speak. No country addresses this even though it is in plain site.
Turkey, founded in 1923. Has received over 1.7 million refugees from Syria. Syria, founded in 1961. Has lost an estimated 9 million people to emigration. Iraq, founded 1919, has experienced over 500,000 fatalities since the turn of the century. Last month President Obama has stated that despite his promise to end the War in Afghanistan over 7 years ago, he will be keeping 5,500 troops on the ground here in 2015. In 2011 Egypt went through a violent revolution to overthrow a dictator.Muammar Gaddafi was killed by the people in the street of Libya. Arab – Israeli relations have not been this tense in roughly 1,500 years.
I heard in the news recently the America was going to be receiving 200,000 immigrants from Syria. I then heard Donald Trump say that 'how can we know these people are not a 200,000 man terrorist Army'! How tragic this point of view really is. France has received 330,000 refugees in the last 12 months; as of March 2015. Parts of modern day France operate under Sharia Law and Paris has seen a noticeable increase in Islamic emigrants. From 2006 to 2013 it is estimated that France received over 190,000 refugees.  Greece is not just facing a financial crisis, people are literally dying in the Mediterranean to arrive there. Just last month it was estimated that 218,000 people tried to cross the Mediterranean Sea. This is more then all of 2014 combined! Germany recently recieved 100,000 immigrants of their own and want to put them to work in the manufacturing industry. Anticipate the German economy to start growing soon because of this. The last 6 month Italy has  received an estimated 50,000 immigrants. The countries government has said to have intercepted as many as 190,000 people off the shores of their borders. There is no clear estimate on how many other illegal immigrants were not detained. As emigration has continued to evolve the movement has reach into Norway and Scandinavia. I have heard many times in the recent weeks about citizens of these countries expressing serious concerns about this.
Since we have been keeping accurate records, the history of Persia has been checkered with death and violence. In 2015 this region plays host to one of the greatest mass migrations in human history. The entire empire of Persia is displaced. I seem to struggle with the notion that the people within countries receiving immigrants are more burdened than the migrators themselves. Try to take a look at it from the perspective of the migrant. These people are coming from War, famine and/or heartbreak. These people are literally on the run and have no where to settle or call home. All these migrants want is to find a peaceful place to settle down and start a new life. Can you blame them? To those of you who view migrants as a threat to your country, remember it might just be the migrant who carries more burden then you do. These people need assistance, embrace them and help them assimilate. Do not outcast these people from society.
---
The article. "The Modern Migration of Persia" is free and open source. You have permission to republish the article using a creative commons license with attribution to the author and AnonHQ