You will find a number of odd ways you can chat with people nowadays, from instant messaging to Facebook Messenger and programs like Hip Chat, Slack, WhatsApp, etc. If you would like to build your personal private chatting system without any hassle besides entering a different Address in your web browser, nonetheless, you can't make a mistake with hack.chat, a new, bare hassle free, no extra approach to personalized chat that looks to be a product of the 80's but in a good and simple way.
It is plain and simple to use and also non-reusable or disposable and can also be operated on your very own private server. Great for individuals who want a quick chat session and want it disposed at the end. This is something that you may not get on Slack; that maintains an archive of all the unwanting comments you've ever written.
However, to create a simple and disposable hack.Chat, simply go to the website (https://hack.chat) and add a "?" together with a sequence of text to the URL. For example, https://hack.chat/?programming will generate a chat room named – programming. Once you enter the room, it will show you how many users are online, and you can start chatting with them. You can be creative with the names and create anything that you like, MinusGix, one of the users there, said, that 象形字 like you could use weird characters on the links in the chat room", so you can go crazy with the characters or symbols. Once a person has created the chat room, they can forward the new URL to anyone whom they wish to speak with privately, and they will be chatting in just a matter of seconds. However, the channel list(s) is not stored at any place; therefore random people will not turn up in your hack.chat that is unless you create a very simple of a guessable name for the channel.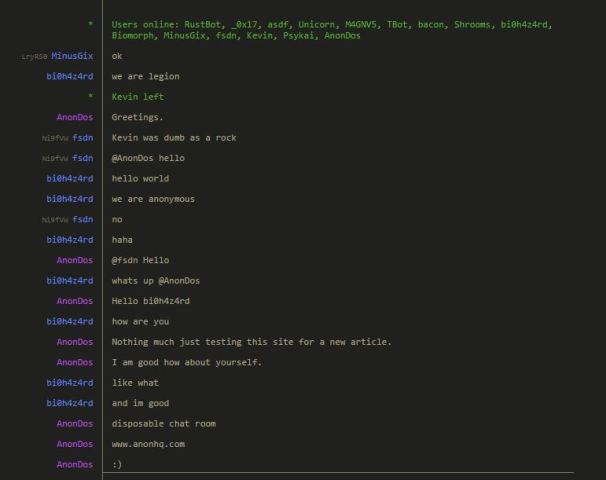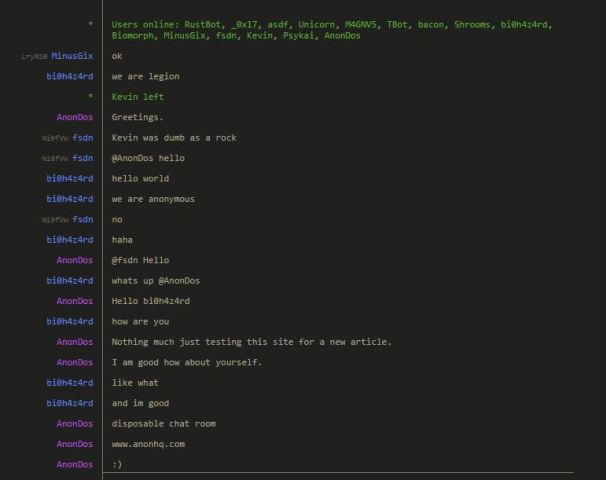 Furthermore, formatting is feasible with LaTeX, too.
Below are a few channels in hack.chat's the main page that you can join and try out; just combine the name towards the end of the URL https://hack.chat/?anonhq
?lounge ?meta ?math ?physics ?chemistry ?technology ?programming ?games ?banana
And this is what a random one looks like – ?ylj91t7x – this was created for me by bi0h4z4rd another member in the programming chat room.
Creator Andrew Belt, from the University of Tennessee, promises that zero message record is kept on their hack.chat machines so that random channel labels can be produced solely for confidential discussions.
Therefore, if you are trying to find a quick and sneaky method of getting to chat without the need to download an app or stress over privacy, hack.chat can be your and like minded peoples way go to.
You want to support Anonymous Independent & Investigative News? Please, follow us on Twitter: Follow @AnonymousNewsHQ
---
This Article (Hack Chat | Private Disappearing Chatrooms) is free and open source. You have permission to republish this article under a Creative Commons license with attribution to the author and AnonHQ.com.