Polish photographer and filmmaker Arkadiusz Podniesinski visited the exclusion zone set up after the 2011 Fukushima nuclear disaster in Japan and took never-before-seen images showing the abandoned toxic towns and villages that once housed hundreds of thousands of people inside the 20 km zone.
Four years on from the nuclear accident, which led to 160,000 people being evacuated from their homes, 120,000 have still not been able to return and some areas are still considered to be too dangerous to enter.
"It is not earthquakes or tsunamis that are to blame for the disaster at the Fukushima Daiichi nuclear power station, but humans. The disaster could have been forseen and prevented. As in the Chernobyl case, it was a human, not technology, that was mainly responsible for the disaster… I came to Fukushima as a photographer and a filmmaker, trying above all to put together a story using pictures. I was convinced that seeing the effects of the disaster with my own eyes would mean I could assess the effects of the power station failure and understand the scale of the tragedy, especially the tragedy of the evacuated residents, in a better way," writes Podniesinski on his website.
Three reactors were disabled after a 15-meter tsunami slammed into the Fukushima Daiichi Nuclear Power Plant following a major earthquake on March 11, 2011. In the subsequent days, all three cores had melted and in total, four reactors were written off. As residents and workers were forcibly evacuated by Japanese authorities, everything was left behind.
"My goal was to present the actual state of the exclusion zone. Futaba, Namie and Tomioka are ghost towns whose emptiness is terrifying and show a tragedy that affected hundreds of thousands of people."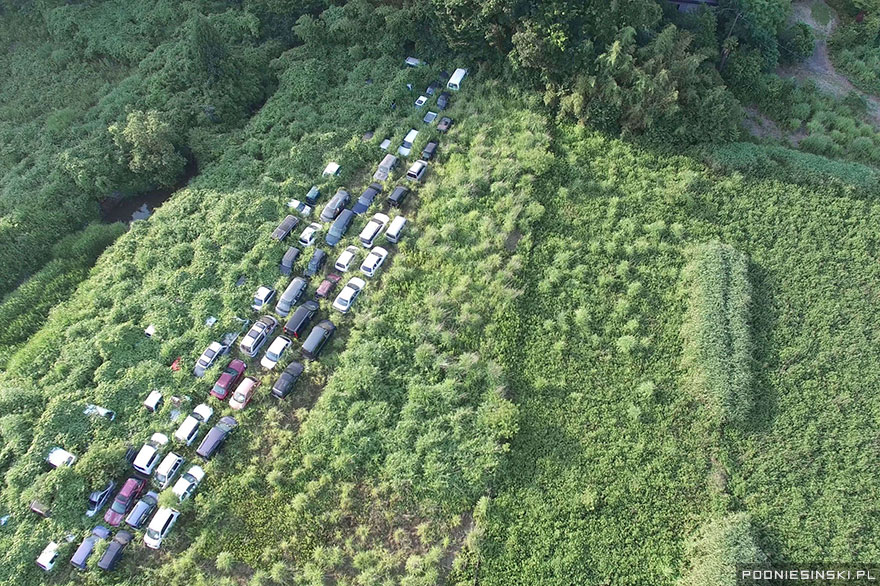 Dozens of vehicles lie abandoned and covered in overgrown bushes along what was once a stretch of road near the power plant.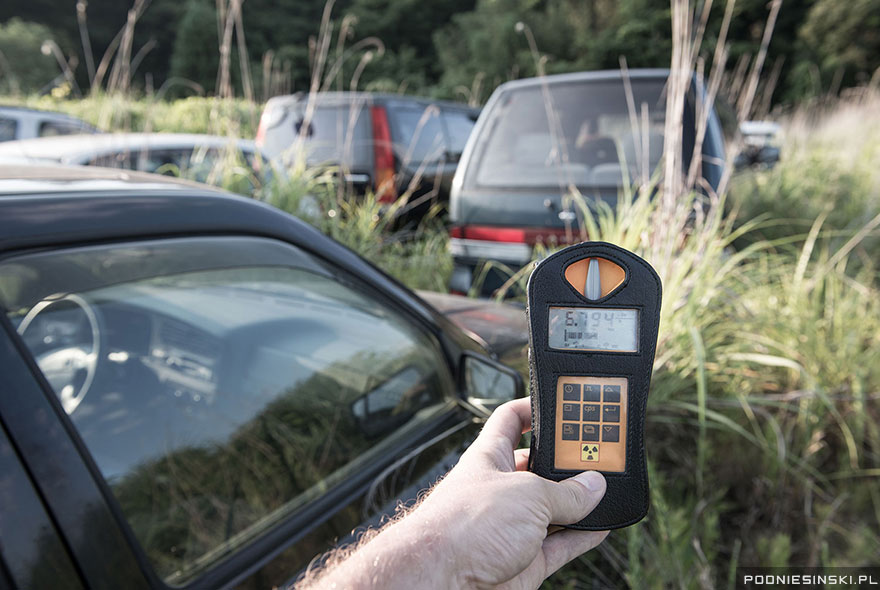 The current radiation level reading (6,7 uSv/h)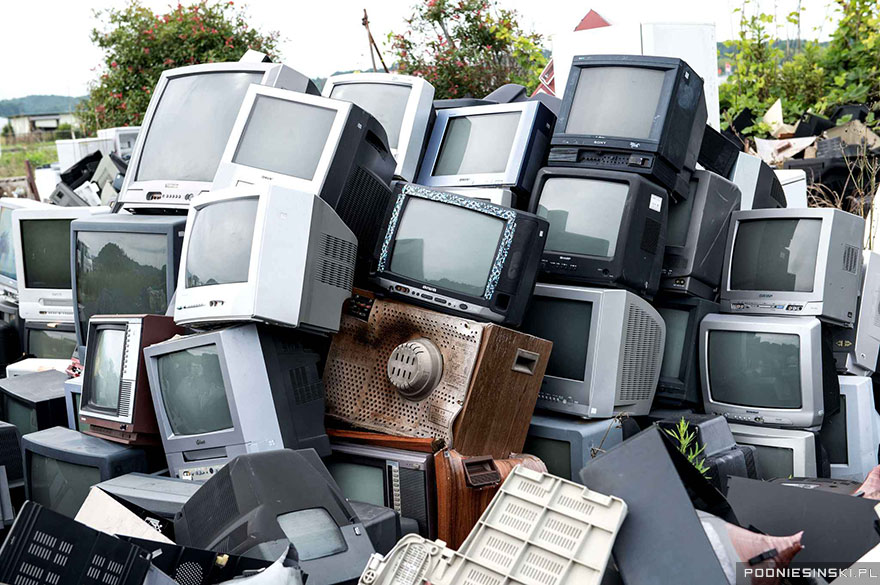 These contaminated televisions were collected and piled up as part of the cleaning efforts.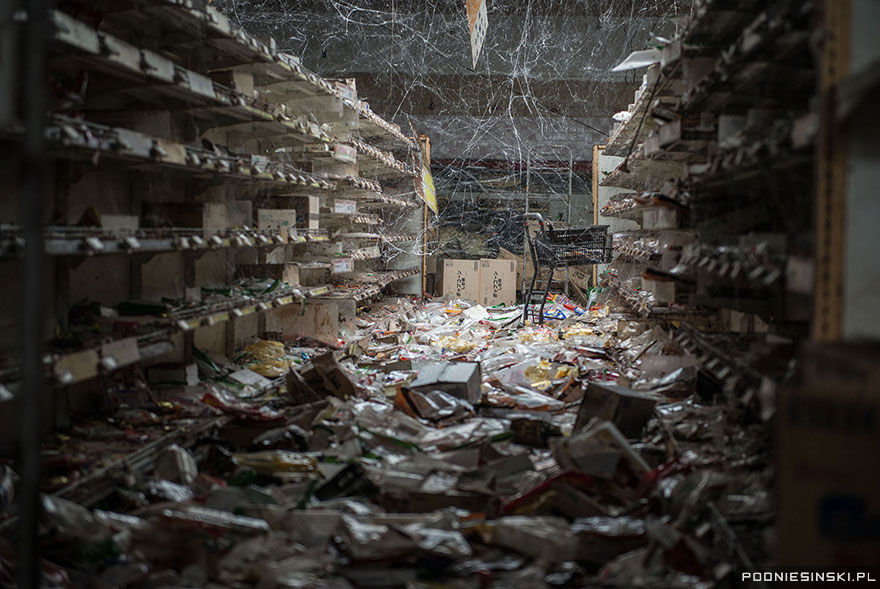 Cobwebs hang above the scattered products in this abandoned supermarket.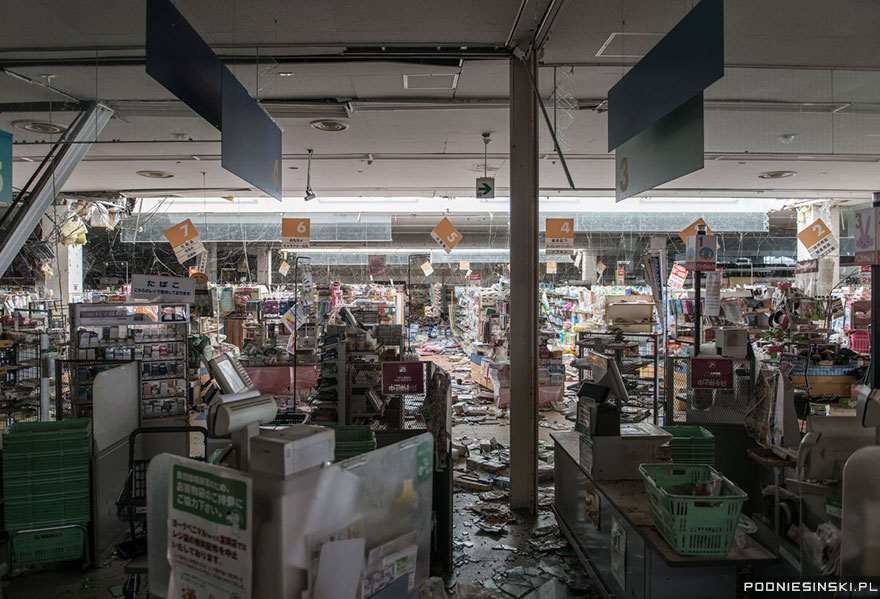 Supermarkets still have products on shelves.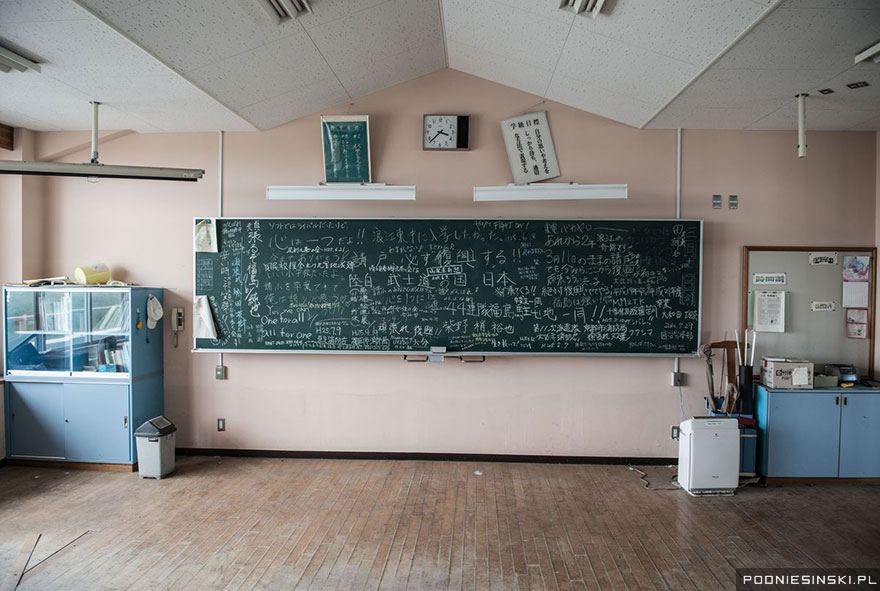 School blackboards contain the day's lesson plans.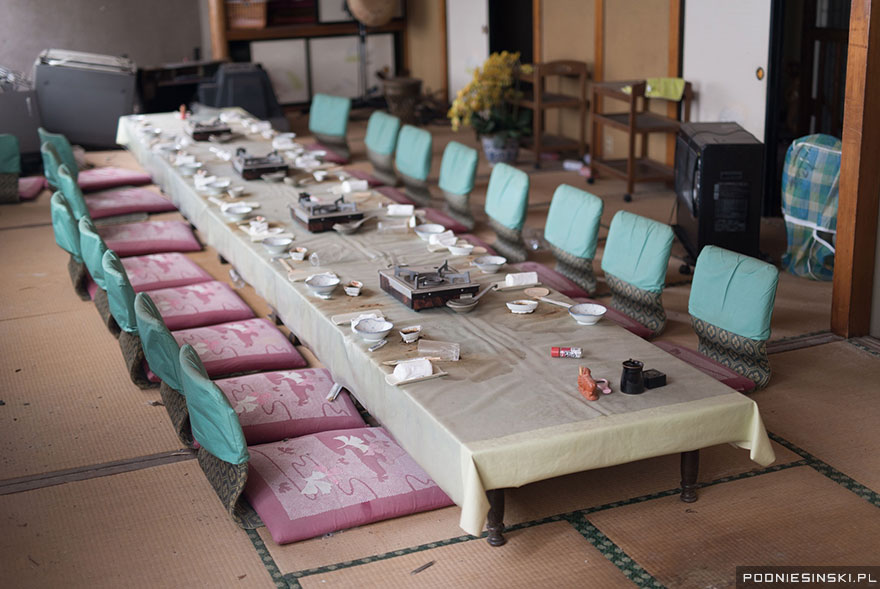 A dining table and seats, complete with bowls and portable cookers ready for food to be prepared, lie untouched.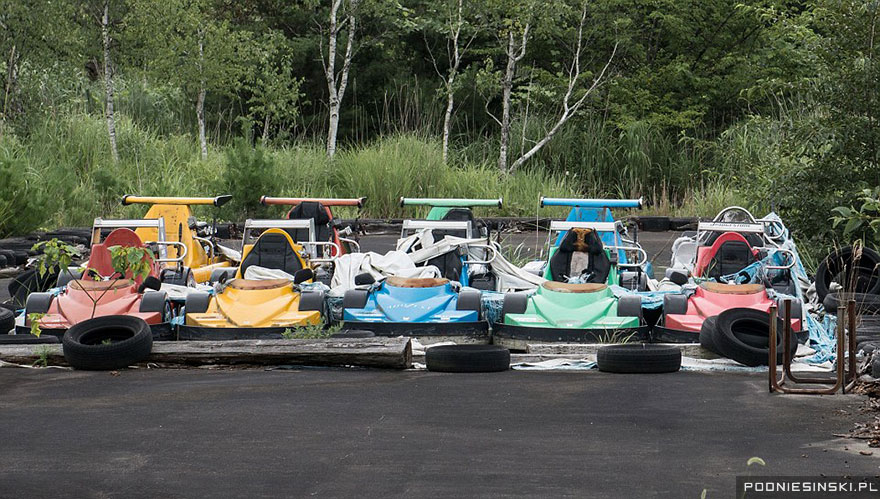 These go-karts have had their last race in an entertainment park located within the 12.5mile exclusion zone.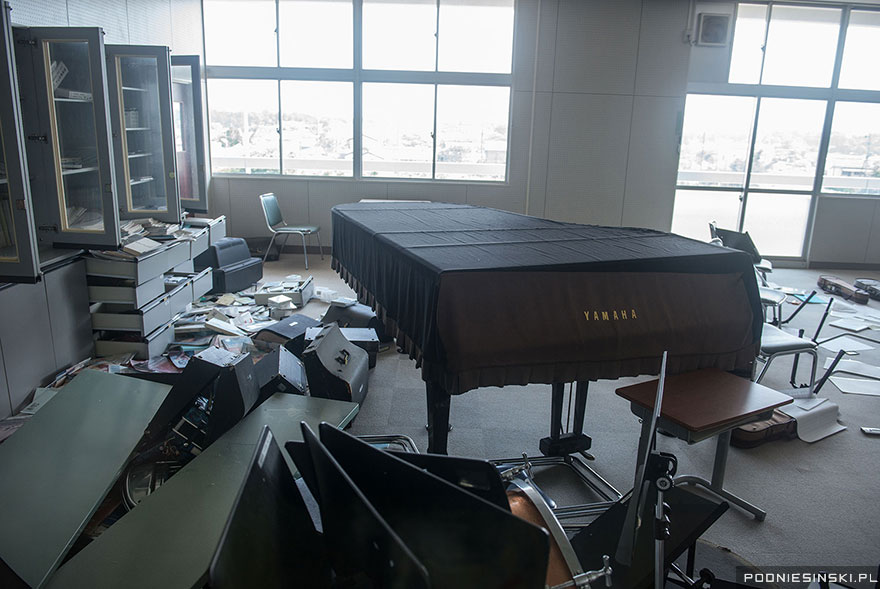 A trashed piano and musical instruments lie on the floor.
School gymnasium damaged by the earthquake which generated the tsunami.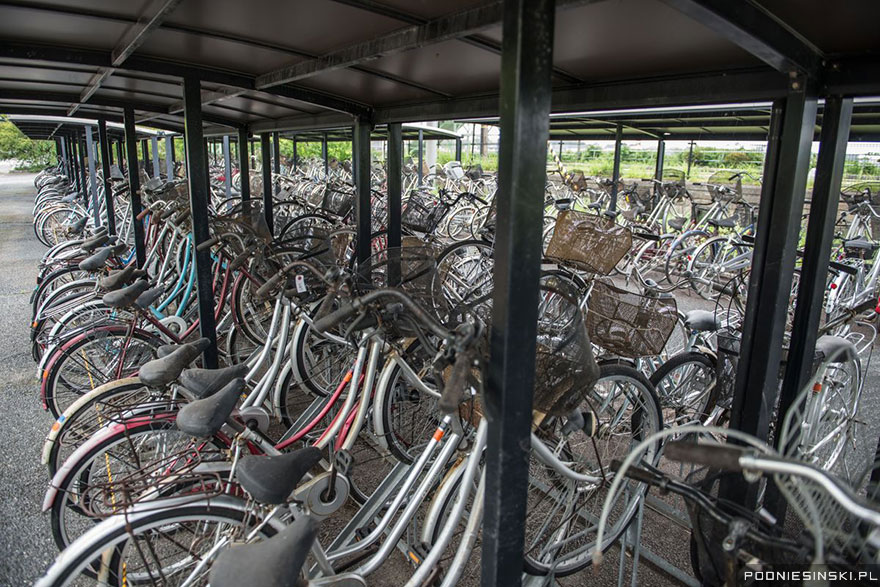 Abandoned bikes lie chained to bike rails.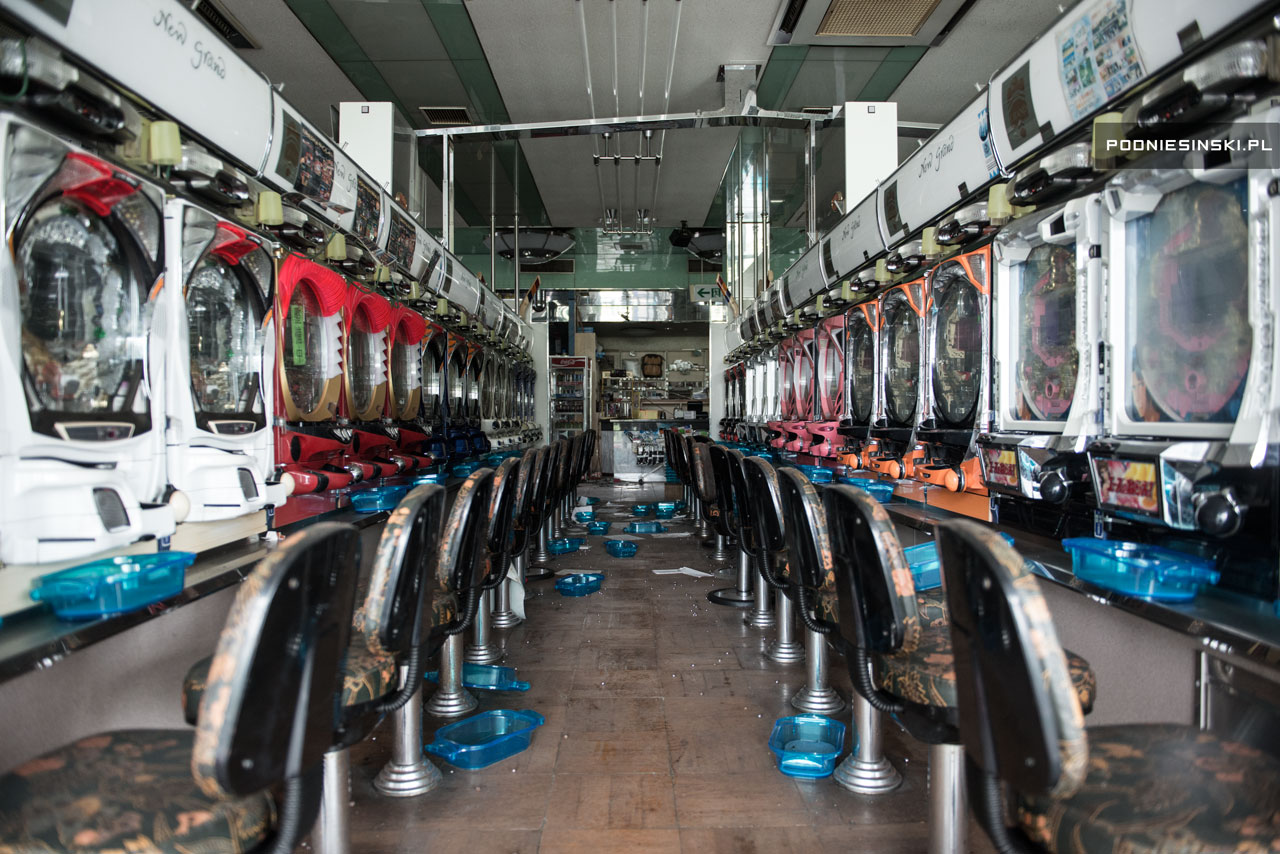 An empty arcade, now without patrons. (above)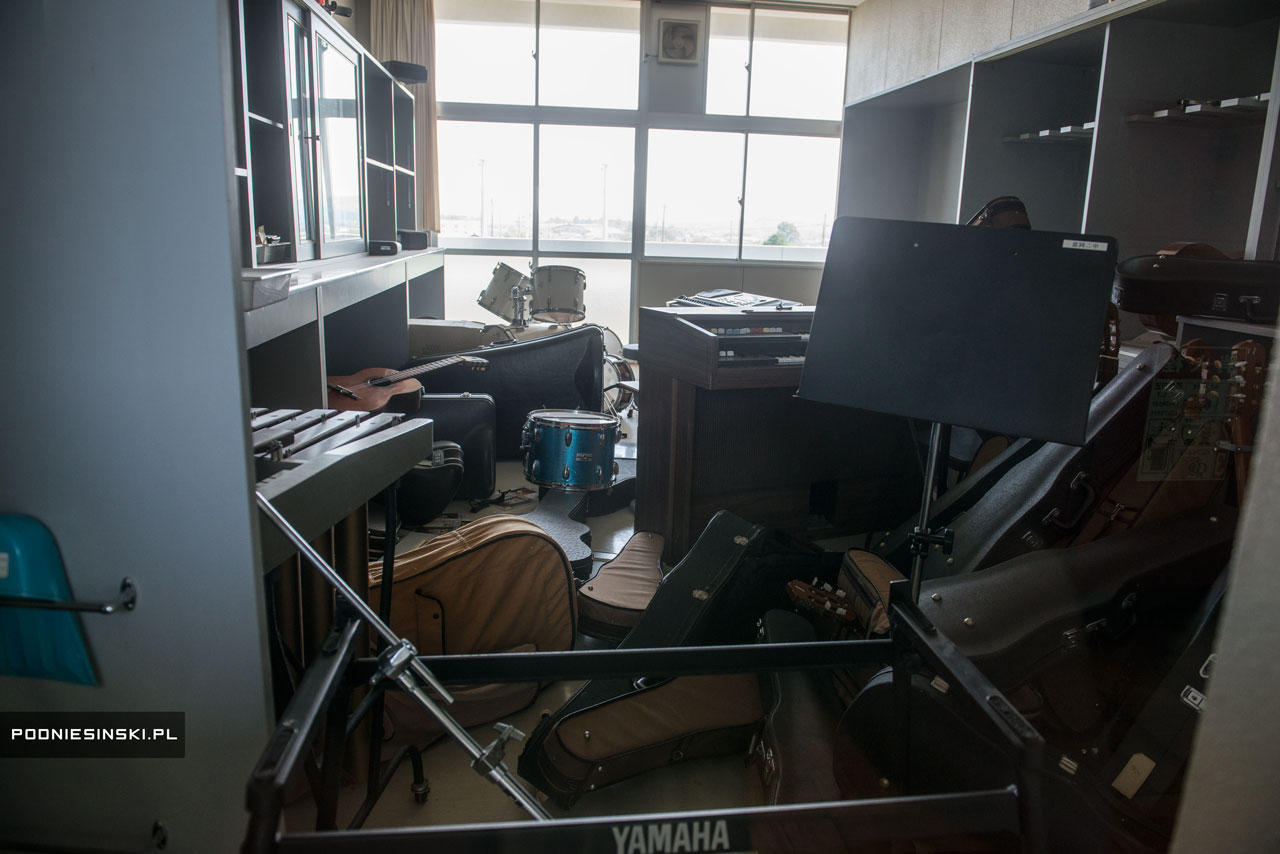 Musical instruments left behind.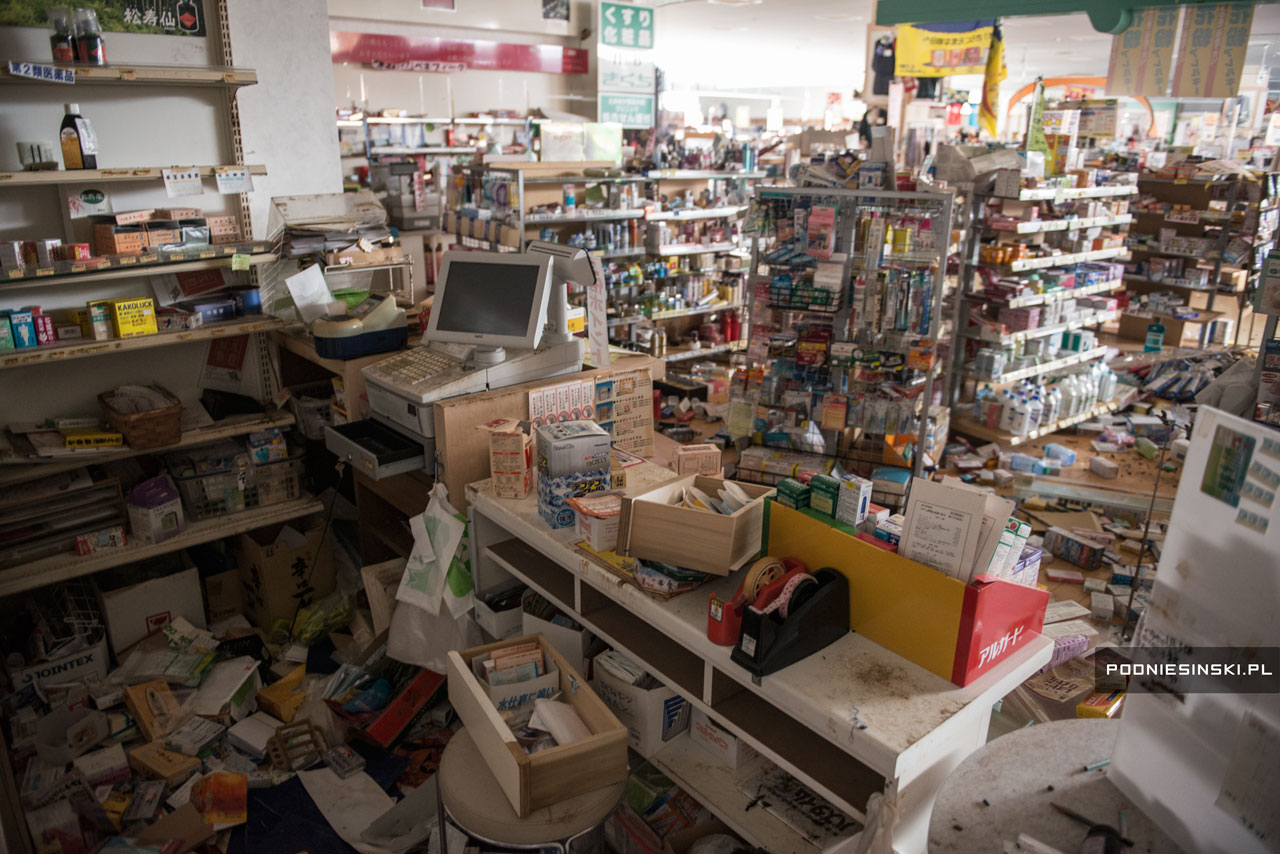 A chemist shop rattled by the tsunami.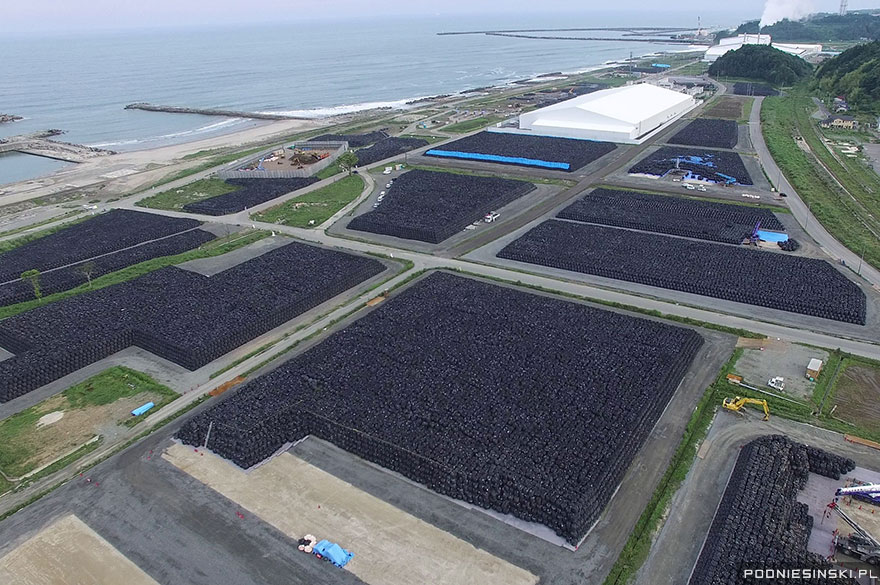 An aerial photograph taken by a drone shows the vast dump sites that contain tens of thousands of sacks of contaminated soil.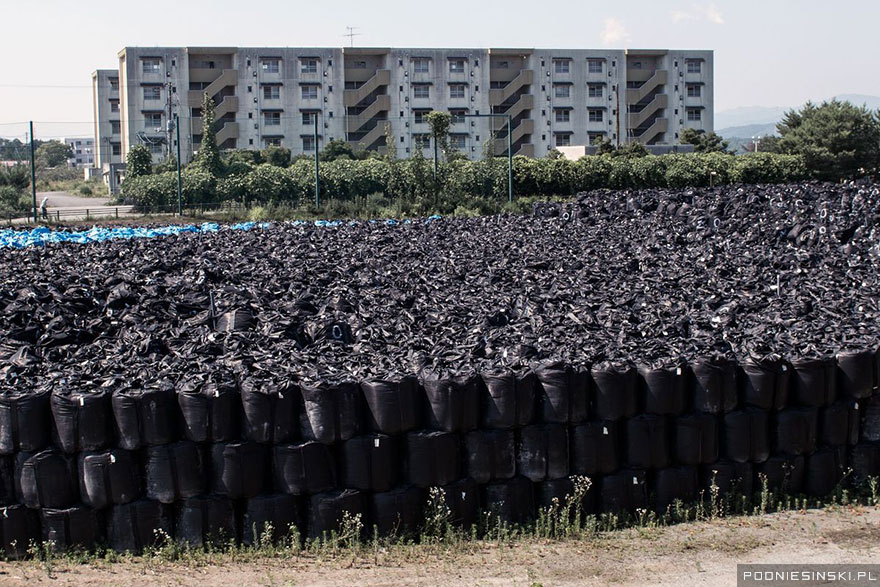 To save space, the radioactive bags of soil are stacked on top of one another.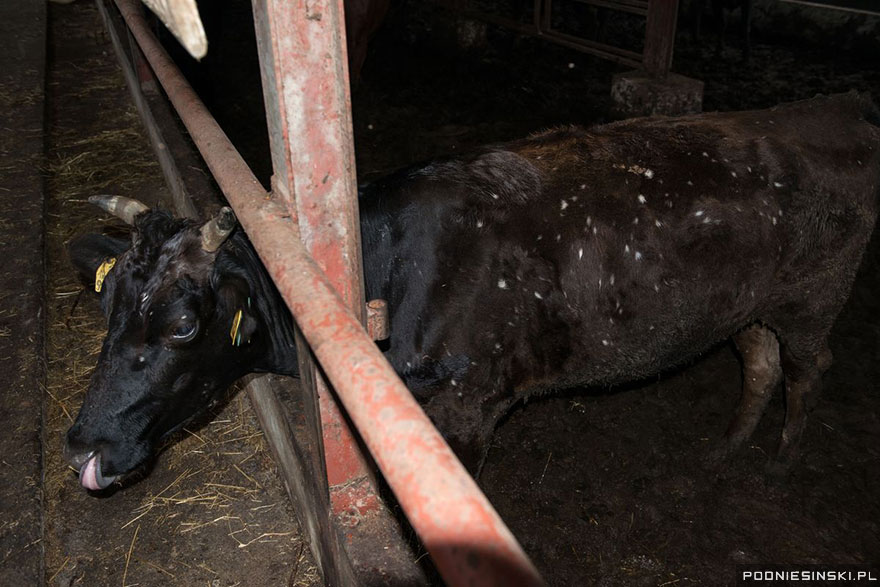 Not long after the accident cows started to get mysterious white spots on their skin.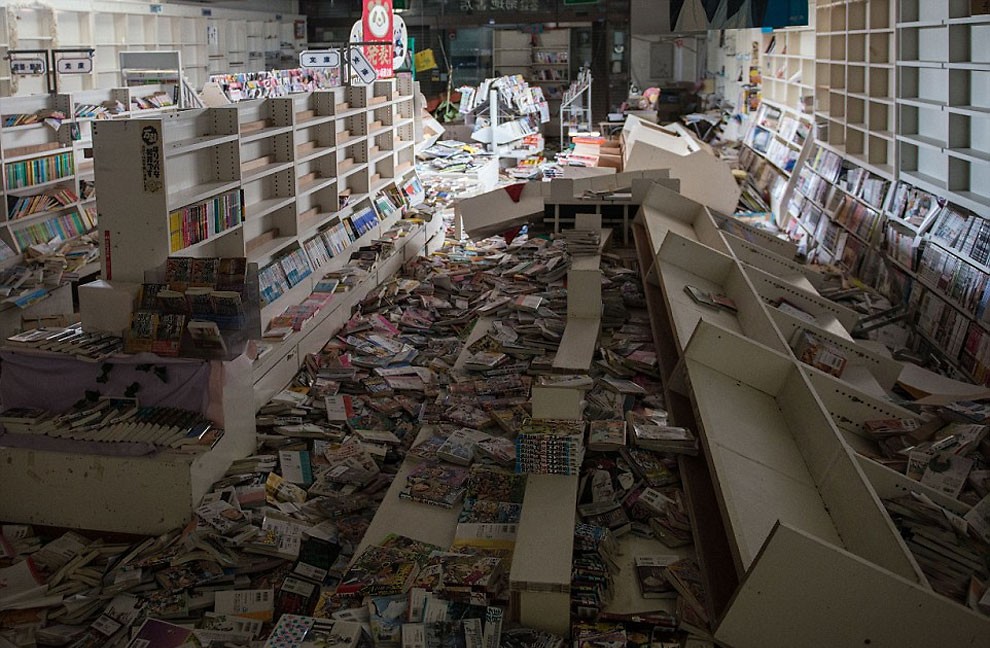 A book shop thrown into a state of disarray by the earthquake lies untouched in a chaotic state.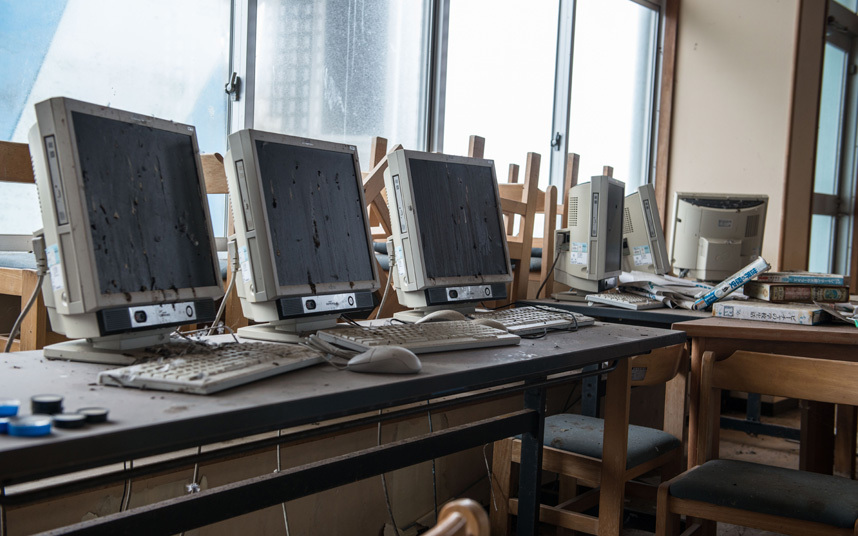 This abandoned computer lab covered in animal droppings is from a village near the plant.
There are currently approximately 360 cattle on Masami Yoshizawa's farm. The cracks in the earth were caused by the earthquake.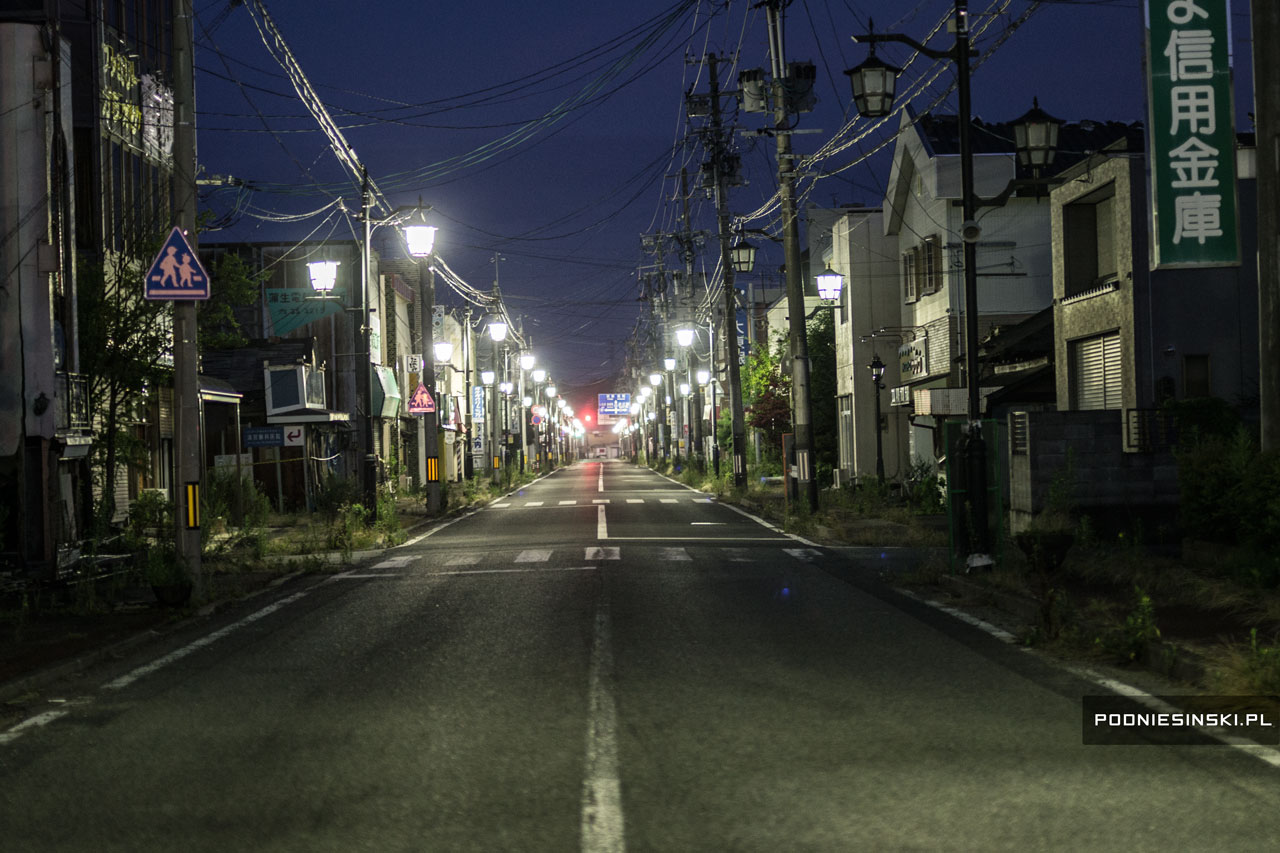 Despite gaining access to much of the Fukushima disaster zone, the Polish photographer was not able to enter the red or orange zones, and says he hopes to return. "What I would like to do is see the orange and red zones, the most contaminated and most deserted. Here time has stood still as if the accident happened yesterday."
---
This Article (25 Stunning Pictures From Inside The Fukushima Nuclear Disaster Exclusion Zone) is free and open source. You have permission to republish this article under a Creative Commons license with attribution to the author and AnonHQ.com.