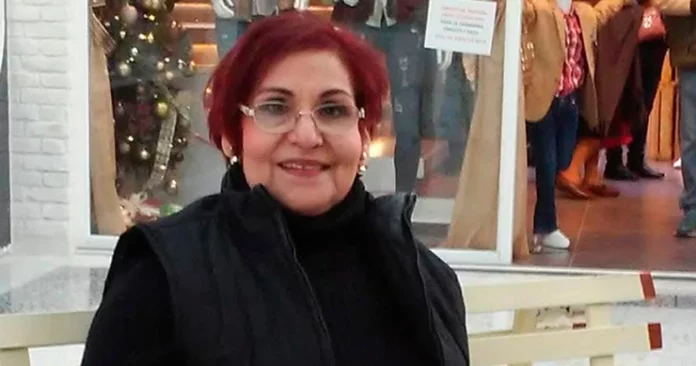 Miriam Rodriguez discovered her daughter's scarf while digging through the dirt at an abandoned ranch outside of San Fernando, Tamaulipas, Mexico.
It was a heartbreaking discovery that would later lead to the discovery of a portion of Karen's femur among the dozens of bodies buried in the area.
Miriam, on the other hand, would not be deterred from her mission; she would find the people who kidnapped and murdered her daughter.
San Fernando was still reeling from the 2011 massacre in 2014. Los Zetas, a wing of the Gulf Cartel, had murdered nearly 200 people a few years before. The majority of those discovered in mass graves around the area were kidnap victims from bus hijackings. Many had been kidnapped to fund the cartel war, and thousands had fled the area in fear of being another target.
Karen's brother, Luis, had already left to avoid the dangers of San Fernando, but Karen was only 20. She wished to complete her education and assist her mother at Rodeo Boots, a cowboy store.
Karen was driving when two cars surrounded her. Men armed with guns dragged her from her car and into theirs, kidnapping her. They took her to the Rodriguez family's house and bound her up, ready to carry out their ransom plan. Instead, a family member stopped by to work on a car, startling the kidnappers.
They took both captives and fled the house.
The ransom money was borrowed from the bank by Miriam and her husband. The area had seen so many kidnappings that the bank specifically offered loans for ransom payments.
Miriam and her family did exactly what the gang ordered. They left the ransom money near the health clinic, as instructed, and went to a nearby cemetery to await further instructions. They were never approached.
Miriam requested a meeting with Los Zetas, and they agreed to meet at El Junior, a local restaurant. She begged the man who arrived to release her daughter, but he told Miriam that they didn't have Karen. He did, however, offer to assist Miriam in locating her for a fee. Miriam assumed this man's name was Sama based on the constant voices coming from the cheap plastic radio attached to his belt.
Miriam's calls went unanswered after she paid the gang $2,000 in cash. However, the kidnappers did eventually call her, asking for $500 more.
Karen's family waited for her return, never giving up hope. Until one day, Miriam, who was now divorced and living with her older daughter Azalea, declared that she knew Karen wasn't coming home. She also told her daughter that she would not stop looking for the people who had kidnapped her. She began with Sama.
Capturing the mice
The family friend who was kidnapped with Karen was quickly released. He wasn't worth anything to the gang, but his memories of the men who kidnapped him were priceless to a desperate mother.
Miriam prodded him for information, which confirmed Sama's involvement in Karen's kidnapping. She then began scouring social media for the face of the man who sat across from her in the restaurant and claimed not to have taken her child.
She discovered Sama on Facebook. He was photographed standing next to a woman dressed in an ice cream shop uniform. The store was located two hours away in Ciudad, Victoria.
Miriam had been waiting outside the store for Sama to appear to meet his partner for weeks. Miriam followed them back to their house when he finally arrived.
She changed her appearance and put on the uniform she wore when she worked for the Health Ministry many years ago. She spent the next day knocking on Sama's neighbors' doors, inviting them to take part in a community survey.
She didn't want to kill him, but she did want justice. Her mission was to gather as much information about the man as possible to present to the authorities. Then, with the friend's memory of his kidnapping and her information on Sama, they'd be able to apprehend him.
Miriam began visiting local authorities to share her information with them after she had exhausted the well. Miriam's problem was that over 70,000 people had gone missing in Mexico, and the country's homicide rate had more than doubled; no one cared.
She eventually found one federal officer willing to assist her.
"She had gone to every level of government, and they had all shut the door in her face. So it was the greatest honor of my career to assist her in tracking down the people who kidnapped her daughter."
A warrant for Sama's arrest was issued, but he had already vanished.
Miriam's son was the one who eventually tracked down Sama. Luis was closing up his store in Ciudad Victoria when he noticed the man in so many photographs. On Mexican Independence Day, Sama was apprehended and began giving police the names of the others involved in Karen's abduction.
The youngster
Zapata Gonzalez, 18, was apprehended based on this new information. Miriam was taken aback by the boy's youth, and her compassion helped her elicit additional information from him, including the location of her daughter.
The ranch was no longer a residence, and the house was riddled with bullet holes. A noose was also hung from an old tree. Miriam discovered dozens of bodies scattered around the property after discovering Karen's scarf. Miriam demanded a second investigation, which resulted in the identification of a portion of Karen's femur.
The childminder
Miriam and Azalea had recently eaten at a restaurant near the abandoned ranch, and she remembered talking to Elvia Yuliza while they ordered. Miriam had known Elvia for years and had found it strange how elusive she'd been at the time, but now she wondered if she knew what had happened to Karen.
A quick search revealed that Elvia had been in a relationship with one of the kidnappers who was already imprisoned and untouchable by Miriam. Miriam waited for Elvia to make a mistake, and she did. Elvia's home had been the source of the kidnapping calls, and she was quickly apprehended.
The regenerate Christian
Miriam had a few hints that pointed to Enrique Flores, so she went to see his grandmother to see if she could get any information about her grandson from her. Miriam attended the mass to observe Flores more closely after learning that he had begun attending church.
Miriam reported her findings to the police and handed over her research on the man. To the horror of his family, he was arrested inside the church.
The floral designer
Miriam had tracked down the florist, who was selling flowers on the Texas bridge. She'd been looking for him for over a year, and she'd been given a tip about where to look.
Miriam, 56, had been looking for her daughter's killers for several years at this point. She'd founded the Colectivo de Desaparecidos de San Fernando (The Vanished Collective), a support group for parents of kidnapped children that had quickly grown to 600 members.
She received numerous death threats from gangs and family members of those she'd assisted in putting away, but it didn't stop her.
He recognized her and ran the day she found the florist. She caught up with him and held him at gunpoint for an hour while police arrived.
Miriam spent three years tracking down almost all of the living gang members who kidnapped and murdered her daughter. She discovered a total of ten.
She dyed and cut her hair, got fake IDs, changed her clothes, and pretended to be health workers and election officials to get close to the gang's family members. She talked to grandmothers, neighbors, cousins, and bosses. They gave her snippets of information that helped her piece together a story about the men she was looking for.
Her investigation gained her fame in Mexico, and with it, exposure. She was a woman in her fifties who was fighting a notorious gang. She was bringing transparency to their crimes and demonstrating to other families with missing children that they should be fighting back, not hiding in the shadows and hoping their children would be found alive.
Her mission exposed her, making her vulnerable. People did not go after the cartels, and she eventually requested armed guards from the Mexican government to protect her.
She was on the trail of murderers who had disguised themselves as upstanding members of the community, and they would do anything to keep their identities hidden.
On Mother's Day in 2017, Miriam was shot dead outside her home. She'd just handed over another gang member to police a few weeks before. Finally, she was one step closer to apprehending all of her daughter's assailants.
Some of the men Miriam had imprisoned had escaped, and she was worried they'd come after her and her family. Despite the police's protection, she was murdered.
For a while, San Fernando fell silent. The community was in mourning over the death of their vigilante, and her death touched many people. Even the state's governor, Francisco Javier Garca Cabeza de Vaca, tweeted about Miriam's death.
"The Tamaulipas government will not allow Miriam Rodriguez's death to become yet another statistic #NoToImpunity."
Authorities vowed to find her killers, and a plaque was erected in her honor in town.
Keeping the cause alive
Luis, Miriam's son, took over her support group, but it quickly faded as the members became fearful. Miriam's murder had sent a strong message to them.
A month after Miriam's death, police in Veracruz, 500 miles from San Fernando, arrested a woman. Miriam had given the tip because she suspected the woman of murdering her daughter. She had driven a taxi from San Fernando to Veracruz with her son. The woman had tortured Karen and beaten her as she hung from her wrists. Miriam Rodriguez had located another.
In Mexico, crime has increased dramatically since 2017. On June 7, 2020, 117 murders were reported in 24 hours.
Cartel gangs have even targeted public figures in high-profile attacks. Last year, one of the gangs disguised itself as a construction worker in order to gain access to the police chief, Omar Garca. He recovered from three gunshot wounds and blamed the attack on the Jalisco New Generation Cartel. They were also responsible for the deaths of 26 people at a drug rehabilitation center in Guanajuato.