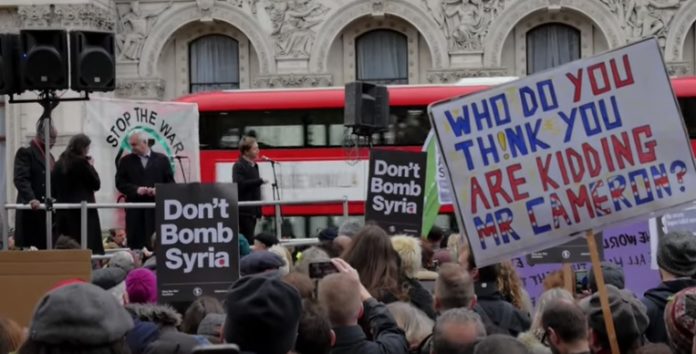 By John Vibes at trueactivist.com
The anti-war movement was reenergized this week in Europe, as thousands of protesters demonstrated against bombing campaigns in Syria that have recently been suggested by governments in the NATO alliance. Most of the protests were centralized in London, England and Madrid, Spain, but other smaller protests took place in various other locations throughout Europe.
The US, UK and other NATO allied countries have been pushing for further intervention in Syria under the pretenses of fighting ISIS. However, western governments have proven that their primary interests in the region involve regime change, and ousting Syrian President Assad from power for their own interests. To make matters worse, the air strikes that have already taken place in the region have threatened the lives of innocent people, killing civilians more often than they kill terrorists.
Stop the War Coalition protest movement said in a statement that, "Prime Minister David Cameron's incoherent proposals for action in Syria will do nothing to weaken ISIL, but will instead inflame the civil war, deepen the misery of the Syrian people, and increase the terrorist risk."
Sadly, there have been no large-scale protests of this nature in the US, despite the fact that the US military has been extremely active in the middle east over the past two decades.
The following is footage from the protests in London.

The following is footage from he protests in Spain.

This article (Thousands In Europe Protest Against Bombing Syria) is free and open source. You have permission to republish this article under a Creative Commons license with attribution to the author and TrueActivist.com.
John Vibes is an author and researcher who organizes a number of large events including the Free Your Mind Conference. He also has a publishing company where he offers a censorship free platform for both fiction and non-fiction writers. You can contact him and stay connected to his work at his Facebook page. You can purchase his books, or get your own book published at his website www.JohnVibes.com.