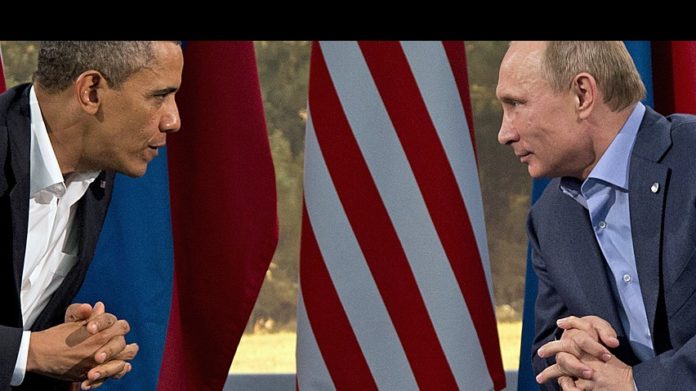 In the last weeks there has been an escalation of tensions between Russia and the United States. Sanctions are being tightened and there's a push by congress to introduce a new bill, met without much opposition, to reign in these sanctions.
Russia has announced that if the sanctions continue they will counteract the strike. This comes at a time when Putin has declared that by 2015 Russia will have an additional 50 ICBMs to add to their stockpile. According to Putin, it is a strategic effort to deflect aggression. 'These forces are the crucial factor upholding the global equilibrium and they de facto rule out a possibility of a large-scale aggression against Russia.'[1]
But the United States aren't seeing it this way, with the rift growing larger between the two super powers each week. The Pentagon have gone so far as to threaten Russia with their own nuclear capabilities if Putin doesn't back down from his reported breach of two arms control treaties, of which Putin firmly denies any wrong doing, reiterating that they followed the INF treaty as proposed.[2]
This past week the Senate and House of Representatives have passed the new Ukraine Freedom Support Act. It was sent back after proposed changes, and Obama has also been noted to disagree with the act. It is expected however, to be passed soon after the changes, with Obama pushing the line that new sanctions shouldn't be introduced without Europe first agreeing with them.
But it seems that the US won't allow Russia's actions to go unanswered this time.
__________________________________________________________________
[1] Pineda, E. (2014, 20 December) US-Russia Nuclear Showdown Looms as Putin Greets Fresh Obama Sanctions with 80+ New ICBMs by 2015 – Reports http://au.ibtimes.com/articles/576667/20141220/putin-russia-nuclear-missiles-sanctions-war-obama.htm#.VJd260oBg
[2] Silva, P. (2014, 13 December) US Threatens Russia with New Nuclear Missiles, Prepares New Sanctions for Putin
http://au.ibtimes.com/articles/575848/20141213/nuclear-missles-russia-war-vladimir-putin-barrack.htm#.VJZ22ADZC