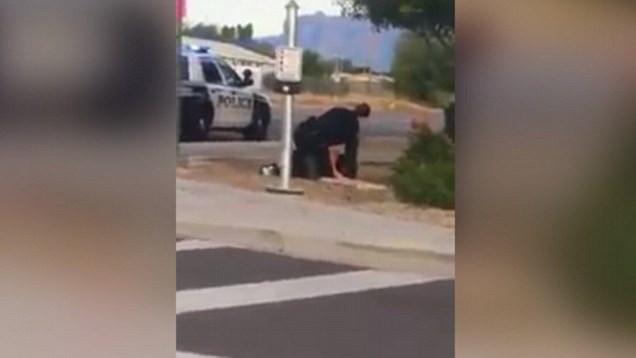 Written by: CoNN
Mesa, Arizona- A video had been uploaded to Facebook showing a police officer pummelling and restraining a 15 year old girl as her mother stood an arms-length away, begging the officer to stop.
The girl was apparently a runaway, and she could be heard in the video screaming that she could not breathe. Her mother had been trying to explain to the officers that her daughter had mental problems as well as asthma.
Luis Paul Santiago, the witness who had filmed the violent encounter, stated that the officers had attempted to delete the video. He also said that the second officer in the scene had told him that the officer had "behaved correctly" and stated that "if she needed to, she could have shot her dead."
One should be concerned about this statement, for the police officer was right; he knew very well that he could have at any point executed an unarmed teen who was "resisting" arrest. Similar examples include choking a person to death on video and getting away without any repercussions (Eric Garner), or gunning down a twelve year old and receiving a paid vacation (Tamir Rice).
Even the St. Louis Police Department had recently posted propaganda on how to prevent your children from being killed by cops.
It is beginning to become apparent that the police can hardly be trusted to defend us from criminals, when they themselves behave worse than criminals. The situation is made all the worse by the fact that they are immune to the laws that would have led to the arrest of any common sociopathic murderer, and they know it.