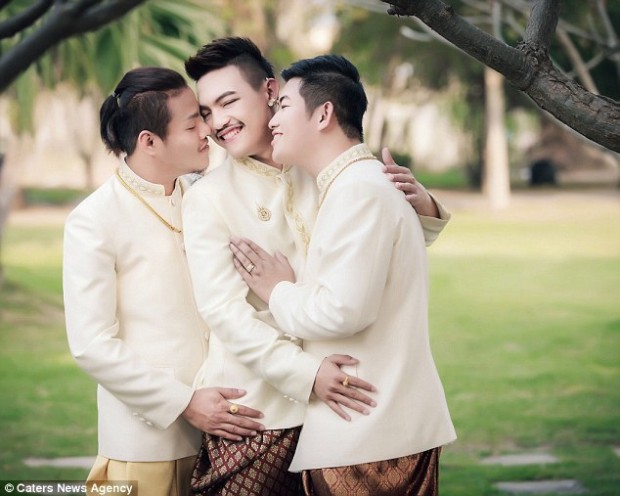 Three gay men from Thailand have married in a grand style in what is believed to be the world's first three-way same-sex marriage. Both men knew they were gay before they met and have been living together for the past five years before tying the historic knot.
Newlyweds Joke, 29, Bell, 21 and Art, 26, displayed their fabulous marriage after exchanging their vows in a fairy-tale ceremony at their new home where they will be living for the rest of their lives in Uthai Thani Province.
They were joined together under Buddhist Law in a ceremony that was not legally registered. The ceremony included the traditional exchange of vows in which the trio declared their love for each other, and in doing so, agreed to share their home and responsibilities. Although same-sex marriages are not recognized as legitimate under Thai law, the trios were able to consummate their love under Buddhist law.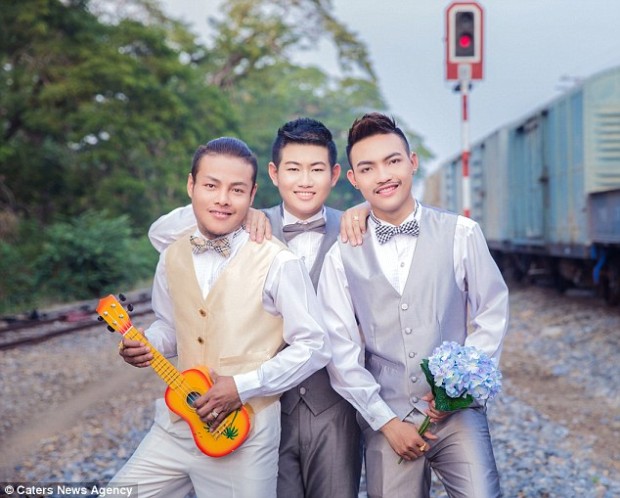 They are said to be the only wedded male threesome in the world and have since become internet sensations after photos from their big day went viral on Social Media in Thailand.
Some of the pictures published by bloggers and Mainstream Media in Thailand depicted the trio in admiration and love for each other. They were quoted as saying that it was the happiest day of their lives, after they exchanged rings to start their new life.
Bell comes from Phitsanulok Province and was quoted as saying "I think we are first three-way same sex males to have a wedding, possibly in the world. Some people may not agree and are probably amazed by our decision, but we believe many people do understand and accept our choice. Love is love, after all."
Art (from Chiang Mai Province) and Joke (from Uthai Thani Province) first met through business and started a relationship after realizing they were in love in 2010.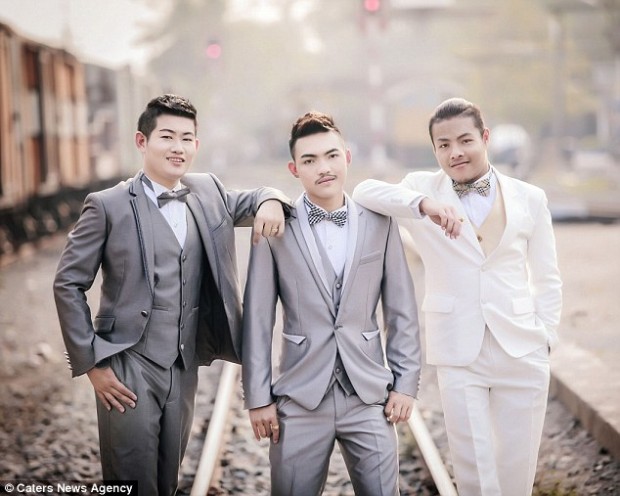 Bell at that time was studying management at Phitsanuloke University and was frequently meeting the couple at parties before the three men realized they all had love feelings for each other.
Their love became explicit when Bell was hospitalized with a congenital disease, leading Joke and Art to propose the idea of a three-way marriage as they wanted to be close to him.
Art wrote on his Facebook page that "When Bell was in hospital, it became clear that we all had a lot of feelings for each other. We thought what better way to show our love for each other by getting married. It might seem strange to some, but many people understand our bond and the reasons we got married".
Joke said same-sex marriages are just as valid as any legally sanctioned ceremony and should be respected as such by Thai society.
"Now Thai society has a better understanding of sexual orientation as many same-sex weddings appear on TV, newspapers and social media, we feel more accepted and able to come out. But I don't believe the world has ever seen three men marry before, this is something new. Most people all around us can accept that and many people have given us their blessing. We love each other and live together like brothers; hopefully this is something the world can understand in the 21st century", he said
The only task the threesome now faces is for Joke and Art to ask Bell's parents for his hand in marriage. It is unclear whether Bell's parents will agree.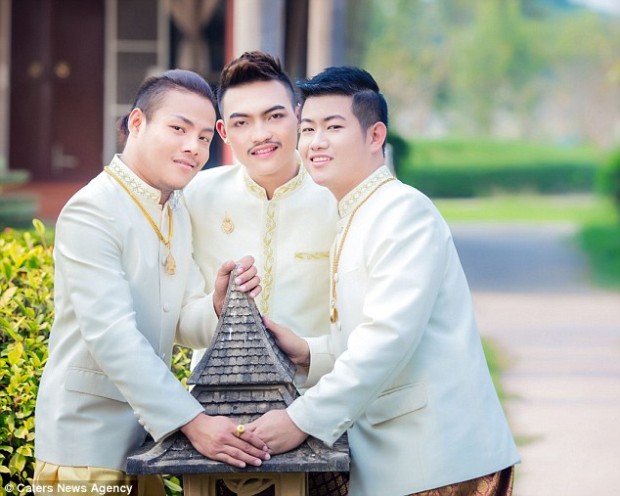 In Thailand, same-sex unions are not legally binding, and lesbian, gay, bisexual, and transgender (LGBT) persons may face legal challenges on their sexual freedoms as same-sex couples are still frowned upon.
However, more LGBT rights are applicable than ever before in the country. Some religious groups are declaring their support for civil marriages between gay and lesbian couples.
Source: www.dailymail.co.uk/news/article-2972542/They-look-like-new-boy-band-s-world-s-THREE-WAY-sex-marriage-Gay-Thai-men-tie-knot-fairytale-ceremony.html