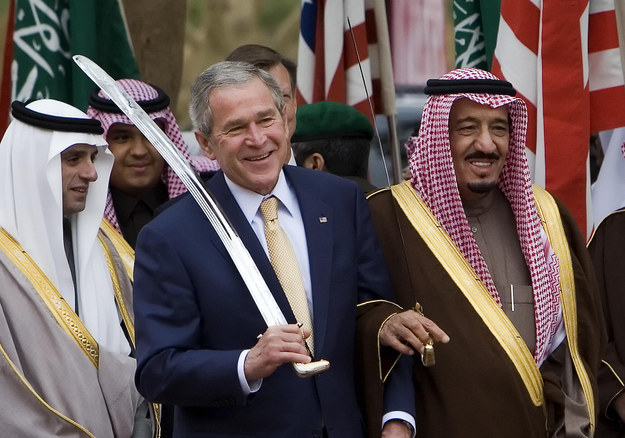 By Claire Bernish at theantimedia.org
AnonHQ comment: Some might suggest "Why the US is telling Saudi Arabia to pull us into another war" as a headline, but facts show that Saudi Arabia is actually allowed to make its own choices, thanks to their oil.
After Saudi Arabia executed prominent Shi'ite cleric, Sheikh Nimr Baqr al-Nimr, and 46 other people, protesters stormed the Saudi embassy in Tehran on Saturday, ransacking and setting fire to the building and its contents. In a surprise response the following day, Saudi Arabia announced it would sever diplomatic ties with Iran — giving Iranian diplomats 48 hours to evacuate, while recalling its own diplomats back from Iran.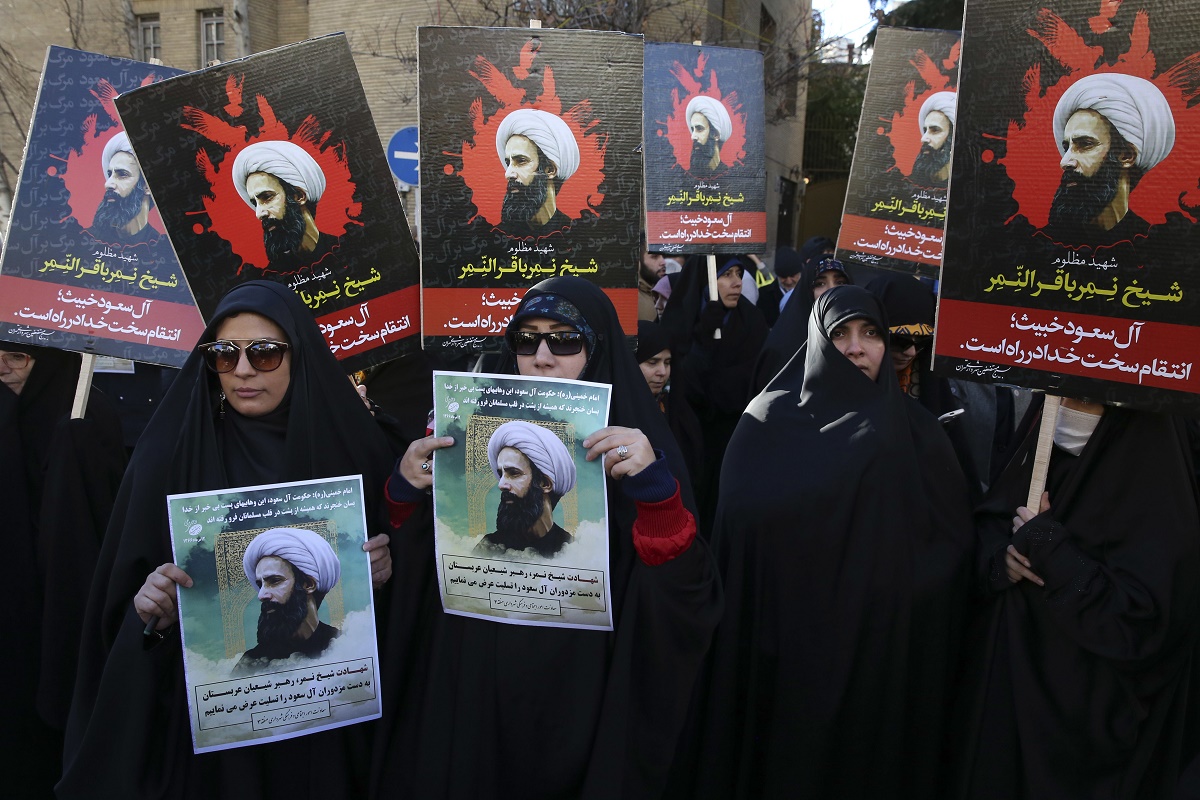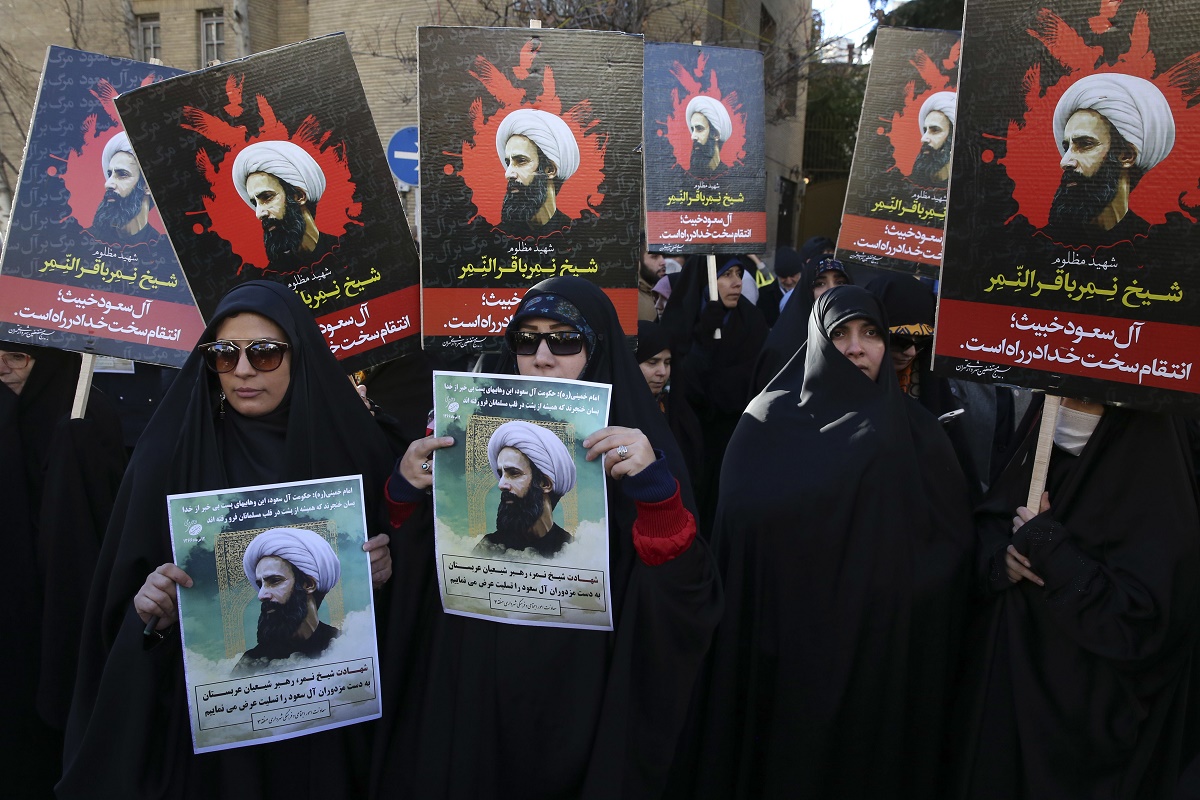 "This Saudi-Iranian sudden and acute crisis is a very worrisome development, and we must at all costs avoid that it produces a chain of violent consequences in the region," warned United Nations mediator, Staffan de Mistura, in an email to the New York Times.
"This is a very disturbing escalation," said Michael Stephens, an analyst with the Royal United Services Institute research center in London, according to the Times. "It has enormous consequences for the people of the region, and the tensions between the two sides are going to mean that instability across the region is going to continue."
On Monday, three Sunni-led nations — Bahrain, Sudan, and the United Arab Emirates joined the Saudis in breaking or greatly reducing diplomatic relations with Iran.
Despite prior international calls to grant the outspoken cleric clemency — and sharp warnings from Iran of dire consequences should the execution be carried out — the al-Saud monarchy pushed ahead with its message via mass execution, ironically intended to quash possible violence against the State. As promised, Iranian Supreme Leader Ayatollah Seyyed Ali Khamenei issued a sharp rebuke condemning the execution of al-Nimr, published on his official website:
"Doubtlessly, this innocent martyr's blood, which was spilled unjustly, will quickly show its effect and the divine vengeance will befall the Saudi politicians.
"This innocent scholar had neither incited people to take up arms nor had he hatched any covert plot, and the only activity he did was open criticism [of the Saudi regime] […]
"The Almighty God shall not ignore the innocents' blood and the unjustly spilled blood will backfire on the politicians and the executives of this regime very quickly."
In a press conference on Sunday, Foreign Minister Adel al-Jubeir stressed that Riyadh would not allow Tehran to put the kingdom's security in peril. He also cautioned the monarchy would reject all criticism of the Saudi justice system.
Al-Jubeir called Tehran "a regional menace for its smuggling of arms and explosives and its previous harboring of al-Qaeda militants" and "the aggressive statements of the Iranian regime encouraged the attacks on Saudi [embassies], adding that Iran has a history of supporting terrorism, citing its support to the bloody regime of Bashar al-Assad." Responding to a journalist's question, "Al-Jubeir said the Iranian government is involved in the attacks on the Saudi embassy, adding that Iranian security were present at the scene, yet they never attempted to drive out the protesters." He called on the international community to "review Iranian intransigence," and portentously added,"all options are open for us to deter Iran."
It's difficult to discredit comparisons of the Sunni al-Saud monarchy to the brutal Islamic State terrorists it and the West claim to be at war with; in fact, the only element missing in the likeness was videotaped footage of the nearly 160 known beheadings it carried out last year. Not to mention, a mass execution of this scale hadn't been exacted by the kingdom since 1980, when 63 insurgents who had seized the Grand Mosque in 1979 were publicly beheaded. Though Riyadh normally executes those convicted in common areas for all to see, Saturday's killings were hidden from the public. That became a further point of contention for demonstrators, who suspected such secrecy indicated political rather than legal motivation — especially since al-Nimr's popularity had much to do with empowering the Shi'ite minority, which included piercing criticism of the House of Saud.
In the Independent, Robert Fisk explained the rage sparked by the cleric's politicized execution:
"For Sheikh Nimr was not just any old divine. He spent years as a scholar in Tehran and Syria, and was a revered Shia [sic] leader of Friday prayers in the Saudi Eastern Province, and a man who stayed clear of political parties but demanded free elections, and was regularly detained and tortured — by his own account — for opposing the Sunni Wahabi Saudi government. Sheikh Nimr said that words were more powerful than violence. The authorities' whimsical suggestion that there was nothing sectarian about this most recent bloodbath — on the grounds that they beheaded Sunnis as well as Shias — was classic ISIS rhetoric."
Grouping Sheikh al-Nimr and three Shi'ite political activists together with 43 Sunnis accused of acting in concert with al-Qaeda in the region belies the Saudis' true intentions to deliberately provoke archenemy Iran and its Sunni allies.
Sheikh Nimr Baqr al-Nimr's execution means his brother, Mohammed al-Nimr, must now examine every move by the kingdom like a hawk. Mohammed's son, Ali Mohammed Baqir al-Nimr, has been awaiting crucifixion in a Saudi prison for over four years, after a conviction stemming from his participation in Arab Spring protests. After the sudden beheading of his brother, Mohammed is fraught with worry over his son's looming draconian death sentence, not knowing "from one moment to the next" when the Saudis might choose to carry out their punishment.
Ayatollah Khamenei's statement carried an unmistakable message for supporters of the House of Saud, as well. According to the Office of the Supreme Leader,
"Strongly criticizing the silence of the self-proclaimed advocates of freedom, democracy, and human rights, and their support for the Saudi regime, who spills the blood of the innocent only for criticism and protest, Ayatollah Khamenei said: 'The Muslim world and the entire world must feel responsible towards this issue.'"
On Sunday, State Department spokesperson Elizabeth Trudeau told the media that though the U.S. supports the right to peacefully protest, "we condemn in the strongest terms any attacks on diplomatic properties." Trudeau cautioned both Saudi Arabia and Iran against "any actions that could further heighten tensions."
Considering the Saudis' abrupt end to further diplomacy with Iran, that impuissant warning obviously fell on deaf ears.
---
This article (Time to Start Paying Attention: Why Saudi Arabia Might Pull the US into Another War) is free and open source. You have permission to republish this article under a Creative Commons license with attribution to Claire Bernish and theAntiMedia.org. Anti-Media Radio airs weeknights at 11pm Eastern/8pm Pacific. If you spot a typo, email[email protected].