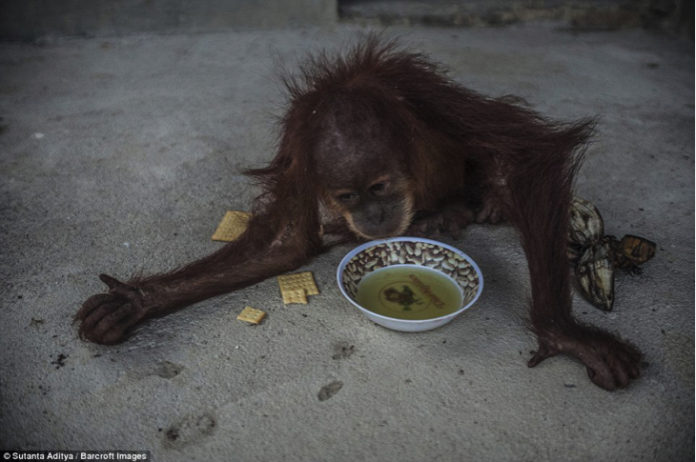 By Brianna Acuesta at trueactivist.com
These photos show how the palm oil industry affects innocent orangutans living in the rainforests. Learn what you can do to stop it!
The palm oil industry is quickly eating up rainforests in Indonesia and Malaysia as the demand for it increases, meaning that it inadvertently affects the lives of wild orangutans.
Photographer Sutanta Aditya visited the orangutan capital of the world, the Leuser Ecosystem in Sumatra, Indonesia, to document just how much the area with the richest amount of these primates is suffering because consumers are gobbling up palm oil.
Palm oil is estimated to be an ingredient in about 50 percent of consumer products. The products range from snack foods to shampoo, meaning it's difficult for consumers to always keep track of what's in every product in order to avoid it and so many don't even try.
But just how is the palm oil industry affecting orangutans? Every single hour, approximately 300 football fields of rainforest are cleared to make room for African oil palm trees, which can flourish anywhere that has intense heat and rainfall.
These trees make up palm oil plantations and are protected by owners who happen to see orangutans as "pests" that need to be dealt with. If the orangutans are lucky, they simply become homeless and find shelter elsewhere; however, most of them are shot point blank by the plantation's security personnel, like the mother of the orangutan below, or captured and sold into the illegal wildlife trade.
Fortunately, there are organizations on the ground in the most vulnerable places working to rescue, rehabilitate, and rehome these beautiful creatures in an effort to save as many as possible.
Both the rainforest and the Sumatran orangutan population have decreased by 80 percent since the rise in palm oil demand. If this trend continues, as it looks like it will, wild orangutans could be extinct in the next 20 years.
Palm oil may be difficult to avoid, but it is worth the effort in order to avoid killing both our world's rainforests and orangutans. Imagine how ridiculous it will be when our children and grandchildren grow up without ever knowing what a rainforest looks like or that orangutans once lived in the wild simply because we couldn't be bothered to check the ingredients of our everyday products and make some small changes.
Get educated on how to cut palm oil out of your life by clicking here, and support organizations that are working to protect the rainforest and the orangutans even when consumers aren't.
Do you think you could cut palm oil out of your life? Please share, like, and comment on this article!
---
This article (These Tragic Images Reveal How Palm Oil In Everyday Products Is Harming Orangutans) is free and open source. You have permission to republish this article under a Creative Commons license with attribution to the author and TrueActivist.com