Executive Director for the War On Want
, John Hillary, met with the Trade Commissioner for the European Union in her Brussels office in order to discuss the Transatlantic Trade and Investment Initiative or TTIP. Cecilla Malmström is one of the more powerful officials in the EU political system; as Trade Commissioner she heads the trade directorate of the European Commission, allowing her to dictate the trade and investment policies for ALL 28 EU members.Thus, it is her and her cronies who are pushing TTIP through. It also means that she, of all people, would do her best to cast the deal in the best light possible.
John Hillary confronted Malmström, pointing out that the EU People were up in arms over the deal; if this deal was so good for the people, how was it that three and a quarter MILLION European citizens have signed a petition against it? Thousands of protests have been conducted over the matter across all 28 EU member countries.
Hillary asked her how she could do this, in the face of such public backlash. Her response was telling, and vindicates all our worst fears about this deal… and politicians in general:
Her response came back icy cold:
"I do not take my mandate from the European people."
The question then is, just whom does she take her mandate from? Just whom is she accountable to?
While EU commissioners are supposed to follow the wishes of European governments (and are thus "accountable" in some small way to the people through their elected representatives) the European Commission has been able to negotiate the TTIP without revealing any details to the governments… circumventing even that check and balance.
No. Not from the People. Not even from governments. She gets her mandate from Corporate Lobbyists.
Industry lobbyists like BusinessEurope and the European Services Forum give the European Commission their marching orders- their input on this secret deal is a fact that even the European Commission has not bothered to hide.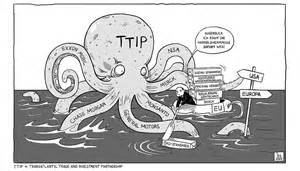 John Hillary says it best:
TTIP offers a glimpse of the nightmare that the European Commission has in store for each one of us. Cecilia Malmström has shown the contempt with which she and her fellow commissioners view the European people. We have been warned.
That she cannot even be bothered to hide her contempt for us, unlike our elected representatives who at least pretend to care for us, should be proof enough to all People in Europe that TTIP is NOT for us.
To add your signature to the European people's petition against TTIP, or for more information, go to waronwant.org/ttip
Sources: Independent
---
This Article (TTIP Commissioner's Stunning Admission; Ten Words that Proves that TTIP is NOT for Us!) is a free and open source. You have permission to republish this article under a Creative Commons license with attribution to the author(CoNN) and AnonHQ.com.
Get Your Anonymous T-Shirt / Sweatshirt / Hoodie / Tanktop, Smartphone or Tablet Cover or Mug In Our 
Spreadshirt Shop
! 
Click Here