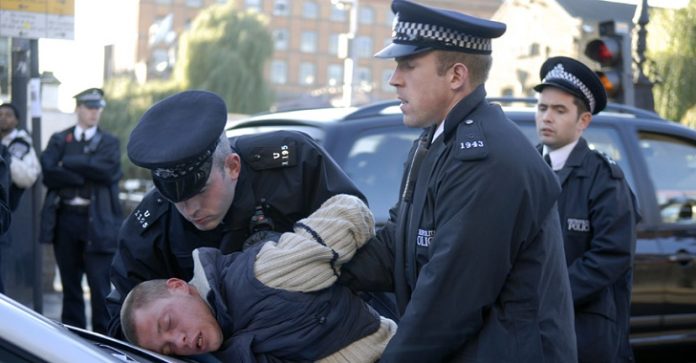 Written by Michaela Whitton at theantimedia.org
United Kingdom — The Northamptonshire police force has announced it will strip officers of the right to stop and search individuals if officers are deemed to have abused the law enforcement tactic. Police officers will be given "three strikes" on stop and search "errors" before their powers are withdrawn, according to the Northampton Chronicle.
The panel has already stripped the power from three special constables, two regular constables, and three sergeants since last October. Six of the nine have since had their powers reinstated after further training.
Northampton police have resorted to using a community panel consisting of members of the public and senior police officers to review all stop and searches carried out across the U.K. During the last year, 180 out of 2,000 stop and searches were referred to the panel, which withdraws power from individual officers who continue to abuse it.
Figures obtained by Channel 4 News in December detected a racial bias in profiling the 19,000 searches carried out by Metropolitan police officers during a 6-month period in 2013.
Just under half (44%) of those stopped were black and a further 44% were minority groups. Data revealed that one officer made 54 stop and searches — almost all of them on young black men between the ages of 10-19 — though none led to arrest. Another officer made 33 stop and searches, 29 of them on young black men. No arrests were made.
Northampton forces claim that with the new policy, on the first two occasions, the officer will be given advice and re-training before their powers are suspended — until it is believed they are able to use them properly.
In June, Met commissioner Sir Bernard Hogan-Howe announced that police would step up their use of stop and search tactics following an increase in the number of stabbings in the capital.
In July, a report demanded that frontline Metropolitan police officers should be forced to wear body cameras during all stop and search interactions. Drawn from six months' worth of interviews with young people across the U.K., the report claims that while stop and search is an important technique in fighting crime, there are inconsistencies in how the practice is used and a need for better training for the officers involved.
Recently, detailed analysis following the publication of data by 39 forces revealed that black people are far more likely to be arrested than other ethnic groups. Figures showed that in Dorset, a black person was 17 times more likely to be targeted than a white person.
The new tactics were revealed days after the announcement that people should have the opportunity to seek a face-to-face apology from police if they feel they were victims of fruitless targeting and stopped and searched without good reason.
---
This article (U.K. Police Stripped Of Stop and Search Powers For Persistent Abuse) is free and open source. You have permission to republish this article under a Creative Commons license with attribution to Michaela Whittonand theAntiMedia.org. Anti-Media Radio airs weeknights at 11pm Eastern/8pm Pacific. Image credit: Jon Feinstein. If you spot a typo, email [email protected].
Michaela Whitton joined Anti-Media as its first journalist abroad in May of 2015. Her topics of interest include human rights, conflict, the Middle East, Palestine, and Israel. Born and residing in the United Kingdom, she is also a photographer. Learn more about Whitton here!