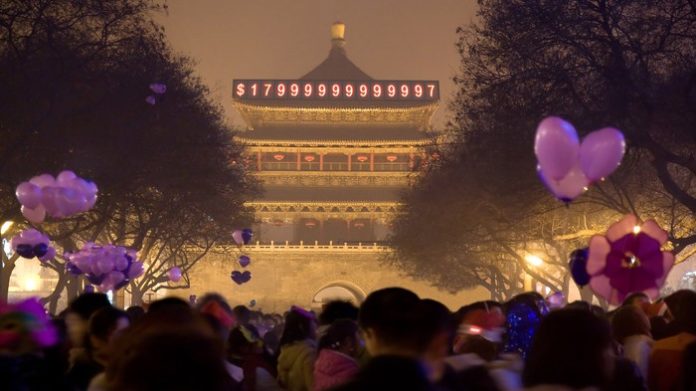 Written by: 'M'
Three weeks ago, the citizens in Beijing, China paraded Tiananmen Square, celebrating the milestone with hugs, jubilant cheers, and singing. Over 600,000 Chinese citizens assembled in Tiananmen Square to watch the U.S. debt clock mounted above the Forbidden City reach the landmark sum of $18 trillion dollars.
"You could stay home and watch it on TV, but it's much more exciting to be here with people from all over the country to celebrate this momentous day," said Beijing resident Xiao Bu, noting that he always arrives in the early morning to stake out a good location in the square every time America's debt rises by another trillion.
"I remember my father taking me to see the $5 trillion mark so long ago, and now I'm bringing my own children here to take part in the festivities. It's really a special part of our nation's culture."
While most revelers left shortly after the rollover, an estimated 100,000 reportedly decided to just wait around in the square until the clock struck $19 trillion.
At the moment, the U.S national debt had decreased by a small amount since the rollover, amounting to just under 18 trillion dollars in debt.
In 2008, the U.S standard debt clock that towered New York City had reached 10 trillion. A new debt-clock was constructed shortly, due to the fact that the clock had run out of digits! 6 years later, in 2014, the U.S debt clock is displaying nearly twice that amount.
At the rate at which the U.S national debt is amounting, predictions have been made that the national debt would amount to 22 trillion by 2018.
For more detailed information on the national debt clock, please visit here.
_____________________________________________________________________________
Sources:
http://www.usdebtclock.org/
http://www.usdebtclock.org/current-rates.html
("National Debt Clock." Wikipedia. Wikimedia Foundation, 29 Nov. 2014. Web. 01 Dec. 2014. <http://en.wikipedia.org/wiki/National_Debt_Clock>.)
(The, Onion. "Chinese Citizens Gather In Beijing Square To Watch U.S. National Debt Clock Strike $18 Trillion." The Onion. The Onion, 14 Nov. 2014. Web. 01 Dec. 2014. <http://www.theonion.com/articles/chinese-citizens-gather-in-beijing-square-to-watch,37450/?utm>.)