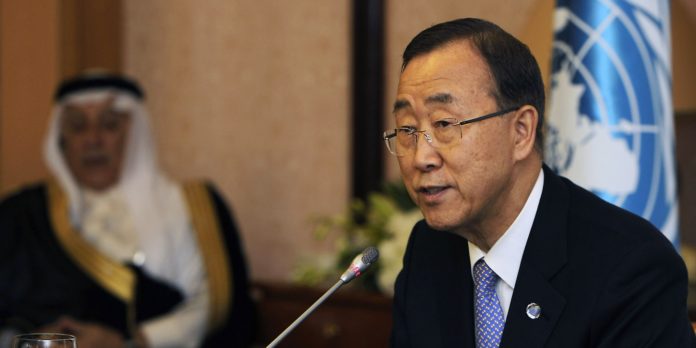 [responsivevoice voice="UK English Female" buttontext="Play"]
Those at The Intercept recently reported on UN Secretary-General, Ban Ki-moon, who has publicly admitted to removing the "Saudi-led coalition currently bombing Yemen from a blacklist of child killers – 72 hours after it was published – due to a financial threat to defund United Nations programs." Although Ki-moon did not directly name the threat, sources indicate it came straight from the Saudi government.
The list in question originated in the UN's 2015 "Children and Armed Conflict" report in which the Saudi-led coalition was categorized under "parties that kill or maim children" and "parties that engage in attacks on schools and/or hospitals." 60-percent of the 785 children who have been killed in Yemen are attributed to bombings by the coalition.
Ban Ki-moon first stated he was revising the report again to review the accuracy of the cases and numbers, but in a later statement on the matter:
"The report describes horrors no child should have to face. At the same time, I also had to consider the very real prospect that millions of other children would suffer grievously if, as was suggested to me, countries would defund many UN programs. Children already at risk in Palestine, South Sudan, Syria, Yemen, and so many other places would fall further into despair."
Ki-moon is referring to the aid provided by Saudi Arabia, who is one of the UN's largest donors in the Middle East. Saudi Arabia has donated hundreds of millions of dollars a year to food programs in Syria and Iraq, they gave $500 million to help Iraqis who were displaced by ISIS in 2014, and over the last three years, they've become third-largest donor to UN relief in Palestine.
Ban Ki-moon continues:
"It is unacceptable for member states to exert undue pressure. Scrutiny is a natural and necessary part of the work of the United Nations."
In response to the Secretary-General's statement, Saudi Ambassador to the UN, Abdallah al-Mauallimi stated at his press conference:
"We didn't use threats, but such listing will obviously have an impact on our relations with the UN. It is not in our style, it is not in our genes, it is not in our culture to use threats and intimidation."
Although the Saudi-led coalition was invited to New York "to conduct a 'joint review' ahead of scheduled UN discussion on the report," The Intercept stated that after the changes were announced, the Saudi ambassador apparently decided for himself the case was closed, declaring the changes were "final and unconditional," while claiming Saudi Arabia has been "vindicated."
[/responsivevoice]
---
This Article (UN Chief Removes Saudi Arabia from Child-Killer List Due to Extortion) is a free and open source. You have permission to republish this article under a Creative Commons license with attribution to the author and AnonHQ.com.
---