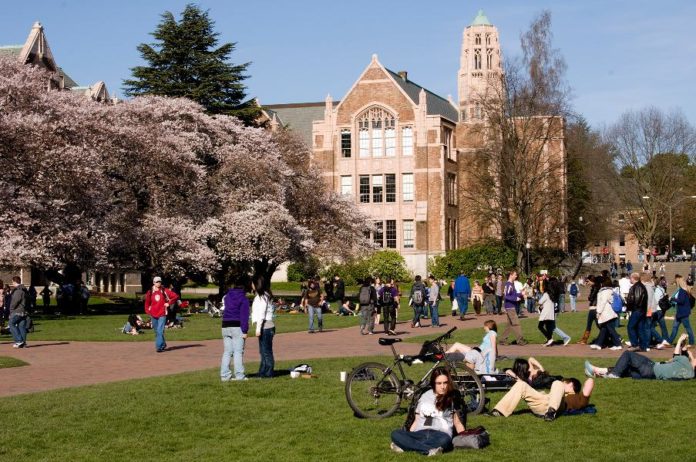 Around the world, top universities are suffering financially. Government funding continually erodes away, leaving each university to fend for themselves when special programs or goals need to be accomplished.
In Australia, many universities face a funding crisis, and in turn, students foot the bill for as much as $10,000 per year for a basic bachelor degree. The UK faces similar challenges, as does the United States – as the University of Washington demonstrates.
Only this week, the University of Washington has launched the Be Boundless – For Washington, For the World campaign. The ambitious campaign has set a $5 billion goal by 2020, and hopes to receive this money in the form of philanthropic donations.
Their intentions are simple: expand the science, technology, engineering and math faculties and to meet student demands – something you would once expect the government to provide. New buildings will be built – something that will cost around $110 million – and help the university to excel, overall.
So far, since 2010 when this launch started, the University has raised around $3 billion privately; from the likes of Amazon.com and Microsoft, another $10 million each has been promised.
The public launch this week has raised hopes of gaining more attention and thus, more donations.
In a press release, the funding was described as something not to replace state funding, but to add to it.
 "While fundraising does not replace state funding, it allows the UW to offer scholarships and unique programs and research opportunities for students, recruit and retain world-class faculty, build and maintain buildings around campus to expand capacity and increase the lifespan of existing structures, and much more."
With thousands of employers struggling to fill IT and science related jobs across the nation, this is one way the University can give back to its community, it was stated.
The University of Washington is considered world-class. As stated by UW President Ana Mari Cauce, "Our state's economy — and the world's economy — depends on innovation and on innovators. UW graduates with skills in computer science are highly sought after, yet we are turning away excellent students who want to pursue studies in the field because we simply don't have enough room."
Something that is, unfortunately, occurring across all major universities, particularly in western nations.
---
This article (University of Washington Seeks $3 Billion in Donations by 2020 as Government Funds Lack) is a free and open source. You have permission to republish this article under a Creative Commons license with attribution to the author AnonWatcher and AnonHQ.com.