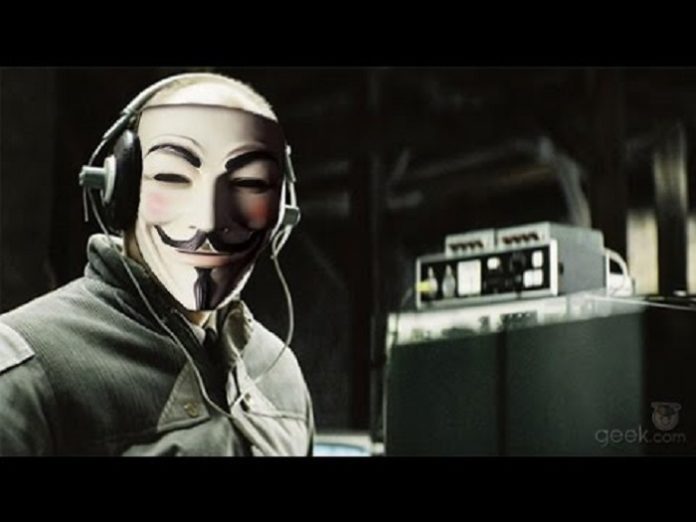 U.S. News:
On Monday, charges were dropped in North Dakota against Democracy Now investigative journalist, Amy Goodman. Goodman was charged with criminal trespassing after filming the attacks on Native land protectors who are protesting the DAPL. Judge John Grinsteiner of the North Dakota District Court dismissed Goodman's charges, as well as the riot charge Morton County prosecuting attorney, Ladd Erickson, tried filing when he couldn't get the criminal trespassing charge to stick.
And in Iowa, a farm owner named Cyndy Coppola was arrested on her own property for protesting the DAPL. Coppola and her family have an active lawsuit against Dakota Access for using eminent domain to cut across her land, which is illegal in the state of Iowa. On Sunday, Coppola was arrested with friend and former Iowa state lawmaker, Ed Fallon, when they tried to prevent trucks carrying pipeline from entering her property.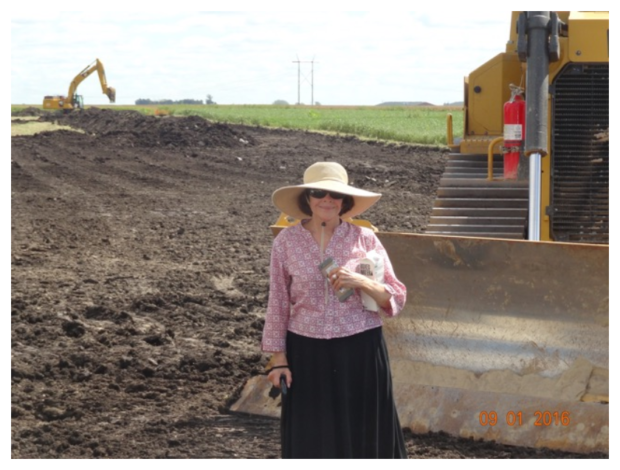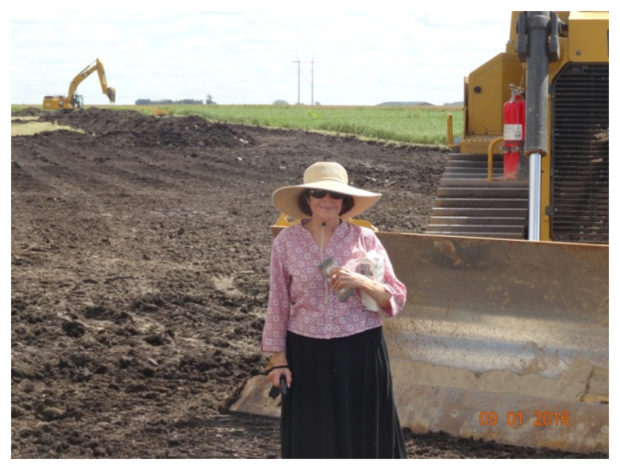 Hundreds protested outside the University of Nevada during the third presidential debate, as well as outside Trump's Vegas Hotel, where vendors built a wall of taco trucks to protest Trump's proposal for a wall on the U.S.-Mexico border.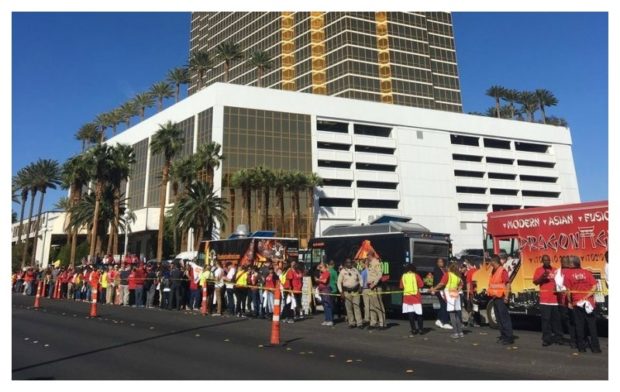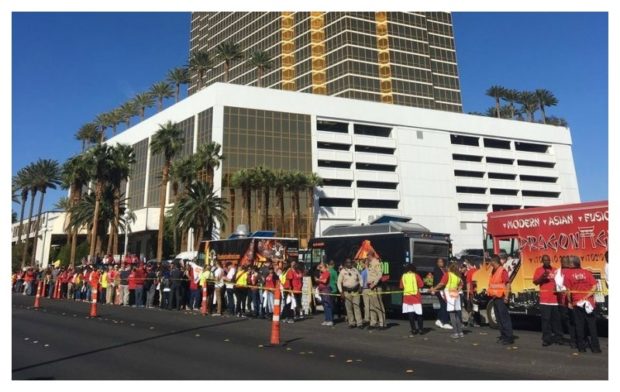 Gary Johnson stated in an interview with Jimmy Kimmel that the biggest lie told during the final presidential debate came from Hillary Clinton when she claimed she would not add a penny to the deficit, and on the topic of immigration, Johnson stated that Trump's plan to deport 11 million undocumented workers was a, quote, "crazy notion." In a statement on his campaign website, Johnson has made it clear that while it must be recognized some who come to the States are not well-intentioned, we should appreciate and respect the diversity of those who are productive members of society. In fact, Trump supporters will often reference data from the U.S. Sentencing Commission that found, for example, that in 2013, undocumented immigrants represented 9% of murders in the U.S., however what they don't realize is that those stats are from the federal court system, which handles a tiny percentage of the nation's violent crimes. The 9% of murders undocumented that immigrants accounted for in 2013, was in actuality a total of eight murder cases.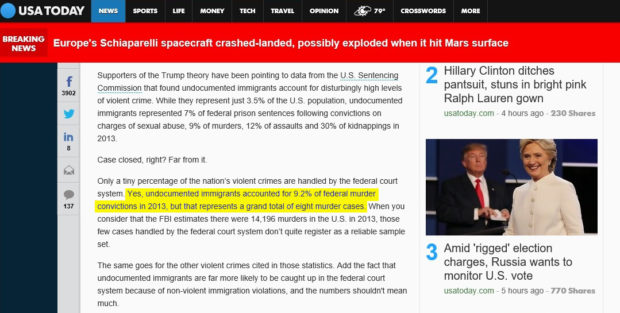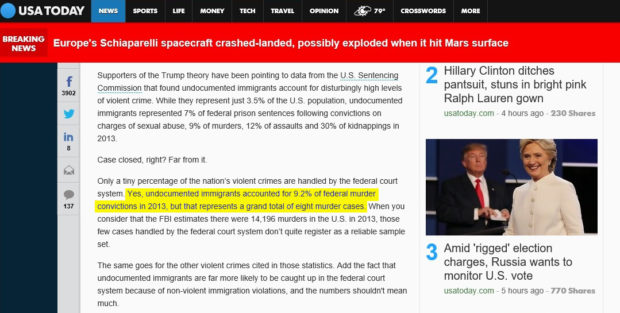 In an interview with Democracy Now, Jill Stein gives her take on this week's presidential debate. Stein has also described Hillary Clinton's foreign policy as, quote, "scarier than Trumps," and has made it clear that a vote for Clinton would be a vote for war. Stein is correct, and we will cover Clinton's foreign policy in depth in a moment.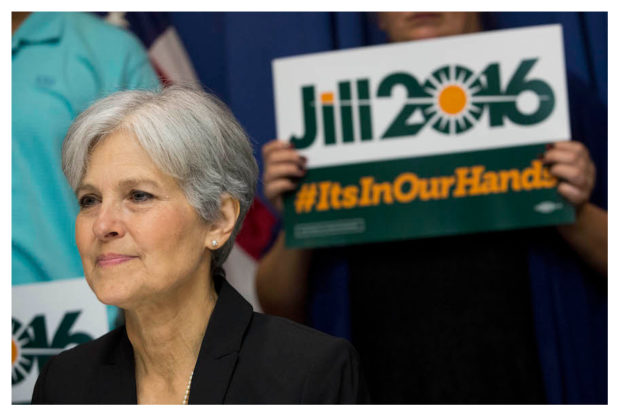 Three Kansas militia members have been charged with plotting to bomb an apartment building housing 120 Somali Muslim refugees that was located near a mosque. Curtis Allen, age 49, Patrick Stein, age 47, and Gavin Wright, age 49, planned the attack for November 9th, one day after the presidential election, according to US attorney for the District of Kansas, Tom Beall. The men had accumulated and stashed a large amount of firearms and ammunition for the attack as well, and part of the plan was to park vehicles on all four corners of the complex. In a recorded phone call, Patrick Stein could be heard saying it would be a, quote, "bloodbath." The specific militias the men were associated with were the overlapping militia groups Kansas Security Force, and the Crusaders.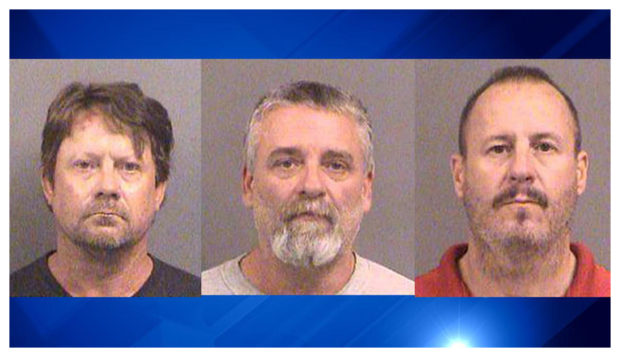 Protesters gathered on Wednesday in New York after the fatal police shooting of 66-year-old Deborah Danner, inside her Bronx apartment. Mrs Danner suffered from mental illness, which she wrote about in a remarkable essay titled, "Living With Schizophrenia," her lawyer shared with The Times. Sergeant Hugh Barry was the officer who shot Mrs Danner after police were called to her apartment by neighbors, who said she was acting erratically. Barry found Mrs Danner in her room with a pair of scissors, and shot her after she reached for a baseball bat. The New York City police were already aware of Mrs Danner's condition before arriving on the scene, and Police Commissioner James O'Neill has condemned the shooting, stating, quote, "we failed." Hugh Barry has been stripped of his badge and gun, but placed on modified duty.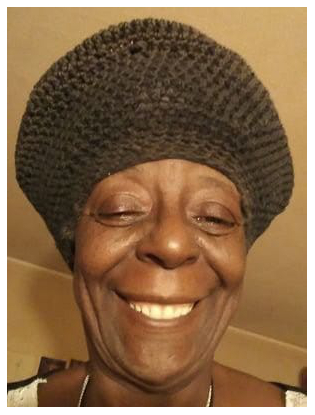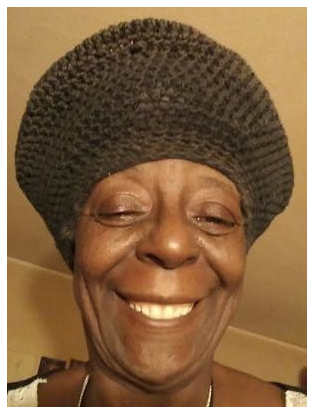 World News:
This week in world news, recent reports from alternative news outlets have brought to attention Hillary Clinton's stance on no-fly zones in Syria, which the mainstream media has, for the most part, smoothed over. In 2015, Clinton expressed her support for no-fly zones in Syria, and was met with backlash, however that doesn't seem to have dissuaded her. During Wednesday's presidential debate when covering foreign policy, Clinton stated in regards to no-fly zones, quote, "I think it could save lives and hasten the end of the conflict," unquote, however according to Chairman of the Joint Chiefs of Staff, General Joseph Dunford, implementing a no-fly zone would require that we directly go to war with Syria and Russia.
What Clinton fails to clarify is that a no-fly zone, which is the control of airspace in an entire region or country, would involve bombing out enemy air defenses and attacking airports, intercepting and destroying aircraft, engaging in air-to-air combat as well as placing boots on the ground, the latter of which would require at least 70,000 American servicemen, operating existing military bases while establishing new ones, and employing radar, Intelligence, and Surveillance and Reconnaissance-aircraft, as well as creating infrastructure. No-fly zones are extremely expensive to American tax-payers for this reason, and are almost exclusively an act of aggression. Implementing a no-fly zone would inevitably claim the lives of many Syrian civilians, and this was acknowledged by Hillary Clinton herself in 2013 at a Goldman Sachs event, the transcripts of which were recently leaked with the Podesta files.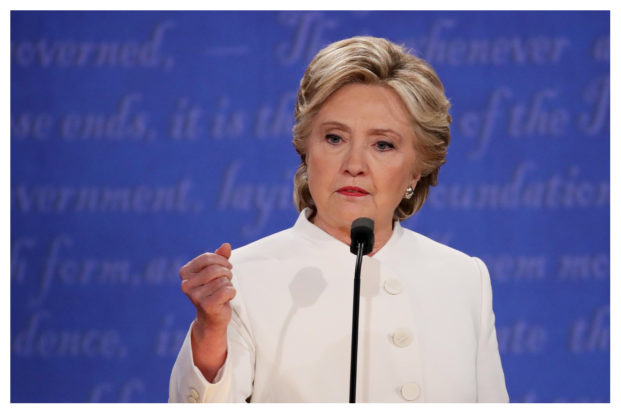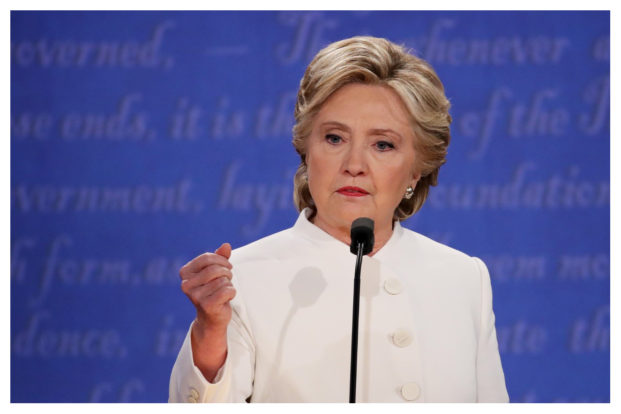 In Buenos Aires, hundreds gathered outside the British Embassy to protest military exercises being conducted by the British military in the Malvinas, also known as the Falkland Islands. As well as protesting the military exercises, citizens have expressed their anger at the strengthening of bilateral ties between the new Argentinian government and the British government.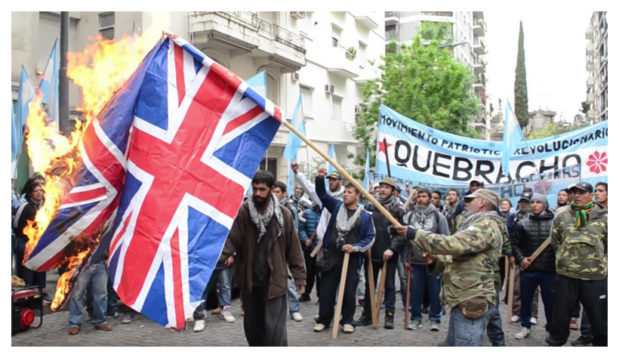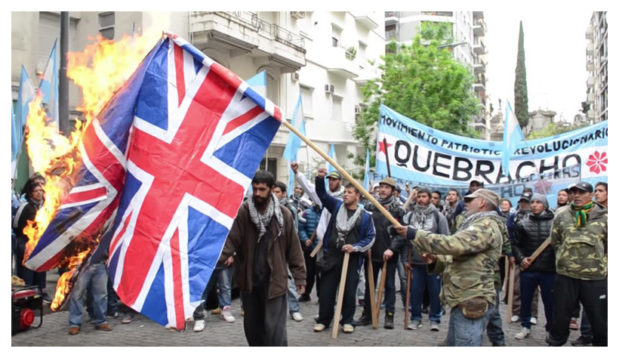 UN expert, Special Rapporteur on the freedom of opinion and expression, David Kaye, will be presenting a report to the UN that reveals sobering trends of governments using policies and laws against terrorism to undermine the media, critical voices, and activists. The report is based on communications with governments that stemmed from allegations of human rights violations. Various methods of repression that governments around the world have been found to use include internet shut-downs, over-classification of documents, criminalization of criticism of the state, which sometimes leads to detention and other punitive actions against political and human rights activists, as well as journalists. The report notes how in the U.S., journalists covering the protests in Ferguson were subjected to detention by the local authorities, and now we are seeing cases such as that of Amy Goodman.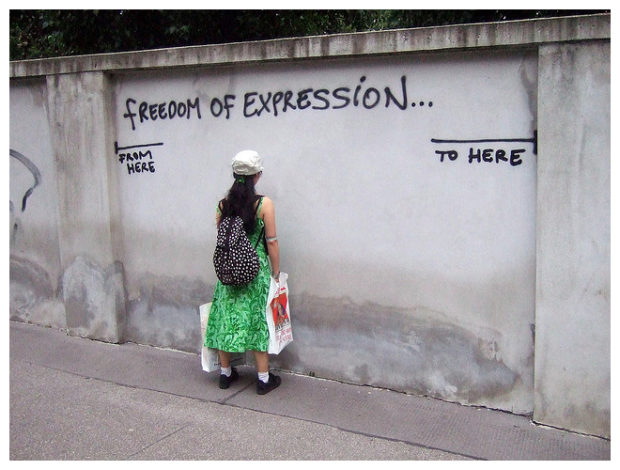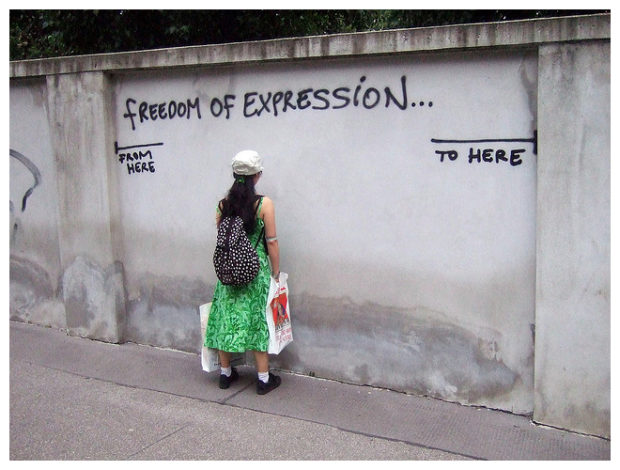 Tech News:
In tech news, the first nuclear reactor in the U.S. in 20-years went live on Wednesday, in Tennessee. The $4.7billion project has been referred to as, quote, "arguably one of the most expensive, most over-budget, oldest reactors to be started in human history," unquote, as stated by Friends of the Earth senior strategic adviser, Damon Moglen. The project is also considered to be a death-gasp of the nuclear industry, who is trying to prove they're still alive. But according to opponents of the industry, there's no justification for the exuberant amounts of time, energy, and money that has been put into the project, in light of the cost-competitive renewable energy alternatives that are available today, such as the wind farms in Wyoming – that the oil industry is paying the state to tax out of existence. Construction on the nuclear plant in Tennessee began in 1973.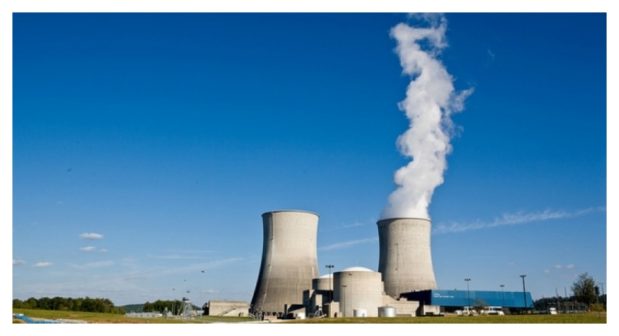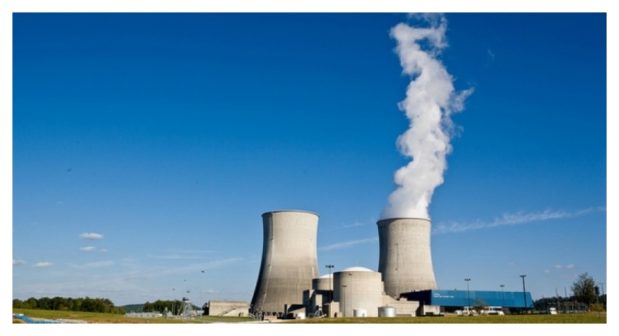 A recent 150 page study published by the Center for Privacy & Technology at the Georgetown University, found that more than 117 million American adults in 26 states – that's roughly half the U.S. population – have been entered into a recognition database using their driver's license photo that regularly scans citizens faces during the course of police investigations. Of course, the majority of those scanned are law abiding citizens, and the practice has raised legal and privacy concerns, due to the potential to identify and monitor individuals who are innocent. Alvaro Bedoya, the co-author of the study, stated, quote, "Innocent people don't belong in criminal databases. By using face recognition to scan the faces on 26 states' driver's license and ID photos, police and the FBI have basically enrolled half of all adults in a massive virtual line-up. This has never been done for fingerprints or DNA. It's uncharted and frankly dangerous territory," unquote.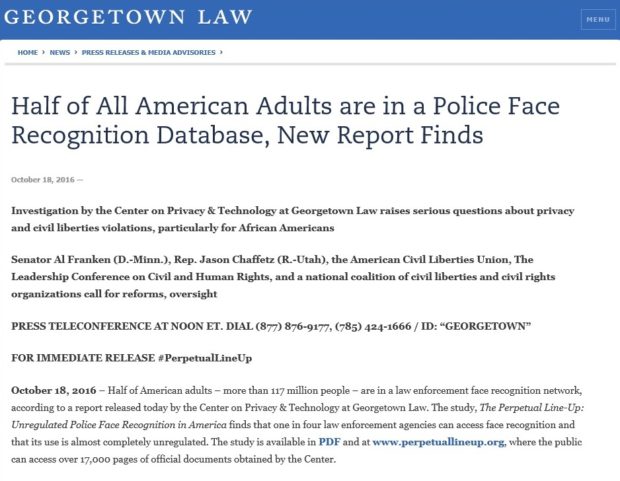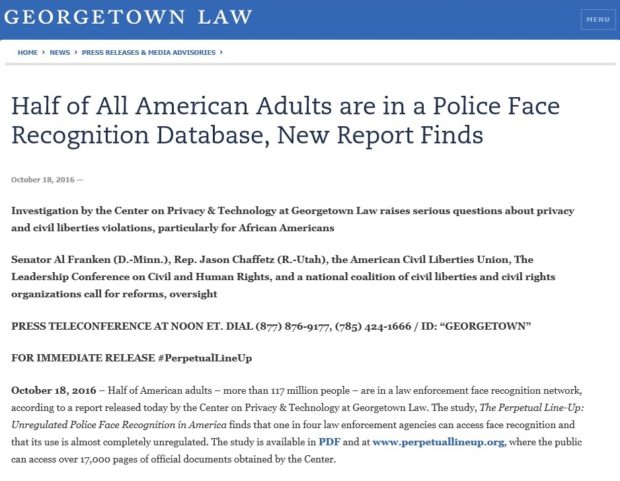 Anonymous News:
And finally, in Anonymous news this week, IT Ninja conducted an exclusive interview with the Ghost Squad Hackers who, over the last few months, have been working to take down the Syrian government websites in retaliation to war-crimes being committed against the children of Syria. Those with Ghost Squad have made it clear that they are aware of the situation with NATO, Russia, and the U.S., and that they take no sides in the conflict, however there is, quote, "no excuse for killing children under any circumstances, this goes for all corrupt governments bombing children, but specifically the amount of children dying since the start of the Syrian war is disgusting. We will no longer tolerate it. #OpSyria engaged," unquote. On Thursday, Ghost Squad defaced various Brazilian government websites, as well, in retaliation to the corruption within the Brazilian government. An estimated 3 million people took part last March, in Brazil's largest ever anti-government protest. We will keep Anons informed of Ghost Squad's progress, and update on future operations accordingly.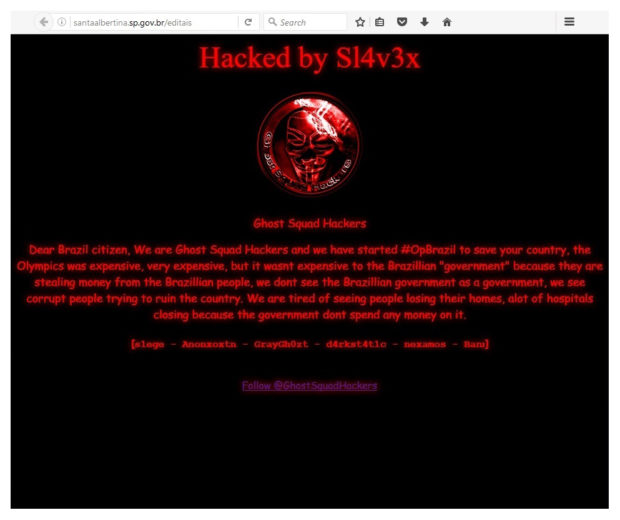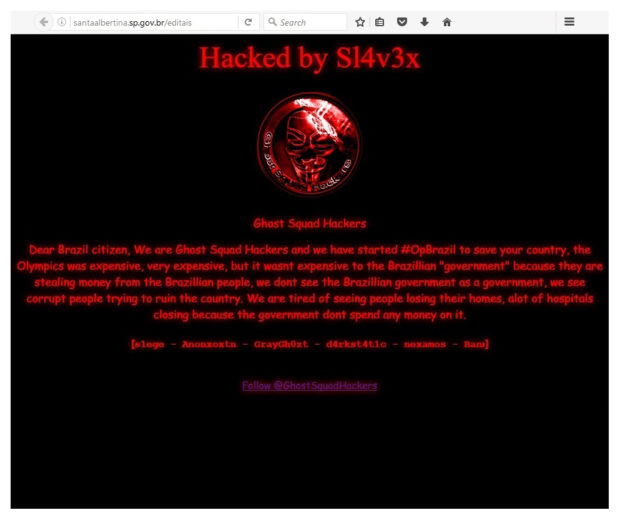 ---
This article (Teh Weekly News – Episode 4) is a free and open source. You have permission to republish this article under a Creative Commons license with attribution to the author and AnonHQ.com.
---
Sources:
(2016). 3mn people take to streets in Brazil's biggest ever anti-govt protest. RT. Retrieved from: https://www.rt.com/news/335474-brazil-protest-president-million/
(2016). Hundreds protest British military excercises in UK-occupied Malvinas ('Falklands'). RT. Retrieved from: https://www.rt.com/in-motion/363657-falkland-islands-british-military/
(2016). 'It will be a bloodbath': 3 'militia' men charged with WMD conspiracy, threatening Somali refugees. RT. Retrieved from: https://www.rt.com/usa/362843-militia-bomb-somali-muslims-kansas/
Bedoya, Alvaro, Cook, Sakira, Frankle, Jonathan, Garvie, Clare, and Guliani, Neema Singh (2016). Half of All American Adults are in a Police Face Recognition Database, New Report Finds. Georgetown Law. Retrieved from: https://www.law.georgetown.edu/news/press-releases/half-of-all-american-adults-are-in-a-police-face-recognition-database-new-report-finds.cfm
Bernabe, Nick (2016). Media Blackout: Hillary Calls for Killing 'a Lot of Civilian,' Starting War with Russia. AntiMedia. Retrieved from: http://theantimedia.org/hillary-no-fly-zone-civilians-war-russia/
Brown, Danielle (2016). Gary Johnson on immigration. Arrow. Retrieved from: http://www.southeastarrow.com/story/2350158.html
Chasmar, Jessica (2016). Gary Johnson: Hillary Clinton told 'biggest whopper' during debate. The Washington Times. Retrieved from: http://www.washingtontimes.com/news/2016/oct/20/gary-johnson-hillary-clinton-told-biggest-whopper-/?utm_source=RSS_Feed&utm_medium=RSS
Devaney, Jason (2016). Hillary on Syrian No-Fly Zone: 'It Could Save Lives'. NewsMax. Retrieved from: http://www.newsmax.com/Headline/hillary-clinton-no-fly-zone/2016/10/19/id/754381/
Durden, Tyler (2016). Jill Stein Slams Hillary Clinton's Foreign Policy As "Scarier Than Trump's". Zero Hedge. Retrieved from: http://www.zerohedge.com/news/2016-10-20/jill-stein-slams-hillary-clintons-foreign-policy-scarier-trumps
Editorial Board (2016). The Death of Deborah Danner. The New York Times. Retrieved from: http://www.nytimes.com/2016/10/21/opinion/the-death-of-deborah-danner.html?_r=0
Germanos, Andrea (2016). UN Expert Decried Global Assault on Freedom of Expression. Common Dreams. Retrieved from: http://www.commondreams.org/news/2016/10/21/un-expert-decries-global-assault-freedom-expression
Gomez, Alan (2016). Voices: How violent are undocumented immigrants? USA Today. Retrieved from: http://www.usatoday.com/story/news/nation/2015/07/16/voices-gomez-undocumented-immigrant-crime-san-francisco-shooting/30159479/
IT Ninja (2016). Exclusive Interview: Ghost Squad Hackers Are Back With a Vengeance, OpSyria Engaged. AnonHQ. Retrieved from: http://anonhq.com/exclusive-interview-ghost-squad-hackers-are-back-with-a-vengeance-opsyria-engaged/
Jilani, Zaid (2016). In Secret Goldman Sachs Speech, Hillary Clinton Admitted No-Fly Zone Would "Kill a Lot of Syrians". The Intercept. Retrieved from: https://theintercept.com/2016/10/10/in-secret-goldman-sachs-speech-hillary-clinton-admitted-no-fly-zone-would-kill-a-lot-of-syrians/
Johnson, Adam (2015). Hillary Clinton's insane plan for a no-fly zone. Aljazeera. Retrieved from: http://america.aljazeera.com/opinions/2015/12/hillary-clintons-insane-plan-for-a-no-fly-zone.html
NAJA (2016). 'Outrageous Abuse of Power'" NAJA Responds to Charges Filed Against Amy Goodman in North Dakota Court. Indian Country Today. Retrieved from: http://indiancountrytodaymedianetwork.com/2016/10/19/outrageous-abuse-power-naja-responds-charges-filed-against-amy-goodman-north-dakota-court
Prupis, Nadia (2016). 'Last Gasp of Dying Industry': Nuclear Experts Decry First New US Reactor in 20 Years. Common Dreams. Retrieved from: http://www.commondreams.org/news/2016/10/20/last-gasp-dying-industry-nuclear-experts-decry-first-new-us-reactor-20-years
Schuttler, Lance (2016). Iowa Woman Arrested On Her Own Property For Protesting DAPL Construction. The Mind Unleashed. Retrieved from: http://themindunleashed.com/2016/10/iowa-woman-arrested-on-her-own-property-for-protesting-dapl-construction.html
Seitz-Wald, Alex (2016). Hillary Clinton calls for no-fly zone in Syria. MSNBC. Retrieved from: http://www.msnbc.com/msnbc/hillary-clinton-calls-no-fly-zones-syria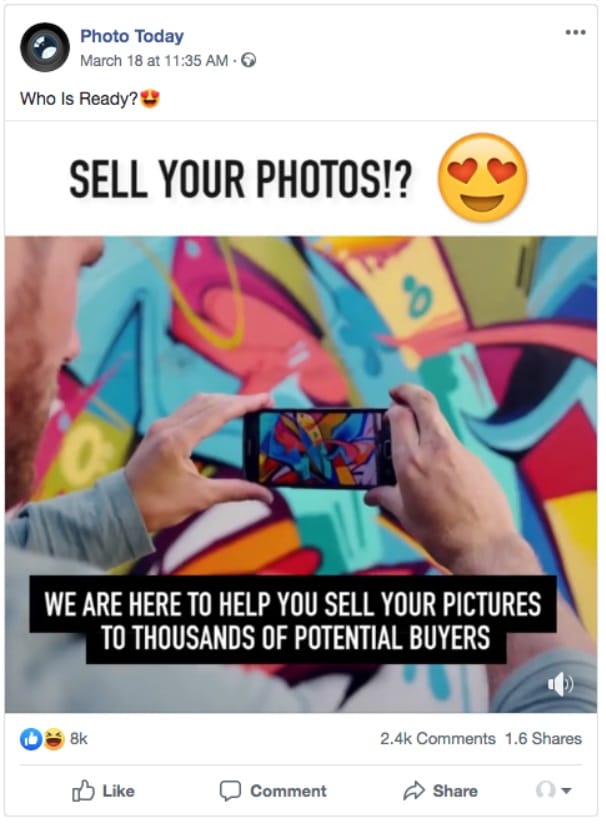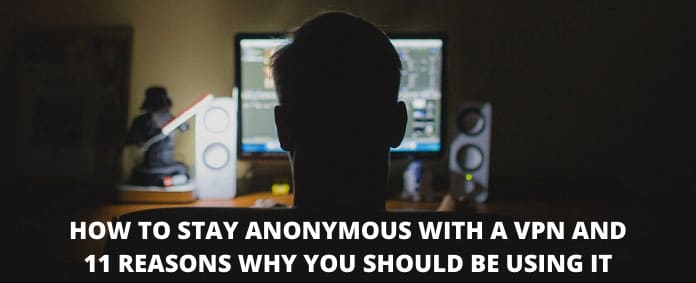 Get Your Anonymous T-Shirt / Sweatshirt / Hoodie / Tanktop, Smartphone or Tablet Cover or Mug In Our
Spreadshirt Shop
!
Click Here