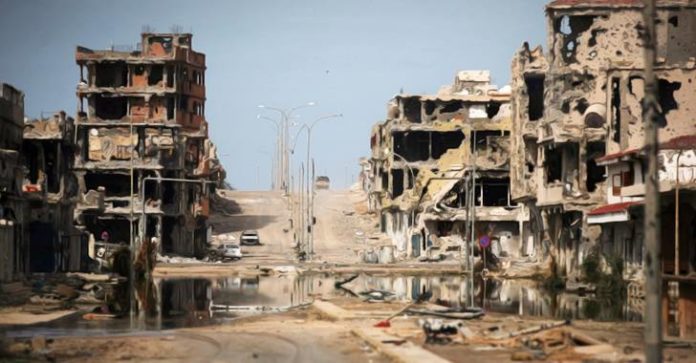 (MEE) President Barack Obama has authorized a month-long bombing campaign against the Islamic State group in Libya, as questions remain over possible UK and European military involvement in the country.
In fresh air attacks on Tuesday, a US Marine Corps Harrier jet launched from amphibious assault ship USS Wasp, and US drones operating from Jordan, struck at least two Islamic State targets in the coastal city of Sirte, after Obama said he had authorized US forces to carry out a 30-day mission.
The US has stepped up its bombing campaign on Islamic State, with reports that helicopters and fixed-wing jets operating from USS Wasp and unmanned drones have already carried out at least seven air strikes since the campaign began on Monday.
Speaking at the White House on Tuesday, Obama said: "At the request of [the Libyan] government, after they had already made significant progress against ISIL [IS] and had essentially pushed ISIL into a very confined area in and around Sirte, it is in America's national security interests in our fight against ISIL to make sure that they're able to finish the job."
Obama's defence of the air strikes, which he said were in America's national interest, came as attention was shifting to European and UK military involvement in Libya and whether and US allies will join in strikes against Islamic State in the country.
In February, as the US launched an initial strike on Libya by F-15 fighters from a US base in the east of England, the then foreign office minister Tobias Ellwood said the Royal Air Force was flying reconnaissance missions over Libya, but the following month the government denied there were plans for British air attacks on Libya or the deployment of British ground forces.
However, only days later Middle East Eye revealed that troops from the elite SAS regiment had been sent to tackle IS in Libya.
On Wednesday, sources at the Ministry of Defence in London refused to be drawn on "potential UK flights and Libya" when asked to clarify the UK's position by MEE. This comes after Prime Minister Theresa May promised to work toward preventing Libya "becoming a base for Daesh [IS]".
She made the comments alongside her Italian counterpart, Matteo Renzi in Rome last week. Both Italy and the UK have been working to stabilize Libya, which descended into civil war following the 2011 overthrow of the country's authoritarian leader Muammar Gaddafi.
On Wednesday, the Italy's defence minister, Roberta Pinotti, signalled that it was increasingly likely that the country would allow the use of its airspace and a base on Sicily for drone strikes against IS in Libya.
Drones launched from Jordan
US drones are already launching strikes over Libya, but Pentagon officials declined to identify from which states they were being launched. However three military officials told the New York Times that armed MQ-9 Reaper drones were operating from a base in Jordan, more than 1,900 kilometers from Sirte. The Reaper drones is thought to have a range of around 1,600 kilometres and does not have a known capacity for aerial refueling.
The New York Times reported that the US drone attacks are the first time that the US has flown armed drone missions from Jordan, a staunch ally in the fight against the Islamic State in Syria and Iraq.
The Pentagon also conducts armed drone flights from the Sicily base, but those aircraft must have Italian permission to operate and are only able to launch strikes in protection of US forces on the ground.
The UK has refused to comment on whether RAF drones are currently operating over Libya, and Prime Minister May is likely to face stiff opposition from Labour over any expansion of the RAF's bombing campaign against IS.
Shadow Secretary of State for Defence, Clive Lewis MP, told MEE that Labour would "look at the detail" of any US requests for UK involvement but said that the Libya conflict won't be "solved by military action alone".
He said:  "We will look at the detail of any request from the Libyan authorities, if and when such a request for military assistance is made.
"Either way, it's clear that the underlying drivers of conflict in Libya will not be solved by military action alone. After five years of civil war, Libya desperately needs a comprehensive strategy to address the political, economic and social problems that continue to make this conflict seem so intractable."
"Evidence of a commitment to such a political strategy has so far been lacking in Whitehall, and that needs to change regardless of whether or not military action is being considered."
In an interview with MEE last month, Labour leader Jeremy Corbyn called for an American-style "war powers act" to give Parliament new powers to block military intervention, in comments many saw as pointed toward covert British operations in Libya.
Asked at the time about MEE reports establishing the presence of British special forces in Libya, the Labour leader said: "Clearly Britain is involved. Either through special forces in Libya or through arms supplies to Saudi Arabia to the war in Yemen. And indeed by the same process to the supply of anti-personnel equipment that is being used in Bahrain by Saudi Arabia. So I think we have to have a War Powers Act that is much more watertight on this."
Anti-IS advances in Sirte
Focus on western action in Libya came as pro-government forces used cover from fresh air strikes to advance on Sirte, disable mines and snipers
"Our forces… are trying to strengthen their advance with the support of ongoing American air strikes that have given momentum to the military operation," said Reda Issa, a spokesman for forces loyal to Libya's unity government.
The IS bastion, located just across the Mediterranean from Europe, has been shaken by weeks of fierce clashes between militants and fighters allied to Libya's UN-backed Government of National Accord (GNA).
GNA forces have been battling to oust militants from the town since 12 May. They entered the city on 9 June and have pushed the militants out of the city's port, international airport, an air base and a hospital.
But their advance slowed as IS hit back with sniper fire, car bombs and suicide attacks. "There are targets that are hard to hit because they are among the houses," added Issa. "American air strikes, which are very accurate, will help to destroy those targets."
He added: "But there is no doubt that the presence of effective and accurate weapons will accelerate the end of the battle."
---
This article (US Authorizes Bombing the Sh*t Out of Libya for the Next 30 Days) by Jamie Merrill originally appeared onMiddleEastEye.net and was used with permission. Anti-Media Radio airs weeknights at 11pm Eastern/8pm Pacific. If you spot a typo, email [email protected].