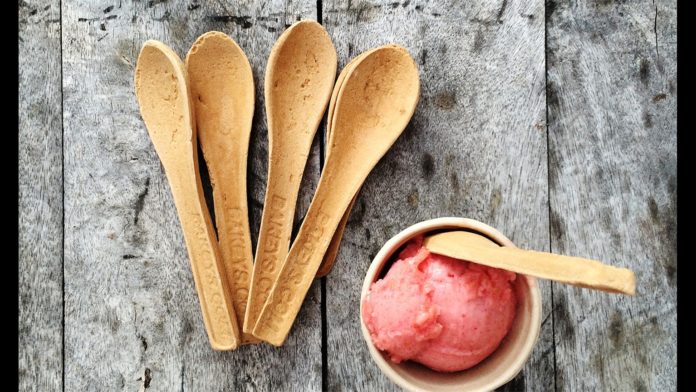 Call it the next frontier of sustainability or a delicious alternative to plastic cutlery, Bakey's founder Narayana Peesapaty invented 100% natural edible spoons in 2011 — so you can eat with it and then eat it — as an Eco-friendly and nutritious way to consume food.  Since 2011, he has succeeded in selling 1.5 million spoons in India every year. They are made of rice, wheat, and sorghum flours in eight sweet and savory flavors: sugar, ginger-cinnamon, ginger-garlic, celery, black pepper, cumin, mint-ginger, and carrot-beetroot.
In April, Bakey's launched a crowd funding campaign on Kickstarter to raise funds to go beyond the realm of edible spoons and start a cutlery revolution around the world. Their intention is to roll out edible chopsticks, dessert spoons, forks, cups, plates, and many more traditional disposable tableware. 9,293 backers pledged $278,847 — 14 times more than its initial $20,000 goal — to help Bakey's provide a replacement for the current disposable utensils on the market.
A Bakey's spoon lasts 20 minutes in hot liquid and has a shelf life of two to three years. If you don't want to eat it, you can throw it; it decomposes within four to five days. Just imagine, some 40 billion pieces of reusable plastic cutlery get thrown away every year in the United States alone; this plastic waste can take up to 1,000 years to break down. Peesapaty told The Economic Times:
"About 120 billion pieces of disposable plastic cutlery are discarded in India every year. Plastic contains chemicals that can seep into food or beverages and cause cancer. My target thus is to eliminate plastic completely from our food."
Prior to becoming a manufacturer of edible spoons, Peesapaty was a researcher at the International Crop Research Institute for Semi Arid Tropics (ICRISAT) based in the Indian city of Hyderabad. Whenever he travelled, Peesapaty would feel terribly guilty about using plastic cutlery and would often think of creating an alternative. In the below TEDx talk, he explains why plastic, especially cutlery, should be taken out of our lives:
The idea about how to make edible spoons struck him during a flight in 2004, when he saw a passenger using a piece of khakra — thin Indian crackers made from mat bean, wheat flour and oil — as a spoon to eat dessert. After much research and personal investment (It cost him more than 6 million INR in developing the prototypes and executing a pilot run), Peesapathy quit his job and created the first batch, primarily using millets and some commonly available spices. Vegetable pulp-spinach, beetroot and carrot were used to add color.
"In addition to reducing the use of plastic, I wanted to understand how sorghum can be promoted as an alternative to rice, which is more taxing on natural resources like water. In comparison, sorghum consumes only a quarter of the water used for rice cultivation, is easy to grow and has good nutrient value. This pushed me to work on an organic spoon made of food as an alternative to plastic ones, and at the same time, promote a market for millets and motivate farmers to move away from rice [which requires 60 times the amount of water to cultivate].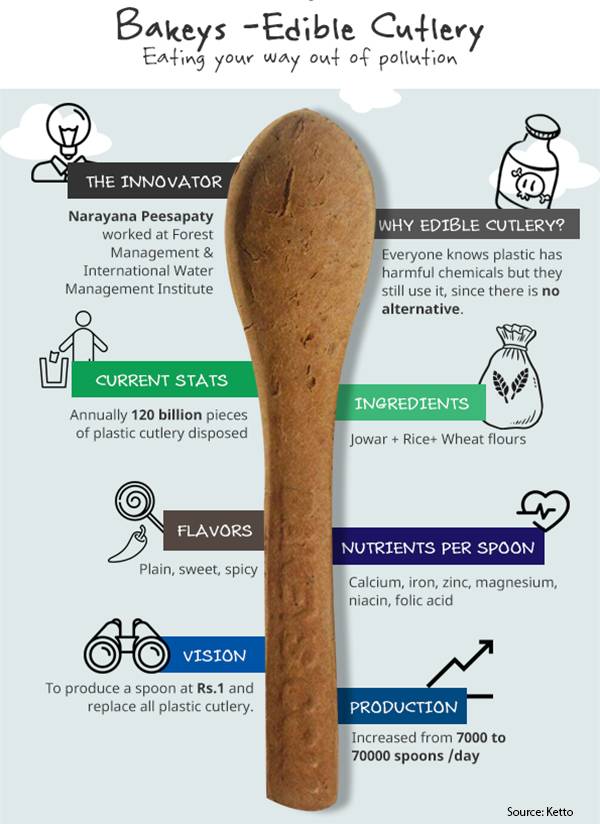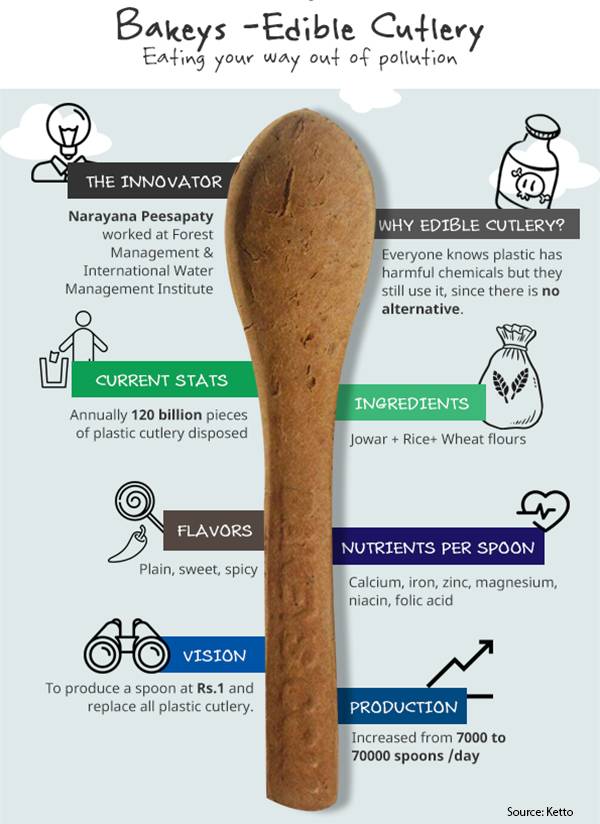 Five years ago, Bakey's began selling 50,000 edible spoons a month; today they are getting orders for more than 30 million spoons. "When we started Bakey's, the general observation was that it won't work; that we would struggle to find orders for the product. Now, the only challenge we are facing is to keep up with the number of orders and process them all on time," he added.
Bakey's manufacturing unit is an all-women enterprise, and apart from trying to eliminate plastic waste, Bakey's is providing women more job opportunities, enabling them to become independent, and support household expenses, too. The all-women team not only enjoys working at Bakey's, they also care about the cause.
"We first mix the spices and flour and knead them together with water. The dough is then sent to a rolling machine, from where they are collected and baked inside an oven. It takes 3-5 minutes to make a set of 100 to 500 spoons," says 29-year-old Sarita, one of the 13 women currently employed at the manufacturing unit. "Everyone at the unit uses these spoons. It has been years now but we have had no issues with the product."
Watch the below video to meet the women behind the edible spoons:
Bakey's aims to product 800,000 spoons and/or other utensils in one day, as well as minimize the cost of spoons to reach maximum people. Peesapathy writes on Kickstarter:
"Change is inevitable. Before this change can overtake and overwhelm us, we should be the instruments of change. I created this business to disprove the conventionally known fact that environmental safeguarding and social responsbility rarely integrate with sound business process. For Bakey's, environmental and social amelioration is the business."
---
This article (India: Man Invents Edible Spoons to Save the World from Plastic Waste) is free and open source. You have permission to republish this article under a Creative Commons license with attribution to the author and AnonHQ.com.