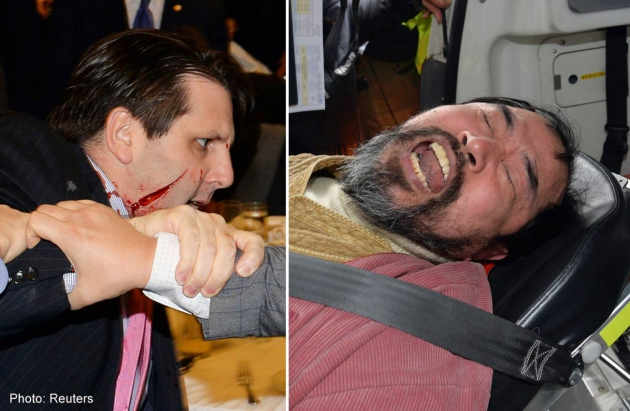 A man wearing "traditional clothing" is seen being held down in this RT video. The location is a conference hall at the Sejong Cultural Institute where the envoy, Mark Lippert, was due to give a lecture.
The envoy was rushed off while clutching his face. Later, outside, a conference attendee is seen holding a piece of cloth to the envoy's face as what appears to be blood streams down his face.
"I'm bleeding here, I'm bleeding here," the envoy repeats "I need an ambulance fast, take me to a hospital".
Antiwar activist/nationalist/political extremist (according to some sources) Kim Ki-Jong was later identified by police as the perpetrator, and he had used a 10-inch long blade to do the dirty deed. He had reportedly condemned the joint-military exercises being carried out at the time.
"I plotted the whole thing alone for 10 days… I made the sacrifice to stop Key Resolve," Kim told police according to the Yonhap news agency.
"I'm so saddened by this reality in which… we keep fighting against each other while being swayed by plots by foreign powers," he wrote in a blog post.
"The guy [Kim] comes in wearing traditional Korean brown and tan dress. He yells something, goes up to the ambassador and slashes him in the face," Michael Lammbrau, who witnessed the attack, said to Reuters.
Lammbrau, who works at the Arirang Institute think-tank in Seoul, added: "People wrestled the guy to the ground, the ambassador was still in his chair. The ambassador fought him from his seat. He was escorted out afterwards. There was a trail of blood behind him. He had about a seven-inch long gash on the right side of his face."
Kim continued to yell antiwar slogans after he was subdued, Lammbrau said. "It sounded like he was anti-American, anti-imperialist, that kind of stuff," he said. He was antiwar, and probably crazy, ergo he must have been anti-American as well.
In Washington the US state department reacted quickly to the incident, "We strongly condemn this act of violence," spokeswoman Marie Harf told reporters.
President Barack Obama spoke with Lippert after the attack, according to White House national security spokesperson Bernadette Meehan.
"The president called US ambassador to the Republic of Korea, Mark Lippert, to tell him that he and his wife Robyn are in his thoughts and prayers, and to wish him the very best for a speedy recovery," she  said.
The South Korean president, Park Geun-hye, said from the United Arab Emirates that the wounding was an "attack on the South Korea-US alliance". Of course, let's use this incident to rally everyone around the thing the guy was against…. I mean, if a guy who claims to be against seal-slaughtering goes ballistic, clearly the best course of action would be to accept seal-slaughtering as the best way forward…. Just because a man is crazy, it does not mean that his arguments (which are held by many other very sane people) are invalid.
It seems Mark Lippert is well, and recovering from the 80 stitches that were necessary to staunch the bleeding.Hopefully this will not be used as a poorly conceived excuse to heighten the military exercises that are already taking place. North Korea itself seems to be keen on aggravating the situation as usual by calling the attack "righteous punishment".
---
Original source: http://www.theguardian.com