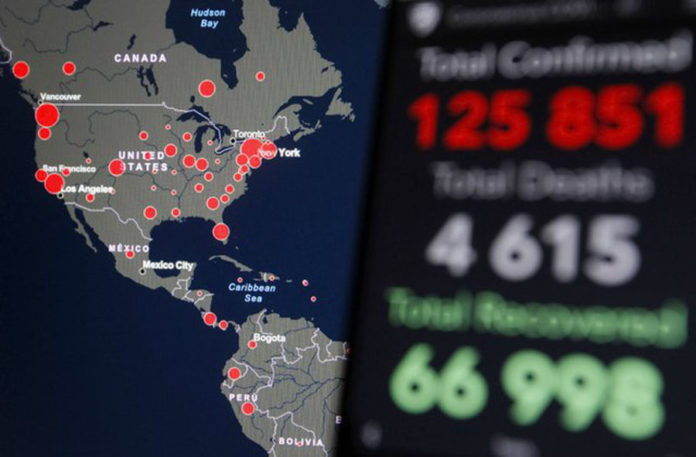 Summary:
Jerusalem's Church of the Holy Sepulchre closed
New York City hospitals report "apocalyptic" surge in cases
US overtakes China as country with the most COVID-19 cases with 81,321 cases
Elmhurst Hospital in Queens is overwhelmed with new cases
More than 500k volunteers sign up to help the NHS in Britain
500k COVID-19 cases diagnosed
Italy reports largest batch of new cases in 5 days
Abbott Labs submitted application to FDA for point-of-care test
New Orleans hosts major outbreak
NJ reports another 2k+ cases, 19 deaths
Inmate in Washington DC tests positive
NBCUniversal CEO Jeff Shell tests positive
India passes $22.6 billion bailout package
Tokyo reports 40 cases for 2nd day in a row
A record 3.3 million Americans file for unemployment
China bans entry of foreigners
157 more deaths reported in Iran
Putin shuts down Moscow, delays vote on constitutional measures
Wednesday was deadliest yet in US
President Xi calls on nations to improve policy coordination to avoid a recession
Mnuchin says he speaks with Powell up to '30 times a day'
*   *   *
Update (1835ET): Dr. Birx said Thursday that 86% of tests run in the US so far have been negative, a lower rate than experts had expected. She also listed off a handful of "particularly concerning" counties, like Illinois' Cook County and Michigan's Wayne County.
Additionally, Dr. Birx played down some of the more dire predictions, including an Imperial College study that has circulated widely over the last week or so which called for 500k deaths in the UK. Dr. Birx noted that this number has "already been revised down to 20k".
*   *   *
Update (1810ET): VP Pence said during Thursday's press conference that Abbott Labs has applied for a point-of-care test that can be done in a doctor's office, with results in 15 minutes.
Pence also advised any travelers from New York to "check their health" and "self-isolate" if they've traveled elsewhere.
*   *   *
Update (1800ET): Cuomo praised more New York businesses – in this case, hotels – stepping up to house medical workers or the sick.
Tomorrow we will tour the 4 sites that NY has identified for additional temporary hospitals that will add much needed capacity.

The sites are the Brooklyn Cruise Terminal, the Aqueduct Racetrack facility in Queens, CUNY Staten Island, and the NY Expo Center in the Bronx.

— Andrew Cuomo (@NYGovCuomo) March 26, 2020
*   *   *
Update (1740ET): In a testament both to the US's ability to ramp up testing, and the sheer penetration of the novel coronavirus within the US population, the number of confirmed cases in the US has surpassed China to become the largest outbreak in the world.
According to the NYT, at least 81,321 people have been diagnosed in the US, including more than 1,000 deaths, more cases than China and Italy and any other country. As the Times notes, the US is suffering from a shortage of personal protective equipment and ventilators.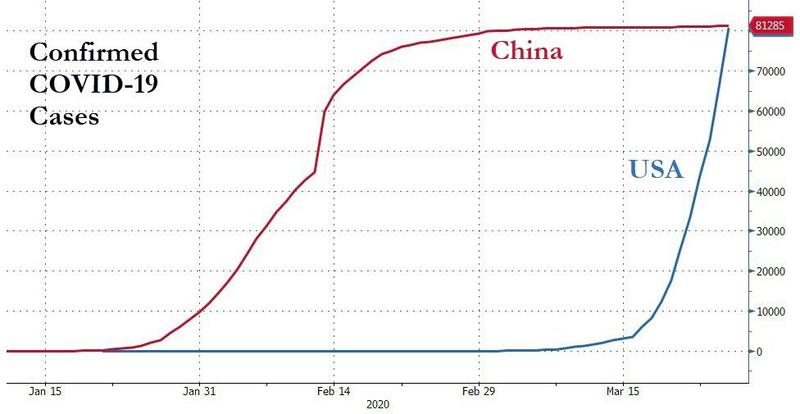 As President Trump said during Thursday evening's press conference, the fact that the US has overtaken China is "a tribute to the amount of testing we're doing – we're doing a lot of testing," Trump said.
He also (again, correctly) pointed out that "you don't really know" the total scope of the crisis in China, where tens of thousands, even hundreds of thousands, of cases are believed to have gone unreported.
Trump is set to speak with President Xi Thursday night via phone.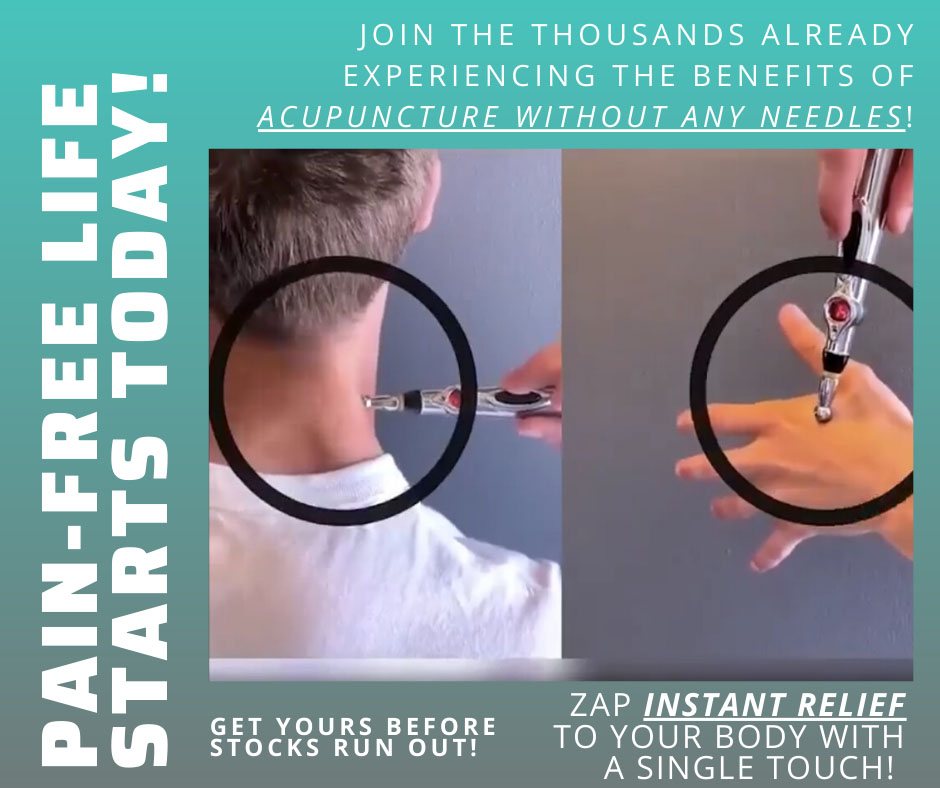 Here's a breakdown of cases by state:

Find more statistics at Statista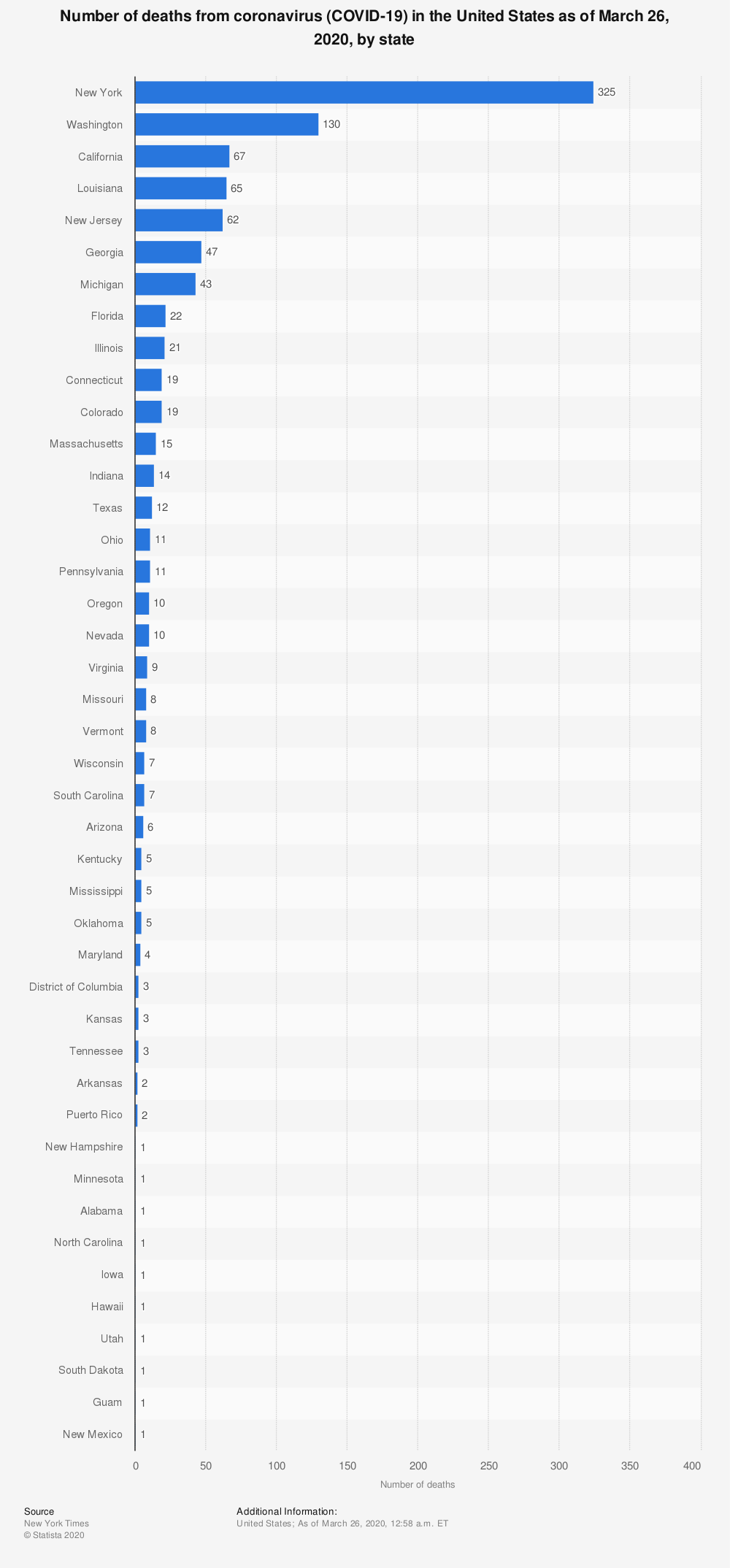 Find more statistics at Statista
*  *  *
Update (1415ET): New Jersey Gov. Phil Murphy is holding his daily press conference.
Holding a COVID-19 briefing. WATCH: https://t.co/0JHV5xBCXE

— Governor Phil Murphy (@GovMurphy) March 26, 2020
As we mentioned below, New York hospitals have started 'splitting' ventilators for patients, as some New York coronavirus patients are staying on ventilators for much longer than doctors had expected. While patients typically spend 3 to 4 days on ventilators with other serious lung ailments, COVID-19 patients are spending as long as 30 days on ventilators in New York, dimming hopes that the state will secure enough machines.
After FEMA promised 400 machines, Cuomo's complaints convinced VP Pence to increase the allocation to 4,000. But that's still 26k short of the 30k Cuomo said are needed by hospitals in the state, with Cuomo offering to personally deliver them to the next state that needs them after New York's apex.
On Thursday, Cuomo reported 100 more fatalities, for a total of 385, as hospitals brace for more. New York City is even deploying refrigerated trailers for use as temporary morgues as the number of bodies overwhelms some hospitals.
"This is the really bad news," Cuomo said at a news conference Thursday.
Cuomo expressed alarm over the 35% rise in deaths in one day. On Wednesday, he sounded a more hopeful tone.
"The longer they're on, the more likely they're not going to come off," he said. "That is what has happened. We do have people who have been on for quite a period of time, and those are the people we're losing."
In New Jersey, COVID-19 cases increased by 2,492 from a day earlier to 6,876, while another 19 deaths brought the state-wide total to 81, Gov. Murphy said.
*  *  *
Update (1315ET): China's Foreign Ministry announced Thursday that beginning on Saturday, all foreign nationals, including those with valid visas and residence permits, will be temporarily barred from entering China as Beijing continues to turn the tables on the US and other western countries that barred Chinese nationals in the wake of the outbreak.
Columbia University will let medical students graduate early so they can help with the coronavirus response efforts in New York, university officials told ABC News.
Chicago's popular Lakefront Trail was shut down on Thursday, blocking access to the extensive trail and park, after too many people congregated and violated social distancing guidelines, said Chicago Mayor Lori Lightfoot.
During Thursday's press conference, New York Gov. Andrew Cuomo said Congress' $2 trillion stimulus bill "failed to meet the governmental need", adding that it does "absolutely nothing for us" in terms of the massive hit to the state's budget from lost tax revenue, while also not even doing enough to meet the base-level need in New York's hospitals.
He added that he was "disappointed" that Congress passed such a "reckless" bill at a time of such tremendous need.
"I'm disappointed," Cuomo said on Thursday. "I find it irresponsible. I find it reckless. Emotion is a luxury. And we don't have the luxury at this time of being emotional about what they [Congress] did. When this is over, I promise you I'm going to give them a piece of my mind."
"We don't have the luxury at this time to be emotional about what they did…when this is over, I'll give them a piece of my mind. This is an extraordinary time for this nation…this was the time to put politics aside and put partisanship aside."
The fact that lawmakers aren't adequately addressing the problem in the areas with the most acute need is almost unconscionable, Cuomo said.
In other news, the new cases reported out of Italy combined with some other new cases reported Thursday morning have delivered the ~20k cases needed to put the global total over 500k, a major milestone in the outbreak.