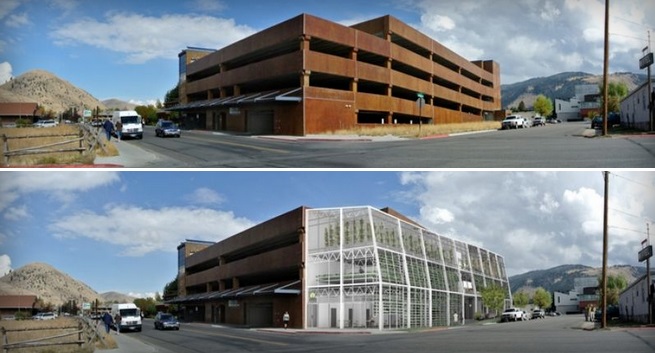 Written by: Cassius Methyl at theantimedia.org
Jackson Hole, WY — An inspiring initiative to produce food in an agriculturally challenged area has been put into motion!

The organization Vertical Harvest is creating a vertical farm that will be built on the side of a parking structure, capable of producing food all year long.
"Using hydroponics, Vertical Harvest will be capable of producing over 37,000 pounds of greens, 4,400 pounds of herbs, and 44,000 pounds of tomatoes. Its founders say that Vertical Harvest's 30 foot by 150 foot plot of land offers the same growing areas as 23 acres of traditional farmland, and has a fraction of the environmental impact, using 90 percent less water and 100 percent fewer pesticides than traditional farming."
The vertical farm will hire mostly employees with disabilities.

Utilizing crowd-sourced funds, the organization is successfully demonstrating just how easy it is to produce food ourselves, using creative methods and a lot of heart.
Vertical Harvest describes themselves as "An economically self sufficient business that will serve our community for many years to come."
Activists and people who care about their communities have been aspiring to grow food like this for a while, to put power back into the hands of the people and regain the skills we have lost in the last century due to centralization of agriculture.
Hopefully this practice will continue to blossom, and new, independent infrastructures and businesses will flourish in the future; improving our quality of life while simultaneously dis-empowering notoriously harmful corporations like Monsanto and Syngenta.
Let's de-monopolize food, and continue putting effort into our infrastructure independent of the corporate bureaucracy and State. All we need is a lot of passion and a little hard work.
Please share this with everyone who would find it relevant.