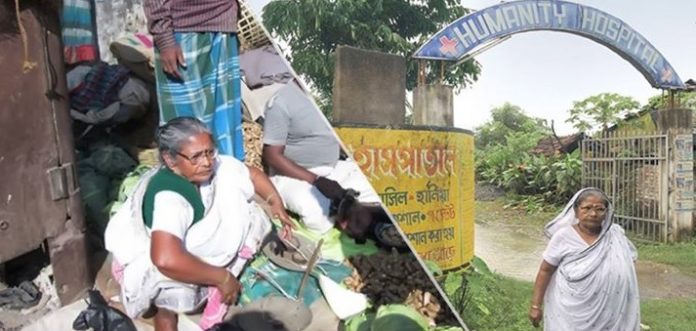 For 25 years she worked as a construction laborer, a housemaid who washed dishes and polished shoes, and as a vegetable vendor, selling vegetables at Kolkata's Park Circus after her husband passed away due to lack of proper medical treatment in 1971. Subhashini Mistry was born into a poor family of farmers in the Indian state of West Bengal, was married at the age of 12 and by the age of 23 she was left all alone with her four kids.
She would earn about five paise (1INR equals 100 paise, 65INR equals $1), keep aside two paise for her rented hut, spend two paise on food and save one paise to fulfill her dream of building a hospital, to make sure no one else suffers the same fate as she did.
Subhashini sent her eldest son, Ajoy, to an orphanage because she couldn't afford his schooling. Her neighbours laughed at her and relatives felt she was out of her mind. Two of her sons worked at a tea stall. They survived on boiled rice for years.
Ajoy passed the 'All India Medical Entrance Examination' and, aided by a German scholarship, joined Calcutta Medical College and completed his medical education to become a doctor. Then in 1993, thanks to her savings of 1,00,000INR, she bought a one acre land plot and put up a small temporary shed where Ajoy and his doctor friends volunteered to treat patients free of cost. The young doctors treated 250 patients on opening day, but looking at the queue of patients, Subhashini said, "This is not enough. We need to build a proper hospital."
So she went back to the streets to sell vegetables. Her second son, Sujoy, a graduate himself, joined her and together they began earning and saving more. Meanwhile, Ajoy took on the foot work of 'knocking' on corporate doors and soon funds began to trickle in – from local residents, companies and charities – and on February 5th, 1995, the foundation stone for a proper hospital was laid.
A year later, on March 9th, 1996, the two-story Humanity Hospital was opened to the public. Today the hospital is spread over three acres and is home to the best specialist doctors and medical equipment. It has an ICCU, free for poor patients and has over 100 beds. While the poor get free treatment, those who live above the poverty line pay a minimal consultation fee. Major surgeries for the poor are done for less than 5,000INR, minor ailments are treated for under 10INR and medicine is given away free-of-cost at the hospital.
"We started this hospital to make treatment accessible to the poor. It hasn't changed and never will. We will strive to make the hospital bigger and better, but not by charging patients. So far, we have not charged any patient, though we have a provision to accept a token amount from those who can afford it," she said.
Looking back at her past, the extraordinary woman added, "This is all I could do on my own. I don't regret that I had to put two of my children in an orphanage, that I couldn't educate them. There were things needed to be done for the greater good."
"This is a hospital for the poor. This is not a business. Yet, we know that the hospital had to be self-sufficient. It cannot survive forever on donations. There is a perpetual shortage of funds. We live from month-to-month. Thankfully we got some funds from donors of Satyamev Jayate and Reliance Foundation. But we haven't got any funds from the government," Ajoy said.
So how did Subhashini achieve all this? "Inner strength," she concluded, "God, in his infinite grace, gave me a vision at the darkest moment in my life. From then on, my life had a purpose. I used whatever strength God gave me to make sure other poor people did not lose their loved ones for lack of medical attention."
In 2009, she won the prestigious Godfrey Phillips Bravery Award in the 'Mind-of-Steel' category.
---
You want to support Anonymous Independent & Investigative News? Please follow us on Twitter: Follow @AnonymousNewsHQ
---