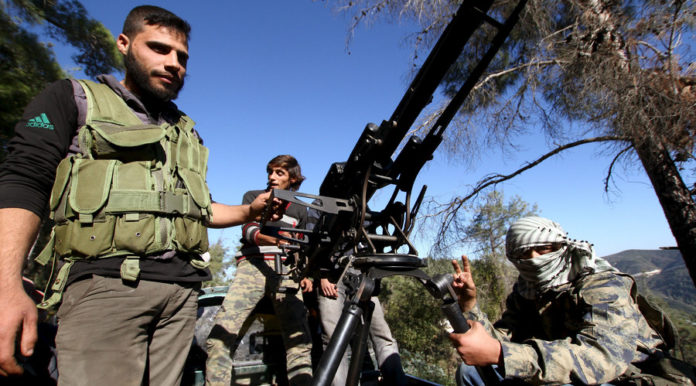 One of the ejected pilots from the Su-24 jet that was shot down by Turkey has survived, somehow eluding the Allahu Ackbar-ing "moderate" rebels who were after him.
"The [rescue] operation is successfully over. The pilot has been delivered to our base. Safe and sound," said Russian Defense Minister Sergey Shoigu
"One on board was wounded when he parachuted down and killed in a savage way on the ground by jihadists in the area. The other managed to escape. According to the latest information he has been picked up by the Syrian Army and should be going back to the Russian Air Force base,"Ambassador Aleksandr Orlov told Europe 1 radio.
Below is the video of the surviving pilot's first interview, revealing that the Turkish pilots had offered no warnings before firing, and that it was impossible for him to have entered Turkish airspace- even for a second.
He notes that the F-16 is much faster than his jet which was outfitted for bombing and not dog-fighting, and that the Turkish jets could have easily sent a visual warning by flying in parallel. Instead they struck from behind in an ambush, making certain that the Russians could not avoid the missile. He has vowed "pay back" for the murder of his co-pilot.
Russian PM Dmitry Medvedev also had some harsh words for Turkey's actions:
"This is no surprise, considering the information we have about the direct financial interest of some Turkish officials relating to the supply of oil products refined by plants controlled by ISIS," he said.
Medvedev added: "The reckless and criminal actions of the Turkish authorities have caused a dangerous escalation of relations between Russia and NATO, which cannot be justified by any interest, including protection of state borders."
The US State Department has been unapologetic for the actions of its moderate rebels in murdering an unarmed pilot, proving once and for all that they believe that "human rights" SOLELY applies to Americans- and that they can make up whatever bullsh** they need to justify this war crime.
State Department spokesman Mark Toner, during a press briefing:
"We've seen conflicting reports. One pilot may not have been killed. If these 'Turkomen' were actually being attacked by Russian strikes, they have every right to defend themselves."  You bloody idiot, they had every right to fire at a plane that was actually attacking them- regardless of WHERE the SU-24 was at the time, they had NO RIGHT to murder an unarmed pilot.
But of course, US-backed "moderates" who chanted allahu ackbar while firing upon the descending pilot and then proceeding to calmly beat him or his corpse to a bloody pulp while still chanting allahu ackbar were just trying to "defend themselves".

The State Department has also admitted that the US was supplying the "moderates" TOW missiles, one which was used to "defend" against a Russian rescue chopper that was deployed to search for the SU-24 pilots. The pilot of the helicopter was killed in the blast.
To those of you who continue to believe that the US is the good guy no matter what, and accuse me of being biased, USA USA USA and all that, let me break it down for you in simple terms:
The US has just called the execution of a POW and the murder of a rescuer with a US-made rocket "self-defense", merely because its proxy was involved. It did not apologize despite the fact that not one but two of its weapons has caused the death of a Russian, it did not even bother to call it an accident. There was no remorse for the abetting of a war crime; it's the same attitude it took when it was accused of war crimes by Doctors Without Borders, where it promptly sent its investigation team in a tank to literally squash the evidence.  This is not just my "opinion" or "interpretation"… these are the facts, unless you're questioning the veracity of the Geneva Convention. The US government does not care about human rights; it never has and never will.
Guess who's escalating tensions here? It sure ain't Russia.
Sources: RT
---
This Article (One Russian Pilot Saved; US State Department Calls Brutal Execution of The Other Pilot And Downing of Rescue Helicopter "Self Defense") is free and open source. You have permission to republish this article under a Creative Commons license with attribution to the author(CoNN) and AnonHQ.com.