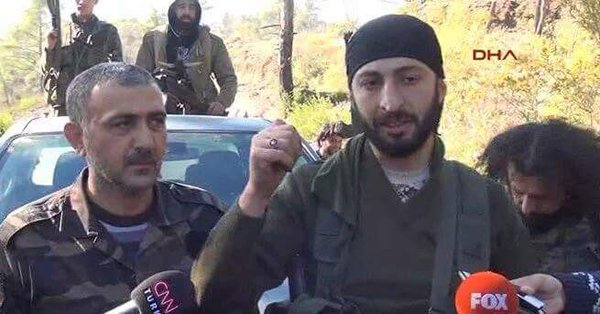 In The Now has released a video that shows that there is more to the brutal murder of a Russian pilot than the mainstream media wants you to know.
Tellingly, the "Commander" for the "moderate" "Turkman" fighters who shot at and killed one pilot in cold blood, was in fact the son of a former Turkish mayor… his name is Alpaslan "Celik" Steel, and he is a member of a violent TURKISH militant group with links to the Turkish MHP, an ideologically far-right party.
At best, this means that Turkey's government had engineered the entire interview with the "Turkman commander" for its own propaganda purposes. At worst, a Turkish political party had arranged for the execution of the Russian pilots, thus committing a war crime, and NOT some random ISIS-inspired "moderate" rebel.
The "Commander" also falsely claimed to have killed both pilots, when one pilot had in fact managed to elude the "Turkmen"- foiling his plans.
In other news, two Turkish journalists were just arrested on "terrorism" charges… for investigating the government's links with terrorists.
"We are accused of 'spying.' The president said [our action is] 'treason.' We are not traitors, spy, or heroes; we are journalists. What we have done here was a journalistic activity," Can Dündar, the editor-in-chief of Cumhuriyet (a Turkish daily newspaper), said before testifying to prosecutors on Nov. 26.
"Of course this prosecution will help enlighten how these incidents took place, rather than how we covered this story."
Footage released by Cumhuriyet on May 29, reportedly showed the Turkish military force and police officers opening crates on the back of trucks which contained, what the newspaper described as, weapons and ammunition sent to Syria by the MİT (Turkish covert intelligence) in January 2014.
Turkish President Recep Tayyip Erdoğan, filed an individual criminal complaint against Dündar and Cumhuriyet on June 2, claiming that the story "included some footage and information that are not factual," while also saying the person "who wrote the story will pay a heavy price."
According to Reporters Without Borders, Turkey has one of the worst reputations when it comes to the treatment of journalists. One wonders what the Turkish government has to hide… Well, we may know the answer to that quandary… but try telling that to the US politicians who happen to be related to the idiot who caused the Iraq war for no reason (as a biological sibling or as a political descendant).
It figures that this happens to be the one (other than the TPP and TTIP) time when Republicans are in full bipartisan agreement with Obama, with the exception of Rand Paul of course.
Sources: In The Now, Hurriyet Daily News, CNN
---
This Article (Russian Pilot Execution: What The Mainstream Media Doesn't Want You To Know) is free and open source. You have permission to republish this article under a Creative Commons license with attribution to the author(CoNN) and AnonHQ.com.