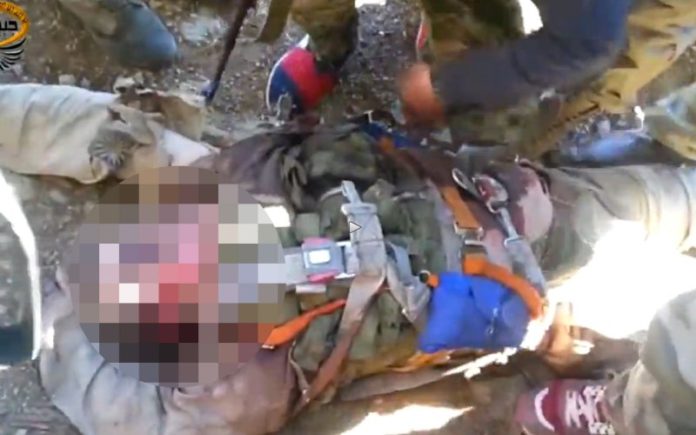 Yet more disturbing footage has arisen… this time, we get a lesson in just what it means to be a Turkish-supported "moderate" rebel.

The execution of a Prisoner of War or unarmed enemy combatant is a violation of the Geneva Convention, and a war crime.
These are the men whom Turkey was protecting on its border, men who shout "God is great!" in the same tone of exuberant jubilation that any ISIS jihadist would use when executing an unarmed victim.
In the wake of this event, NATO has scheduled an emergency meeting (that's right, let's NOT express our condolences to Russia… INSTEAD let's talk STRATEGY), Russia has confirmed that one pilot was killed, while the other is still missing.
ANOTHER pilot who was manning a RESCUE HELICOPTER was murdered by a US-supplied TOW missile, fired by an FSA "moderate" as seen in the video below(TWO breaches of the Geneva convention for the price of one)…
The only question left is, how will NATO and particularly the US  spin this to make Russia look like the bad guy, when the jets had been on the Syrian side all the while.
(Wikileaks has obtained leaked Turkish reports proving that even Turkish officials believed that the jet had strayed into their airspace for only a few seconds:
"Disregarding these warnings, both planes, at an altitude of 19,000 feet, violated Turkish national airspace to a depth of 1.36 miles and 1.15 miles in length for 17 seconds from 9:24:05 local time," the leaked document said.
17 SECONDS, and that's even assuming the Turkish intel was accurate).
It will be hard for them to spin it this time…
AFTER Turkey had threatened Russia, claiming that it would protect "Turkmen villages" (when the reality is that ISIS also inhabits the "porous" border, and the actions of these "moderates" only prove that they are as bad as ISIS. The Russians also had to target the border to cut off ISIS supplies)…
AFTER the US had threatened Russia… and supplied the very TOW missiles that would be used to down the rescue chopper… and had arranged for the supply of all manner of land-to-air manpads…. AND had arranged for Turkey to receive 6 fighter jets armed with air-to-air missiles (ISIS HAS NO JETS).
Two unarmed Russian pilots, who had been fighting ISIS, have been killed in cold blood by US ally Turkey with a US-made F-16, and  by US-supplied "moderates" with a US-made TOW missile, with a third pilot captured or killed. I'm sure the US has nothing to do with this, let's blame "Russian Aggression" again; should Russia decide to strike back against Turkey for this act of war, all of NATO would be "obliged" to help Turkey. This is no small skirmish.
Check out the behavior of these "moderates" as they surrounded the murdered Su-24  pilot:
Allahu akbar indeed.
Sources: The Guardian, RT, International Committee Of The Red Cross
---
This Article ("Moderates" Fire Upon, Killing Ejected Russian Pilot, As US-TOW Missile Destroys Russian Rescue Helicopter.) is free and open source. You have permission to republish this article under a Creative Commons license with attribution to the author(CoNN) and AnonHQ.com.