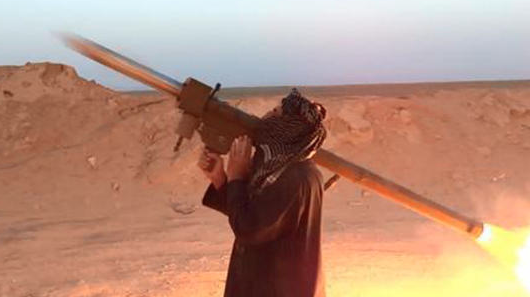 The downing of a Russian passenger jet, which has been widely blamed on ISIS, is a sign of just how effective their strikes against them has been; ISIS's decision to target a plane filled solely with Russian civilians rather than say… American or British civilians who also frequented that area… was telling indeed.
Thing is, there are only two likely ways to down a jet 10,000 meters high- either a bomb had to have been smuggled into the plane, or it had to have been shot down by a sophisticated anti-air missile system. As ISIS doesn't seem to have any means of obtaining such a weapon, a smuggled bomb seems to be the simplest solution, and this appears to have been the case as TNT was found in the plane wreckage.
In the wake of this terror attack, it seems that the US and its allies wish to give the "moderate" rebels yet more ways of targeting Russian aircraft:
Vice had reported that Qatar, Saudi Arabia (or some other unnamed "sponsor" who happens to be an American ally) were looking to prop up the "moderate" rebels by sending them anti-air missiles:
But an unnamed US official also told Voice of America that, with Russian bombs raining down, it's only a matter of time before one of the rebels' sponsors cracks.
Whoever it may be, the FSA… is ready and waiting. "I expect modern anti-aircraft weaponry soon," he told Motherboard.
And then when Russia attacks, the rebels could shoot back.
Middle East Monitor has also stated that Saudi Arabia had already decided to supply weapons that MIGHT include anti-air weaponry to "moderate" rebels.
A French journalist however had the most damning allegation of all. He had reported on November the 13th that:
The CIA urged Turkey and Saudi Arabia to provide certain Syrian rebels with anti-aircraft weapons capable of shooting down airplanes, including high-flying passenger jets,    Hildegard von Hessen am Rhein wrote for Boulevard Voltaire, in a piece urging France to leave NATO.
In his article he cites a Wall Street Journal source which states that:
Saudi and Turkish officials have renewed talks with their American counterparts about allowing limited supplies of shoulder-fire man-portable air-defense systems, or Manpads, to select rebels. Those weapons could help target regime aircraft…
According to Zero Hedge, which wrote a similar assessment (possibly inspiring the Frenchman's), the only thing stopping ISIS from using manpads on Russian passenger aircraft is magical "special software".
Let's not forget that ISIS has often obtained weapons and even vehicles from "moderate" rebels, abandoned bases and American airdrops. Should these manpads fall into the hands of ISIS…
It is important to note that manpads do have a short range, and should not be able to hit a passenger plane at maximum height- though it is a sitting duck as it ascends and descends.
Let's not mince words, as Russia strikes against ISIS, and as ISIS strikes against Russian civilians,  the US and its allies have decided to send anti-air weapons to "moderate" rebels… weapons that surely would be used  to target Russian jets manned by Russian pilots (what other targets are there?) whether they share them with ISIS or not… this sort of action should be noted in context with the US Secretary of Defense Ashton Carter's own words on the 8th of October:
"In the coming days, the Russians will begin to suffer from casualties."
This was a stunningly "prescient" prediction just a few weeks prior to the plane downing… particularly considering the fact that the US has only lost one soldier and a few journalists in its year-long campaign against ISIS… the secretary of Defence was not speaking from his own experience.
At the time I had wondered at how ISIS was going to afflict losses on Russian fighter jets, beyond their Condom Bomb  anyway. Well, I wonder no more.
---
This Article (As Russia Strikes ISIS, CIA, Saudi Arabia, Provide Anti-Air Missiles To "Moderate" Rebels) is free and open source. You have permission to republish this article under a Creative Commons license with attribution to the author(CoNN) and AnonHQ.com.