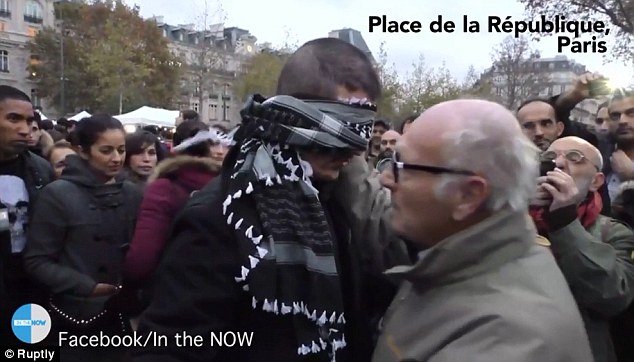 In the wake of the terror attacks by Islamist militants, a Muslim man decided to send a message of peace by blindfolding himself and asking mourners in Paris to embrace him – with a placard next to him that read: "I'm a Muslim, but I'm told that I'm a terrorist. I trust you, do you trust me? If yes, hug me".
The heartwarming video shows hundreds of tearful onlookers approaching the man and giving him a hug at the Place de la Republique, a hub for tributes and vigils.
After taking off his blindfold the man said, "I would like to thank every one of you for giving me a hug. I did this to send a message to everyone. I am Muslim, but that doesn't make me a terrorist. I never killed anybody. I can even tell you that last Friday was my birthday, but I didn't go out. I deeply feel for all the victims' families. I want to tell you that 'Muslim' doesn't necessarily mean 'terrorist'. A terrorist is a terrorist, someone willing to kill another human being over nothing. A Muslim would never do that. Our religion forbids it."
---
This Article (Blindfolded Muslim Asks Parisians For Hugs. The Response Is Heartwarming.) is free and open source. You have permission to republish this article under a Creative Commons license with attribution to the author and AnonHQ.com.