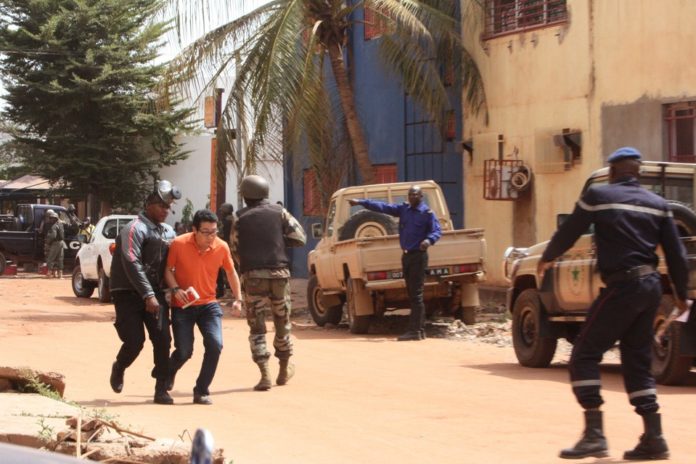 Up to 10 gunmen, said to be shouting "Allahu Akbar" ("God is great" in Arabic), stormed the Radisson Blu hotel in Mali's capital, Bamako on the morning of November 20 and held hostage 140 guests and 30 hotel staff. Among the hostages are US, French, Turkish, Indian and Chinese citizens. Some reports suggest they include French military, Air France employees and Thales [major electronic systems company working in defense and aerospace] personnel.
#Mali hotel attack: first images released of police besieging #islamist #gunmen at #Radisson hotel in #Bamako pic.twitter.com/GY6wrW4CnR

— FRANCE 24 English (@France24_en) November 20, 2015
Two Malian nationals and a French national have died in the attack on the former French colony, a West African nation where French troops are at war with Al Qaeda militants.
Third body found at site of Paris police raid https://t.co/JXNEgIkXMW

— FRANCE 24 (@FRANCE24) November 20, 2015
Witnesses said several hostages were released by the attackers after reciting verses from the Quran.
Some of the hostage takers in Mali were speaking English, according to escaped hostages https://t.co/oeKzBzm8ER

— TIME.com (@TIME) November 20, 2015
"I heard them say in English 'Did you load it?', 'Let's go'," said singer Sékouba 'Bambino' Diabate, who was freed by #Mali security forces

— Joe Brock (@joebrock2) November 20, 2015
Eighty hostages freed so far from luxury hotel in #Mali capital amid special forces operation – state broadcaster #MaliAttacks

— Reuters India (@ReutersIndia) November 20, 2015
Despite reports that 80 of the 170 hostages were freed after security forces entered the hotel, the owners of the hotel said 138 people are still in the building. In its latest statement, the Rezidor hotel group said:
We are closely following the hostage-taking incident that is taking place at the Radisson Blu Hotel. According to our latest information 125 guests and 13 employees are still in the building. Our highest concern is the safety of all our guests and employees in the hotel. We are in constant contact with the authorities there and will share further information with you when we have it.
USAFRICOM closely watching the situation in #Mali. Small team of U.S. Special Operations Forces assisting with hostage rescue efforts.

— US AFRICOM (@USAfricaCommand) November 20, 2015
Business owner Garba Konate informed Al Jazeera that a group of attackers carrying AK-47s showed up in vehicles bearing diplomatic licence plates, thereby gaining easy access, about 7 am. "About 10 gunmen arrived early in the morning and shot all the guards in front of the Radisson," Konate said.
12 Air France crew members were staying in the hotel but the airline said they were safe. Air France has canceled all its flights Friday to and from Bamako as a precaution.
#AirFrance confirme que ses 12 membres d'équipage à #Bamako ont été exfiltrés et sont en sécurité. pic.twitter.com/wh8LHA7ROi

— Air France Newsroom (@AFnewsroom) November 20, 2015
The attack comes just a day after French President Hollande praised his troops for successfully fighting Islamists in the African nation.
"France is leading this war with its armed forced, its soldiers, its courage. It must carry out this war with its allies, its partners giving us all the means available, as we did in Mali, as we are going to continue in Iraq, as we'll continue in Syria," he had said.
Northern Mali fell under the control of Islamist militants in 2012. A French-led offensive ousted them in 2013, but remnants of the group have staged a number of attacks on United Nations peacekeepers and Malian forces. Hundreds of French soldiers remain in the country.
---
This Article (Jihadists Attack Mali's Radisson Blu Hotel, Hold 170 Hostage) is free and open source. You have permission to republish this article under a Creative Commons license with attribution to the author and AnonHQ.com.