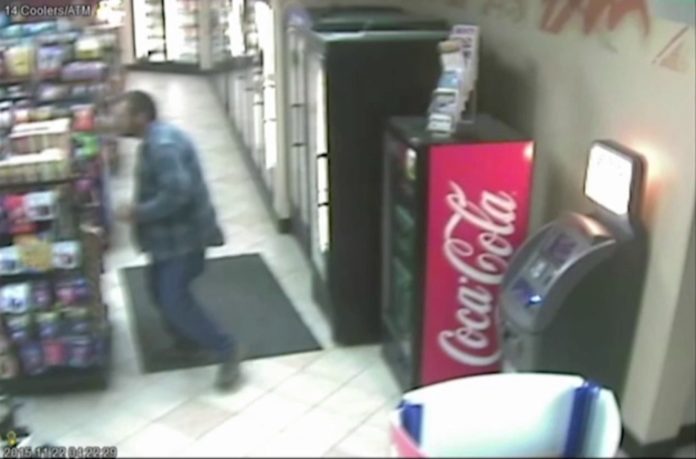 In-store surveillance footage was released this week showing no less than eight Fontana California Police officers surround and gun down a legally blind and mentally ill man in the midst of an emotional crisis. The family of James Hall has filed a civil rights violation lawsuit against the Fontana Police Department and the officers involved in the shooting. They say that officers were too quick to use deadly force, and the surveillance video may back their claim.
According to the official police record, Hall was armed with a knife and a rock. In the video, you can see for a brief moment that he did in fact hold a rock in his hand, yet at no time is a knife visible. According to police, Hall advanced toward officers, but the video tells a very different tale. When he is gunned down, it appeared that Hall was attempting to shield himself between to racks. Authorities claim that they tried to reason with Hall, however, the surveillance video clearly shows the K9 officer yelling commands at him. When a K9 officer gives commands, it is always one of 'surrender or I will release the dog.' That is not attempting to reason with, or de-escalate the situation.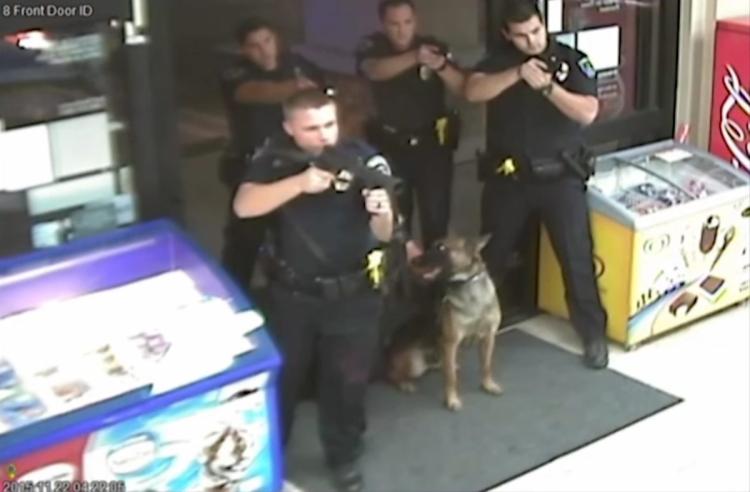 The lawsuit makes clear that Hall was a schizophrenic, who at the time was in the middle of an emotional and psychological episode. His state of mind almost negated the possibility of following or even understanding the officers' commands. As usual, this is a case where everyone in the community knew Hall and were aware that he had psychological problems. He was never known to be violent., so it is unclear what triggered the episode on the night he was killed.
The video made one thing overtly clear. The police lied in their statements as to what happened. Hall was scared and attempted to get away from police when they rushed into the store. "I didn't see any immediate threat to officers that justified the use of deadly force," stated Geoffrey Alpert, a professor of criminology at the University of South Carolina. Police use of force scenarios are clearly outlined by law and policy, yet police simply lie to make their facts fit the situation.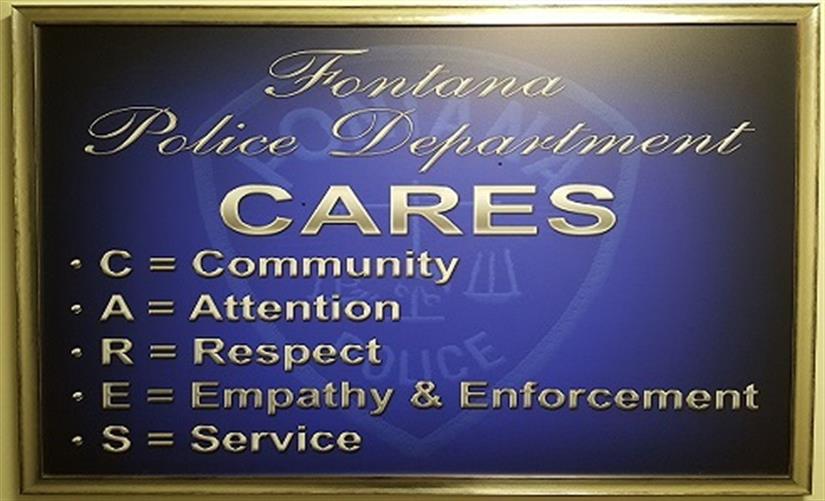 When asked to comment, the department made this statement: "In order to maintain the integrity of the investigation, review process and pending litigation, the Fontana police Department will not provide any additional details at this time. With this said, we can all recognize this was a tragic and unfortunate event for everyone involved. We have every confidence in the investigative process and await the conclusion."
Once again, this call highlights the fact that police do not care to handle people with psychological disorders any differently than criminals. Having the ability to tell the difference, and apply only as much force as is needed to control a situation is something that is mandated by all police departments, but sadly, is never enforced. All police are trained in how to deal with individuals with special needs, yet by the time the officer makes it out and on to the road, de-escalating situations is the last thing they really want to do.
Sources: LA Times.
---
This article (Video Shows California Cops Execute Blind and Mentally Ill Man in Convenience Store) is a free and open source. You have permission to republish this article under a Creative Commons license with attribution to the author and AnonHQ.com.
---
Supporting Anonymous' Independent & Investigative News is important to us. Please, follow us on Twitter: Follow @AnonymousNewsHQ