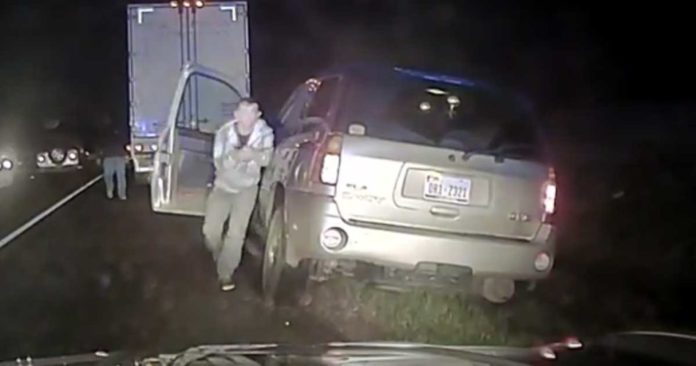 Video was released this week from an incident that happened almost three years ago in Lee County, Alabama. Michael Davidson was on an Alabama highway after being in a minor accident. The officer responding was Opelika cop, Phillip Hancock. Upon being pulled over, Hancock, seeing the officer arrive, tried to get out of his vehicle while holding his wallet in his hand. Without warning and without cause, Officer Hancock opened fire on the innocent man, striking him, but not killing him.
The video is hard to watch. Seeing innocent people gunned down by untrained cowards with badges is always emotionally jarring. The video took three years to surface because of the usual police obfuscation. It's clear that Davidson struggled to open his door, as he was parked on an incline, making the door particularly difficult to open. You can clearly see something black in the hand he used to push the door open.
Shots instantly ring out as Davidson is struck and falls to the floor. "Show me your hands," Hancock yells to him. The officer was obviously in a heightened state of alert when he arrived on scene, as nothing Davidson did warranted that kind of reaction. Police often carry the angst of the previous call into the new one, which is obviously a factor here. Brian Mosholder is Davidson's attorney in the case. According to Moshdler, "It's very obvious from that part of the video that Officer Hancock is creating a situation that he wished had happened that would have justified this shooting. When you look at the video, none of that happened. When you look at the video, in less than six seconds, from the time Michael Davidson opens his door, Officer Hancock shoots him, and he shoots him for absolutely no reason."
What else would you expect from the justice system in Alabama but to justify the shooting? In a written statement to the press, the city stated, "The City, the Chief of Police and its officer have always denied any wrongdoing. This case has now been analyzed by two federal courts … The judges have unanimously determined after a review of the evidence, which includes the dash cam video, there was no wrongdoing on behalf of the City, the Chief, or the involved officer. In reaching their respective decisions, these Federal Courts reviewed all of the evidence. Their opinions are clearly supported by all evidence." Seriously, could they even envision a different outcome?
The problem with this case is the same with every case involving misconduct: bad judgment. Police are exonerated in over 95% of all shootings, despite their bad judgment. Officers kill people based on arbitrary fear, that can neither be proven nor disproven. But there is a solution. How about we begin to punish cops who demonstrate bad judgment? Any time a cop kills someone, who turns out to be unarmed, it was either bad judgment that led to the shooting or gross intentional misconduct that cops know can be hidden behind the veil of "bad judgment." If cops knew that every time they shot someone who turned out to be innocent of the crimes and resistance alleged; that they faced jail time, we would see a lot less shootings in this country. Police kill people because they know they can hide behind "good faith." Punishing bad judgment is the first step in solving the police brutality issue.
Three Alabama federal judges all found that Hancock had the right to qualified immunity under the law, despite his bad judgment. This fundamentally ended any lawsuits Davidson had underway, leaving him no recourse or path to justice.
---
This article (Video Surfaces of Alabama Cop Shooting Man for Exiting Vehicle Holding His Wallet) is a free and open source. You have permission to republish this article under a Creative Commons license with attribution to the author and AnonHQ.com.
---
Supporting Anonymous' Independent & Investigative News is important to us. Please, follow us on Twitter: Follow @AnonymousNewsHQ